Questions that keep me on my toes as a middle school counselor day after day:
"How can I engage students?
How can I keep their attention for the entire class period?
How can I do this while teaching them about college and career readiness?"
The start of school is on the horizon, and I'm sure a million questions are running through your head, too, before those middle school students come barreling into your classroom.
If we really want to positively impact and change the mindset of our students, we need to meet them where they are early on – which brings me to the Texas On Course Middle School Curriculum Guide.
The entire Curriculum Guide is an array of inspiration and resources, so narrowing it down to my top three was quite the task. Here goes!
Unit 1, Lesson 2.6: Roadmap Checklist (under Chapter 2: Where Do I Want To Go, page 42)
One of the things I love most about this particular lesson is how it integrates MapMyGrad. MapMyGrad helps students zero in on their skills and interests by taking a simple, fun quiz. Then it suggests the classes they can take to get to where they want to go after high school. MapMyGrad also enables students and their families to better understand the endorsements offered at their selected high school. To top it all off, this interactive graduation-planning tool is free! Please also consult the Roadmap Checklist Handoutas a resource to help you guide students from start to finish on what they learn while exploring their path.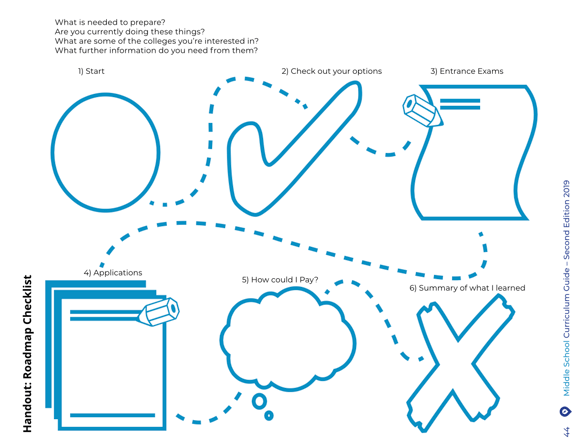 Unit 2, Lesson 1.3: Space Journal (under Chapter 1: College and Career Readiness, page 62)
We all know that our middle school students love technology and gaming! So what better way to engage students than by utilizing a space-themed video game as part of a lesson? MiddleGalaxy is designed specifically for middle schoolers. It helps them explore career paths while honing soft skills and completing intergalactic missions. It makes career and college exploration so accessible and fun that students don't *even realize* they are engaging in mandatory schoolwork! MiddleGalaxy also introduces students to the knowledge and skills they'll need to succeed in various in-demand occupations in Texas. What was most impactful to me in this lesson was the cross-curricular aspect of it; it engages the student in scholarly inquiry/dialogue and uses problem solving. The closure to this lesson has a great collaborative activity called Think-Pair-Share. The students will think about their findings, pair up to share ideas and knowledge, and then share with the class.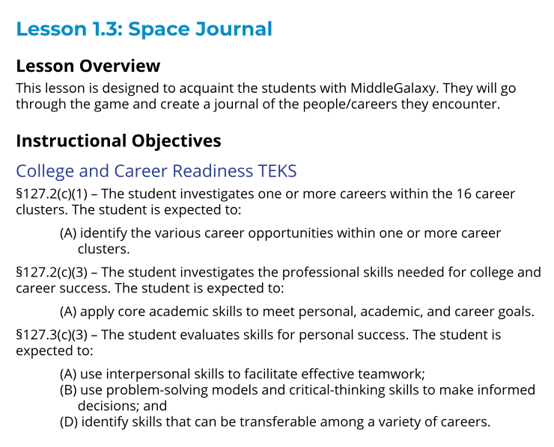 Unit 2, Lesson 4.1: Getting Involved (under Chapter 4: Networking, page 105)
What is great about this lesson is that it's all about NETWORKING. This lesson and the other in this chapter focus on helping students identify and develop their support network. It is so important for students to feel connected, especially to feel confident in their own personal network. Strong relationships are one of the most important aspects to student success. In this particular lesson, Texas OnCourse teamed up with Roadtrip Nation to interview real college students reflecting on the pivotal postsecondary period in their lives. It emphasizes the importance of getting involved in topics that inspire and move students. The video from Roadtrip Nation is an amazing segue into this lesson, with this takeaway: getting involved will expose you to new opportunities and new people – some like-minded, some diverse, all valuable. Students learn about connections, leadership, time management, and so much more by getting outside their normal comfort zone. The overarching advice is to find the things you're passionate about and hold onto them tightly.

I hope you jump at the chance to explore all that the Texas On Course MIddle School Curriculum Guide has to offer. Take full advantage of these amazing, free resources that will position you as your campus' resident college and career readiness expert.
As a counselor I love to work outside the box. Implementing fresh strategies for the betterment of our students is easy with Texas OnCourse. These easy-to-digest lessons give counselors time back, and the interactive tools allow our students to engage and explore during some of the most important years of their lives.
I challenge you to join me in keeping our Texas students on course. Check out the Curriculum Guide today, and if you find it useful, share it with a colleague!