Nearly everyone agrees that preschool is an integral part of early childhood development with positive developmental outcomes. You can think of earning college credits early in a similar way – it has far-reaching, encouraging outcomes for high school students.
If you've ever wondered how to give your high school students a strong head start into postsecondary success, read on for answers to frequent questions. We've consulted the experts at OnRamps, our sister initiative. OnRamps, which launched at UT Austin, provides high school students the opportunity to experience college before college – and earn college credit!
Q: What is the difference between early college, dual enrollment, and dual credit programs?
A: Early College High Schools (ECHS) are secondary institutions that allow high school students to earn both high school and college credit. Typically, students may earn the equivalent of up to two years of college, without the cost of college tuition, textbooks, or instructional fees. ECHS credits transfer to most Texas public colleges and universities. Acceptance policies for private and out-of-state universities vary.
Dual enrollment programs include courses that can satisfy high school graduation requirements and award college credits at the same time. The student is enrolled in two courses simultaneously – the high school course and the university course – and receives two grades.
OnRamps is an example of a program that offers rigorous distance education courses via a dual enrollment model. This means that OnRamps students are enrolled in both a high school course, led by a high school teacher, taught on the high school campus, and a distance college course, led by credentialed UT Austin faculty and a college instructor of record. The distance college course is delivered through the Canvas Learning Management System.
Dual credit programs are slightly different from dual enrollment. Students receive credit for completing the course from both their high school and the local community or junior college providing the dual credit course. Students receive just one grade per class.
Q: What are some advantages of dual credit and dual enrollment for high school students?
A: Students can take on the role of a college student at a low risk and often at a reduced cost compared to a traditional, tuition-paying student. Another advantage is that high school students truly get to experience the nuances of college before college, so they can see what it feels like and become prepared for the transition. With dual enrollment, their high school grade may differ from their college grade, illuminating the difference in expectations that can exist between high school–level and college-level coursework. They will receive substantive feedback from college instructors on college assignments – a valuable learning opportunity.
Q: I have students who are interested in earning college credits early. How do I help them decide how to proceed?
A: Students have several opportunities to gain college credit while in high school, typically by completing a college-level course, passing a college-level exam, or by pursuing a combination of both. Explore these resources for an overview of college credit opportunities and a comparison of different guidelines and fees.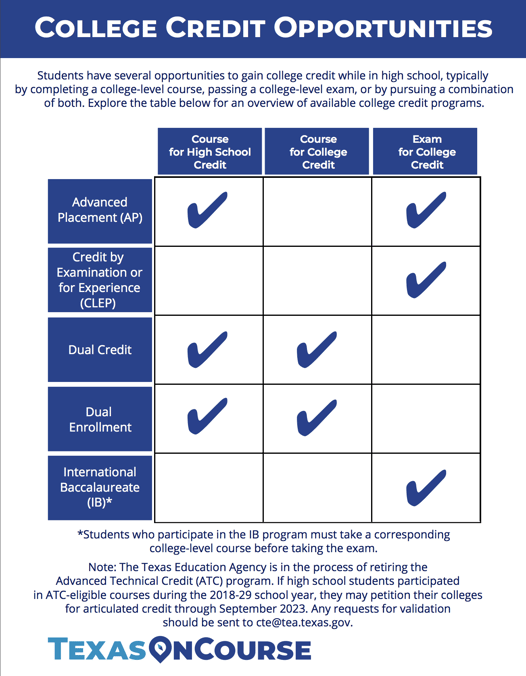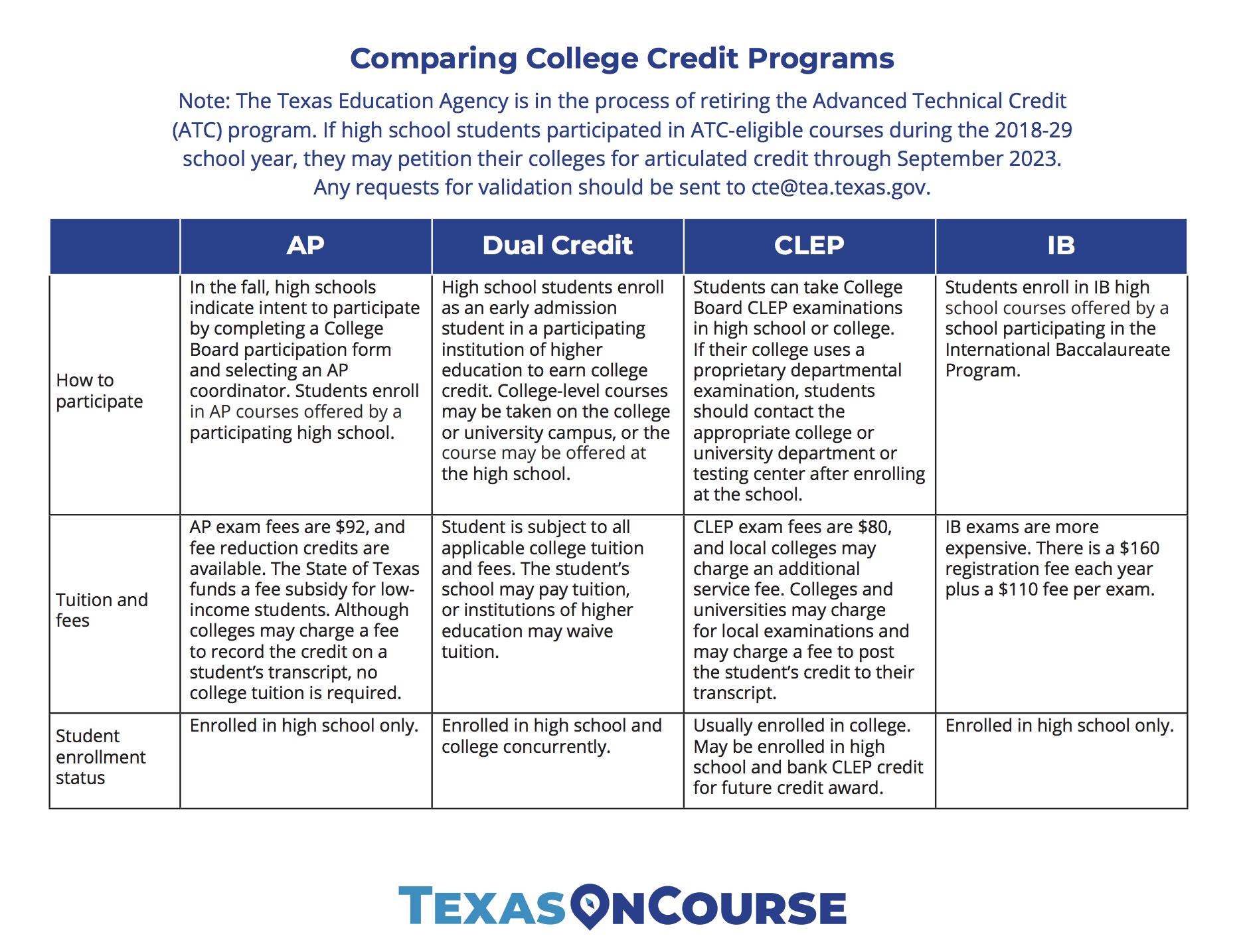 Q: How does earning college credits early affect outcomes for college students?
A: Earning college credits early results in more students completing college degrees. Research shows that students who complete just one dual credit course double their chances of completing college. This – in part – is what informed OnRamps' design, and the results are telling; they show that 72% of OnRamps students enroll in two- and four-year colleges, compared to 56% of non-OnRamps students across Texas. In 2018–2019, OnRamps awarded more than 67,000 semester credit hours, and 90% of eligible students earned college credit.
For a more in-depth look at how to advise students on earning college credits early, watch our webinar, which includes expert tips, a conversation with OnRamps, and case studies from institutions across the state. And don't forget to log into the Texas OnCourse Academy to review our College Credits professional learning module.