Okay, middle school parents and guardians. It's never too soon to help your child dream about college and career success after high school. Starting around seventh and eighth grade, you'll need to know about Texas graduation requirements and help your child craft a four-year high school plan. Don't panic – you'll have help. That's what counselors and advisers are here for!
Let's start with the basics. First, your student needs to select what's called an endorsement.
An endorsement is defined as "a coherent sequence or series of courses" in one of five areas: STEM (Science, Technology, Engineering, and Mathematics), Business and Industry, Public Service, Arts and Humanities, and Multidisciplinary Studies. You can think of an endorsement as your student "approving" a certain area of study for themselves that they feel strongly about.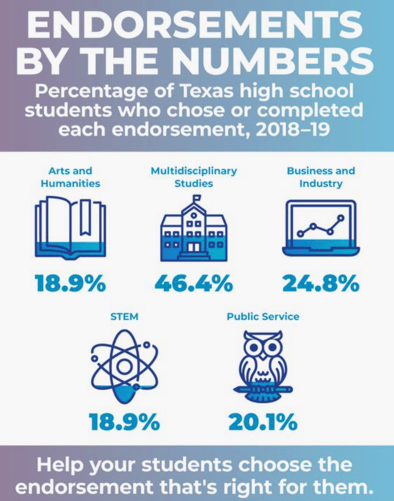 Middle schoolers are encouraged to start thinking about what they want to be when they grow up when they enter this point of their education. It's important that students research what endorsement they might want to pursue.
Two resources that I use regularly in the classroom for this purpose are MapMyGrad and the Roadtrip Nation video series. You can use these at home, too! MapMyGrad is Texas OnCourse's free website explaining endorsements and career pathways in language that students – and you – can understand. Students can even take an interest-based quiz to determine which endorsement is best for them. Bonus: you can work with your student on a draft high school graduation plan to share with their counselor.
Roadtrip Nation has a series of documentary-style videos featuring real Texas high school and college students sharing their experiences in the classroom and beyond. Your student can watch these short videos – they're all less than five minutes long – and hear from their older peers about topics like building a support network at college or how to build good study skills.
Your student can also watch a longer college and career readiness documentary from Roadtrip Nation called Room To Grow. Room to Grow includes four half-hour episodes that follow real Texas high school students as they travel across the state. These students interview working professionals as they consider their postsecondary options. Your student can get a glimpse into various Texas careers and understand the knowledge and skills that will help them become truly career ready.
As a parent myself, I can vouch that having conversations about school at home is crucial. Both of the above-mentioned resources are great for students and parents to explore together. You can also visit with your middle school and high school counselors to find out what your specific school district offers.
Public school districts in Texas may offer only a few endorsements or all of them. This usually depends on the size of the district. There are several areas of study under each endorsement, and students can choose one endorsement or earn several, since some courses fulfill multiple requirements.
Some endorsements even have a certification aspect. For instance, I have had several students recently complete the Business and Industry Endorsement and also get a welding certification. These graduates left our school needing less than a year of training and are now gainfully employed in the industry. How's that for college and career readiness?
As a parent or guardian, you have the power to help your middle schooler be informed and make good decisions. This is a great time to have a student in Texas public schools.