It's July! Time to relax and forget the stresses from this last school year. One of my favorite parts about these summer months is that they enable me to reflect on and visualize how I can refresh and energize my teaching practice in the upcoming school year – not only for my students, but for myself, as well.
The key to our positive impact as teachers is our inspiration, our preparation, and our vision for how we will set ourselves up for success. Below, I share my three favorite sources for classroom inspiration, followed by three tips for planning for the next school year.
Trusted resources for classroom inspiration:
1) Pinterest
I sometimes refer to this time of year as the "Pinterest-zone." By typing in keywords related to the content or strategies I want to learn more about, I find inspiration from what others are doing. If you, like me, are interested in creative resources to refresh and energize, one place you can start is the Texas OnCourse Pinterest account. We include boards featuring all of the great infographics and resources from our Academy modules, like this Career Clusters infographic: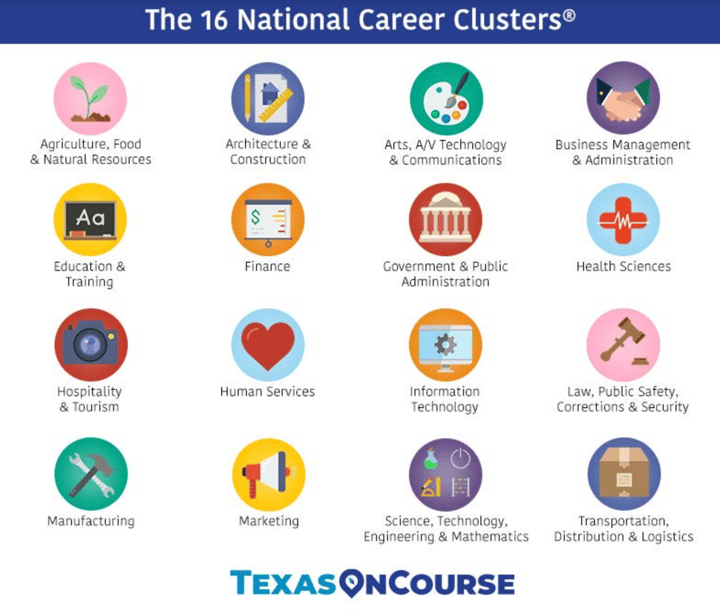 Pin ideas for later, and know you're setting yourself up for success.
2) First Days of School by Rosemary T. Wong and Harry K. Wong
This book is a must-read when it comes to learning the most effective ways to begin and continue a school year. The most basic book on how to teach, every teacher and administrator should own a copy.
3) The Power of Believing That You Can Improve by Carol Dweck
This TED Talk on having a growth mindset is one that I recommend to anyone interested in improving motivation internally or externally.
Here are my top 3 tips for working smarter, not harder:
1) Calendar, prep, repeat
Hopefully your administration and district have most fall semester testing/activity calendars locked in place. If not, start planning units and assessments based on the previous year. Prepare groups of supplies, seating arrangements and your own personal space in the classroom. When I was a teacher, I liked to create 16-24 supply boxes with scissors, pencils, highlighters, markers, and other items. I set 8 out at the beginning of the year, and I could quickly rotate through the boxes as the semester progressed. Meet with your content or grade-level team, compare calendars and notes, and refine your plans.
2) Align with your content and grade-level teams
Take time at the beginning of the year to connect with your content team and calibrate your vertical alignment. Also reach out to your grade-level team and seek opportunities to cross-align and reinforce other content. For example, in 7th grade social studies, students learn about the regions of Texas. At the same time, 7th grade science classes are learning about the different Texas ecosystems. Such a cool opportunity to bring the curriculum to life with students! Anytime you're having the students write an essay, collaborate with your ELAR (English, language arts, and reading) teacher. ELAR teachers can let their other grade level teachers know what processes they're teaching the students. Education = Collaboration!
3) Set yourself up for some fun
As teachers, we all have our favorite lessons or exercises to insert fun in our classrooms. I love positive reinforcements like prize drawings on Fridays. My favorite prize was "a positive phone call home." I also love building in times for brain breaks and games. This is a great opportunity for you to use MiddleGalaxy with your students! Your students can complete space missions while exploring careers and participating in some friendly competition. Students can work through the game and relate it to content within the course or lesson and report back.
One of the best things about being educators is that each year, we get to start with a blank canvas. As educators, we get to take feedback and implement it, starting anew. It's wonderful! Fresh pencils, full glue sticks, reams of blank paper full of potential! The students come in and WE get to guide them through the year. We're entrusted with a small (but potentially impactful) window to help them build character and create a small ripple in their lives.