Students who move frequently, including children of military families or migrant workers, face unique needs and challenges. In this webinar, we walk you through our free online module to help you advise and support highly-mobile students all over the U.S. We were joined during this webinar by experts from the Military Child Education Coalition and TEA.
You can find additional resources for highly-mobile students, including printable handouts, in the Texas OnCourse Academy. Look for the Advising Highly Mobile Populations course.
Click here to see the slides as a PDF.
This webinar is part of our monthly series for registered users of the Texas OnCourse Academy. Click here for more information on this series, including how to get alerts for future webinars.
Texas OnCourse Resource Spotlight
School counselors and advisers are the first line of stability for highly mobile students. When school counselors help mitigate stress during transition for students, they create a more positive environment and smooth paths to college and career readiness.
Counselors can ease the burden of repeated transitions by transferring credits and transcripts and having communication between sending and receiving schools. Our three-page handout, Strategies to Support Highly-Mobile Students, outlines strategies for doing so. It includes tips like hand carrying records and having an open line of communication between the sending and receiving schools. This handout can be found in Unit 3 of the Advising Highly Mobile Students module on the High School Planning Page.
Student mobility can be associated with low school engagement, poor grades in core subjects, and a higher risk of dropout of high school. It is important to understand that mobility patterns are different for homeless students, children from low income families, children of parents who are incarcerated and also divorced, and many other demographics. This five-page handout lists resources for each category of mobile students. Visit Unit 1 of the Advising Highly Mobile Students module on the Programs and Resources that Assist Students with transitions page to to view this handout and other resources for highly-mobile students.
You can also download this one pager on Helping Students Transition: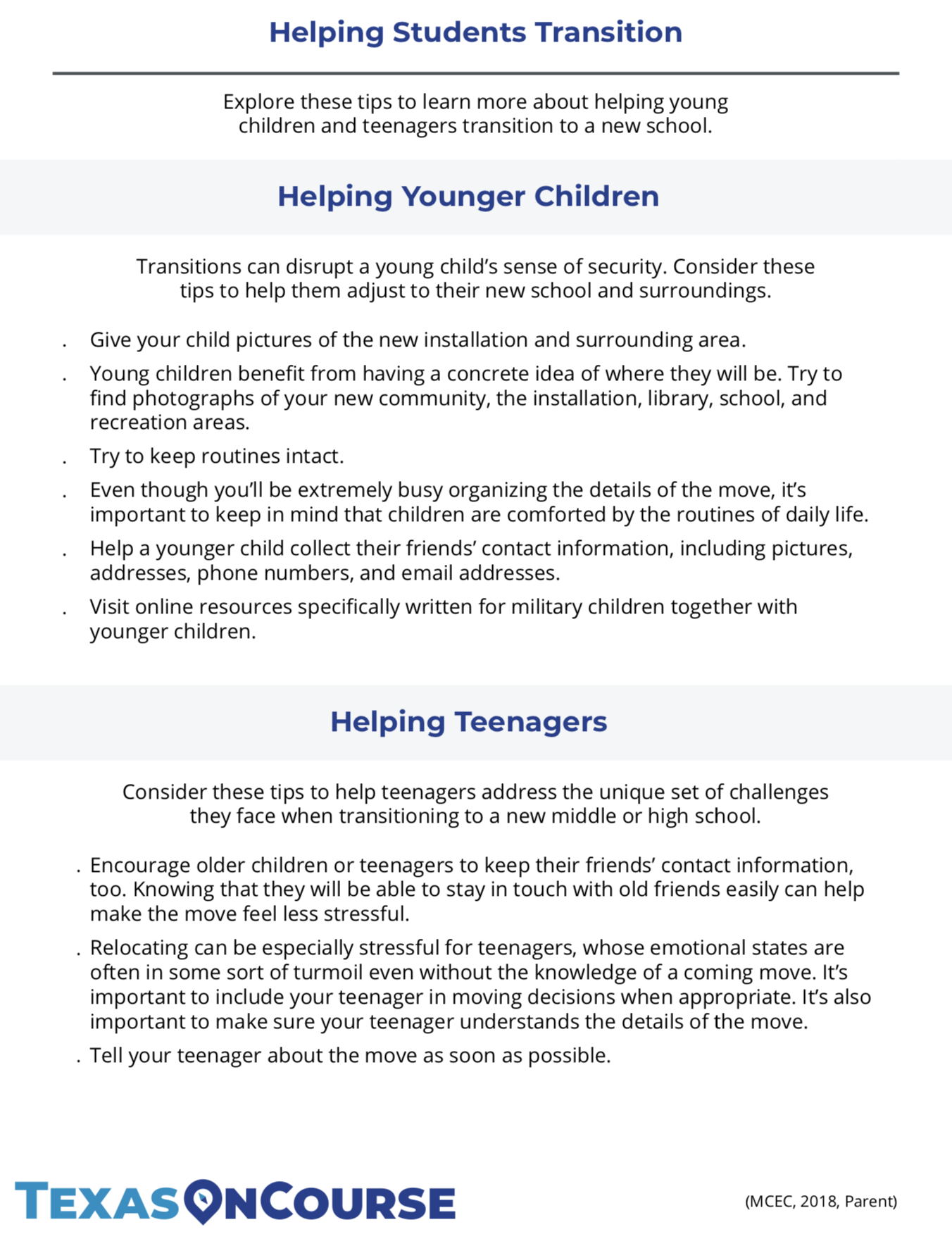 Military Child Education Coalition Resources
Annette Farmer, vice president of program and curriculum for the Military Child Education Coalition, shared some additional resources during the webinar.
The Military Child Education Coalition is a global nonprofit organization, headquartered in Texas, focused on the well-being of America's four million military and veteran-connected children. Their mission is to ensure inclusive, quality educational opportunities for all military and veteran-connected children affected by mobility, family separation, and transition.
The Military Child Education Coalition provides resources, programs, and services that help address challenges associated with high mobility. They even offer information and training for the professionals in the lives of military-connected children. Visit their website at www.militarychild.org for more information.
Texas Education Agency Resources
Abby Rodriguez, state coordinator for military-connected students with TEA, spoke about the Highly Mobile and At-Risk Student Programs Division, with a specific focus on military-connected students.
Abby shared some facts about military-connected students in Texas and nationally:
Texas has the 2nd largest population of military-connected students; more than 89,000 attend public schools.
Military-connected children move on average 6 to 9 times during their K-12 education experience.
80% attend U.S. public schools including charter and magnet schools.
Children from military families are twice as likely as their civilian counterparts to serve in the Armed Forces as adults.
When military-connected students go unidentified, it's harder to provide them with the support they need. TEA is looking to increase the number of military-connected students being identified by school districts and open-enrollment charter schools by 3%.
Military-connected students fall into different identification categories: Military-Connected with Active Duty, National Guard and Reserve, or Veteran. It's important to properly identify. Their identification category determines whether or not they can benefit from provisions of the Interstate Compact on Education Opportunity for Military Children. The compact removes barriers to education success imposed upon children of military families because of frequent moves and deployment of parents.
Governor Greg Abbott has proclaimed April as month of the Military Child. This is a time to honor the sacrifices made by military-connected children worldwide. On April 12th, Purple Up for Military Kids Day shows support and gratitude for military children for their strength and sacrifices.
The TEA Military Family Resource Page is filled with more resources for students, parents, educators, and stakeholders working with military-connected families. You can also sign-up for updates if you would like to receive more information. For more TEA Military Family Resources visit: https://tea.texas.gov/mil/