It's that time of year where we are tasked with supporting our students and parents with navigating financial aid applications. The FAFSA (Free Application for Federal Student Aid) and TASFA (Texas Application for State Financial Aid) can be overwhelming for anyone, but with the right tools, you can feel confident in supporting your students and parents through the process.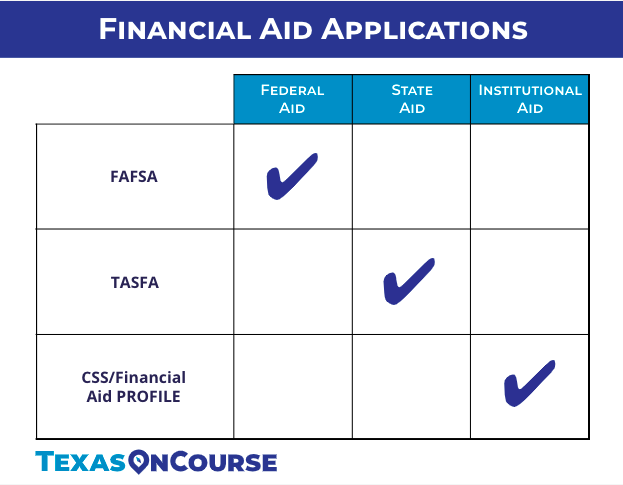 Download this financial aid applications chart, and check out more important financial aid information in our Financial Aid Basics for Counselors guide.
I recommend preparing parents in advance by hosting a Financial Aid Night prior to the FAFSA/TASFA application opening, which is October 1, 2019. I generally do this two weeks before hosting a FAFSA/TASFA Night where I invite university admission representatives to assist families with filling out and submitting the FAFSA or TASFA (if applicable). Many families have never been through this process and are nervous. The Financial Aid Night helps educate parents about this process, as well as many of the terms that are used, such as: EFC (Estimated Family Contribution) and SAR (Student Aid Report). In your Financial Aid Night, I recommend covering the following topics:
Student Loans: Federal Subsidized and Unsubsidized Loans
Private Student Loans
Grants: Federal Pell Grant
Scholarships: Academic, Need-based, and Local Scholarships
Work Study Programs
COA - Cost of Attendance
EFC - Estimated Family Contribution
SAR - Student Aid Report
Who is the parent/guardian?
IRS Data Retrieval Tool
How to create an FSA ID
What happens next after submitting the FAFSA?
What to do if you are selected for verification?
Financial aid for undocumented students: TASFA
I encourage all parents and students to complete a financial aid application regardless of what their current plan is for paying for college. Many scholarships require that the FAFSA has been completed. It's important to follow up with students and ensure they have submitted, as many of them still need support following through with the application process. My most memorable student, whose family needed support in completing the application process, was awarded $15,000 for her first year. The only reason she continued with postsecondary education was because of that scholarship!
Prepare yourself so that you can prepare your students for success. Check out the FAFSA and TASFA modules in the Texas OnCourse Academy to get the 411 on everything financial aid! Both academy training modules guide you through:
Preparation
Completion
Verification
Additional Resources

The FAFSA and TASFA modules have "Additional Resources" sections that provide quick access to relevant PDFs, website links, YouTube videos, and more. These are great at-a-glance reminders for you, but they are also shareable. Pick and choose what to print and hang in your classroom, hand out to parents, or distribute to students.
There's one more step educators can take in making sure their students stay on track in the application process. Did you know you can see which students have filed their FAFSA through the Counselor Suite in ApplyTexas?