It's back to school with an immediate dive into accountability ratings. While there have been several versions of accountability ratings through TEA in the last fifteen years, this is the first year that individual campuses and districts have received an A–F score. We want to support your campus and district goals when it comes to the new scoring standard so that you can continue to implement quality instructional strategies.
Let's start with the three domains that contribute to an overall A–F accountability rating:
Student Achievement– this evaluates performance across all subjects for all students on STAAR tests and alternate assessments. For high schools, this domain also includes how many graduates are ready for college, career, or the military plus graduation rates.
School Progress– this measures whether students grew at least one year academically. Are they on track as measured by STAAR results? It also takes into account the performance of all students relative to districts and campuses with similar socioeconomic statuses.
Closing the Gaps– this domain aligns with federal ESSA requirements. It considers disaggregated performance broken down by race and ethnicity, socioeconomic background, and other factors.
Each domain receives a letter grade based on this scale: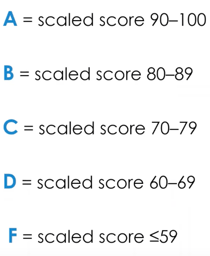 To get an overall rating label, a specific formula is followed: one would take the better of student achievement or school progress domains and weigh that at 70% of the overall grade. The other 30% of the overall grade would come from the domain of closing the gaps. Based on the overall scale score, a district or campus would score A–F.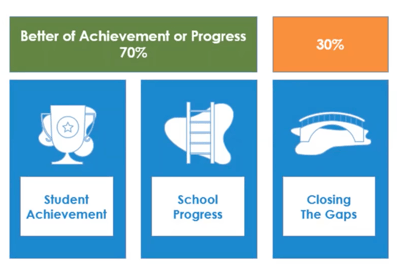 How is the student achievement domain calculated?
For elementary and middle school campuses, 100% of the student achievement domain score comes from STAAR test results.
For high school campuses, the score for the student achievement domain is calculated using three components: STAAR scores; college, career, and military readiness (CCMR); and graduation rates, weighted 40%-40%-20% respectively.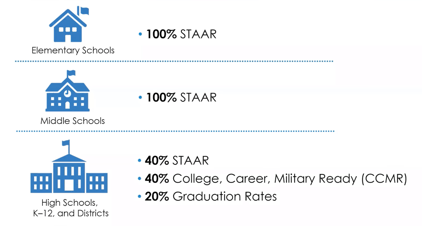 With CCMR measurement being a significant portion of accountability now, middle and high school campus leaders should work to ensure that students have access to opportunities that will make an impact in this area. The chart below indicates the different standards for a student to be deemed college ready, career ready, or military ready: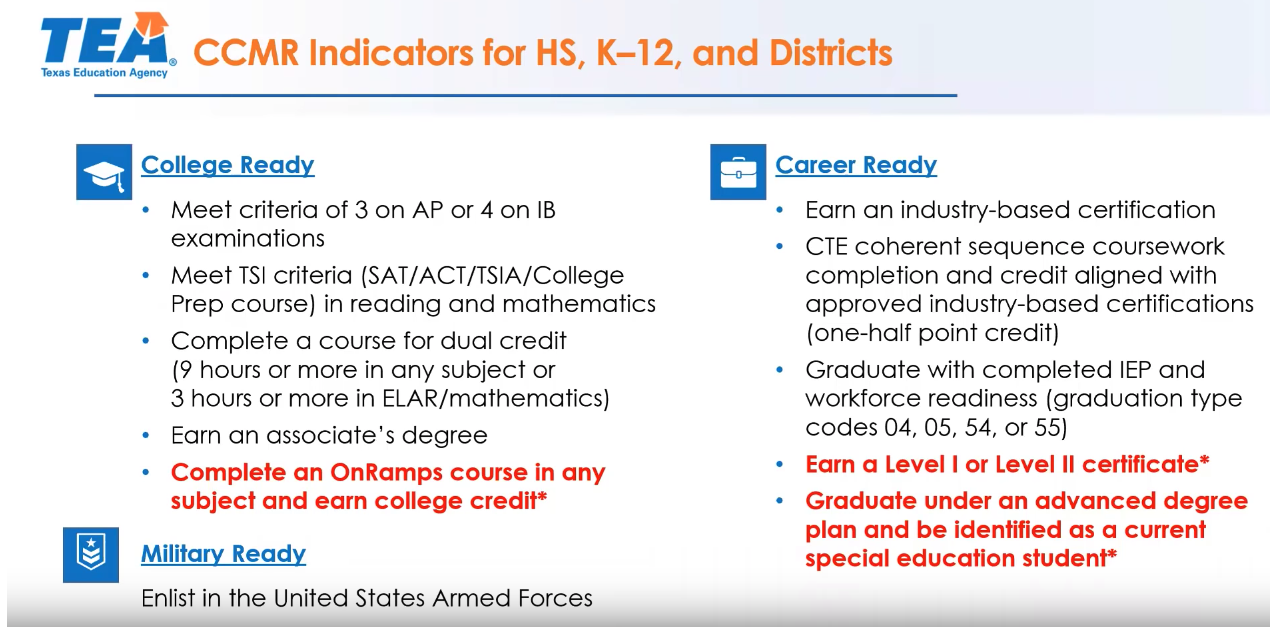 Additional tools
Part of improving accountability ratings is determining benchmarks and progress plans – and seeing how a campus performs against district and state metrics is crucial in that process. That's why we developed DataDive. This tool, powered by data from TEA's Texas Academic Performance Reports, allows users to compare Texas school performance and readiness data in clean, easy-to-read graphics. The tool includes attendance data, STAAR outcomes, TSIA, AP and dual credit, SAT and ACT participation, and more. Comparing academic expectations versus realities on multiple levels (campus, district, ESC, state) has never been easier.