Many of your students are likely considering college as part of their postsecondary trajectory. There are a lot of different ways for your students to attend college. They could be interested in any combination of two-year, four-year, public, private, nonprofit, or for-profit institutions in either a residential or commuting experience. This article will walk you through the basics of college planning so that you're prepared to support any student on any college pathway. We include links to additional articles, webinars, videos, and other resources. And don't forget to refer to the ultimate source for all postsecondary planning information for professionals: the Texas OnCourse Academy.

What you'll find on this page
College planning should of course start early – that's why we've created tools and resources for students and educators to start planning for life after high school, starting as early as middle school. That said, the focus of this page will be on your students' senior year. Specifically, we will examine topics such as postsecondary research and generating a college list, college applications, deciding on a college, and what to do the summer before college. We will examine the college planning, application, and decision process for public and private two-year and four-year colleges. If you're looking for information on financial aid, military academies, or other topics related to postsecondary planning, use the topic menu on the right!
The stages of college planning that we'll cover include college research, applying to college, deciding on a college, and the summer before college. Click below to navigate to each section or keep scrolling to read it all!
Types of colleges
There are several types of postsecondary institutions available to students. To find an institution that matches their career pathway, students need to understand the characteristics and opportunities of each type of postsecondary institution.
Your students and their families may be overwhelmed by the different types of postsecondary options available. After all, there are nearly 6,000 postsecondary career and technical schools and just under 4,000 degree-granting institutions in the US higher education system.
The first step in helping a student determine which school they want to attend is to decide what type of higher education appeals to them. Below, we review some of the different options your students may be considering. We also discuss the differences between public and private institutions and then describe for-profit colleges.
Community colleges and junior colleges
Community college can be a flexible and affordable option for your students. Community colleges and junior colleges are two-year institutions that award associate degrees and, depending on the institution, certificates in career-related subjects. For example, if a student wanted to pursue a career in cosmetology, they could receive a certificate needed for their work from a community college. Some community colleges offer accredited bachelor's degree programs.
The vast majority have transfer arrangements (called articulation agreements) with local public and private colleges and universities. These agreements permit qualified students who have completed approved coursework to transfer to bachelor-level studies with up to two years of academic credit.
These two-year colleges usually have less stringent admission standards and tend to be less expensive than four-year colleges and universities. Because of this, some students choose to attend a two-year college to earn an associate degree. They can also later transfer to a four-year college to receive a bachelor's degree – though they'll need to be mindful that the credits they earn are transferable to the four-year institution and academic program they're interested in.
Four-year colleges and universities
Four-year institutions can be public or private. These institutions prepare students for a variety of careers or graduate-level education.
Colleges tend to be smaller than universities. However, there are colleges that are just as big or even bigger than some universities. A college may be public or private, an independent institution, or part of a larger university. The size of classes and types of social opportunities vary from college to college.
Universities tend to be large schools that offer a wide variety of programs. Universities may be public or private, and they may have several undergraduate and graduate schools, colleges, or departments. Universities tend to have research facilities and an abundance of social opportunities, including fraternities, sororities, sporting events, and clubs.
Career and technical or vocational schools
Career and technical or vocational schools provide specialized training for a specific career or industry. Common programs of study include culinary arts, firefighting, dental hygiene, cosmetology, computer technology, real estate, and medical-records technology.
Some schools specialize in only one area, while others provide a variety of programs. They award diplomas, certificates, licenses, and sometimes associate and bachelor's degrees.
The vast majority of these schools are private and operate on a for-profit basis. Although degrees from these accredited institutions may be useful when seeking employment in a specific field, students may or may not be able to transfer credits to traditional academic degree programs.
If students wish to attend a career or technical school, the first thing they should do is ensure that the school is accredited because employers, other states, and licensing authorities usually only recognize training from schools and other providers that are accredited by recognized accrediting agencies. You may also want to let your students know that there are two types of accreditation: regional and national. Regionally accredited schools often do not accept credits from those schools with only national accreditation.
Public vs. private institutions
Students and their families may have questions about the differences between public and private colleges or universities. They may also need help deciding which type of institution would be the best fit.
Public colleges receive most of their funding from state governments. This funding helps subsidize what students pay, typically resulting in lower tuition prices on average. Average tuition at public colleges for the 2019–20 school year was $10,440 for in-state students and $26,820 for out-of-state students.
In contrast, private colleges are not funded by the government. Instead, they rely on tuition and contributions from alumni to pay for their programs. This leads to higher tuition prices since students usually carry the full cost of their education. Average tuition at private colleges for the 2019–20 school year was $36,880.
At first glance, the cost of private college seems to be higher. However, these schools often offer generous aid packages to undergraduates who demonstrate financial need, and the actual cost of attendance may be similar to (or even lower than) that of a public college. As a result, students should be sure to evaluate the financial aid packages as part of the cost of attendance.
There are additional differences between public and private institutions, including:
Student body and class sizes
Access to professors and advisers
Geographical diversity
Variety of degrees and programs
Research opportunities and facilities
Refer to the Academy for more information regarding these differences. Once you've logged in, check out the Researching Postsecondary Options module, which is found within the Postsecondary Pathways competency.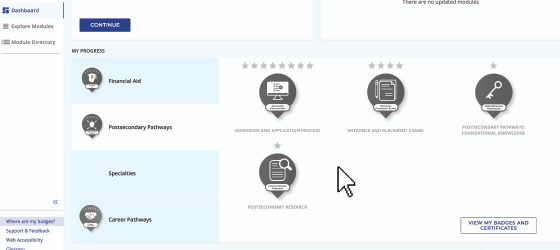 For-profit institutions
Your students have likely heard of for-profit colleges and may have some specific questions about them. For-profit institutions have been in the news in recent years, and the headlines have not always been positive. Some for-profit colleges have come under scrutiny for poor completion rates and high student debt.
At the same time, the for-profit college sector is pretty varied, and it's also growing quickly. Many for-profit colleges – also known as proprietary colleges – are career or trade schools, which we describe above. Many offer certificate and diploma programs in specific professional fields that students can earn in two years or less. For-profit colleges can be small, local institutions. Other kinds of for-profit schools can operate entirely online or across several states..
A for-profit college may be a sound pathway for your students. As with any postsecondary pathway, it's most important for your students to ensure that the path they choose aligns with their career aspirations and personal preferences and characteristics. The most common complaint about for-profit colleges is that their degree programs are expensive despite low completion rates, meaning students may end up saddled with a lot of debt and no degree.
Of course, this scenario is not limited to for-profit colleges! That's why your role is so important. Your students may not think to compare different degree programs. They may not understand why it's important for them to look into data like a school's graduation rate, the types of jobs and salaries typical graduates earn, or the amount of debt the average student graduates with. Regardless of the college pathways that your students are considering, you can help by walking them through this sort of data and helping them understand how it applies to them.
Researching colleges and creating a college list
Of course, a critical first step in researching colleges is understanding how different college options and degree programs will help students meet their career goals and aspirations. If you're interested in helping students explore career pathways, click on the "Career Exploration" option in the menu on the right! Here, we will start with the assumption that your students have already explored career options.
When it comes to choosing a postsecondary institution, it is crucial for students to pick one that fits their personality and educational goals. After students have decided on the type of institution they would like to attend, they can then narrow their selection down to specific institutions.
Here are some themes that may help your students generate a college list:
Location
Campus size and feel
Residential options – do they want to leave home for college or commute?
Cost
Majors
Learning environment
Sports and extracurricular offerings
There is no ideal number of colleges to which every student should apply, but students should thoughtfully create a reasonable and balanced college list. It may be tempting to apply to dozens of schools, but students will have a less stressful application process if they limit their number of applications.
Reach, match, and safety schools
Students should build their list of schools to meet their best-fit college specifications and include schools in each of the following three categories: reach, match, and safety. Students should send college applications to a few schools from each category (for example, three reach schools, three match schools, and two safety schools). Applying to a range of schools will allow students to set ambitious goals and have some backup options where they can be happy and successful.
Reach schools are schools where a student may not be accepted because the student's academic credentials (grades, SAT® or ACT® scores, and class rank) fall on the lower side of the school's range for the average freshman. Although the chances of admission may be slim, reach schools should still be possible.
Match schools are ones where the student's academic credentials fall well within the school's average range of accepted students from the previous year. There are no guarantees, but students can expect to be accepted to several of their match schools. Students should also ensure that their match schools are a good financial fit.
Safety schools are schools where the student's academic credentials exceed the school's average range for accepted freshmen. Admission to safety schools should be reasonably certain, but like reach and match schools, students should be happy to attend the safety schools on their list. In addition to admission criteria, students should consider financial aid as they create their list of safety schools and make sure that there is at least one school that they know their family can afford.
Note: There are no guarantees that a student will be admitted to the colleges on their list, even when a student is applying to a safety school.
Academic undermatch
Academic undermatch occurs when students qualify academically for admittance to a college or university that is more selective than the alternative they choose. For example, a student would be academically undermatched if their achievements permitted them to attend Harvard, but they chose to attend a local community college or not attend college at all. Assisting students with building a well-balanced and comprehensive college list plays an important role in avoiding academic undermatch.
The following groups of students may need more assistance when building a college list since they are more likely to undermatch:
Low-income students
First-generation students
Males
Students who don't participate in Advanced Placement (AP®)
For tips on avoiding academic undermatch, log in to the Academy and look for the College List section of the Researching Postsecondary Options module.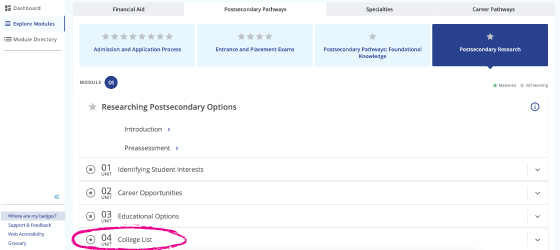 College majors
Choosing a college major can be overwhelming because students are often faced with hundreds of choices, and it can feel like the rest of their adult life depends on their selection. Although it is a big decision, it is not a life sentence. Graduates commonly pursue careers that are not directly related to their college major and even change careers after several years. Students can expect to spend a lot of time studying the subject they choose, so they should consider their options before committing.
For more information on how and when to choose and declare a major, the importance of a major, and double majors and minors, log in to the Academy and check out the Educational Options unit within the Researching Postsecondary Options module.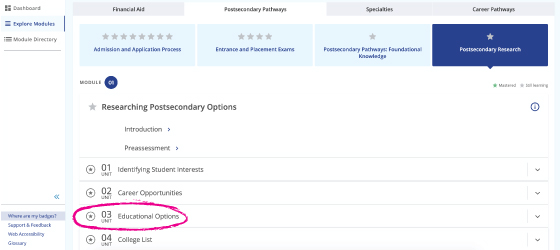 College applications
When preparing to apply for college, students have a number of options for submitting their applications depending on the type of college they are interested in. Each college application system has different features, and not all applications are accepted at every college. Ultimately, students should check with the colleges they plan to attend to see which applications are accepted.
Below, we describe four common college application types. In Texas, the most frequently used application types are the Common App and ApplyTexas. Don't miss this handy resource comparing the Common App vs. ApplyTexas.
For information on preparation, completion, submission, counselor tools, and student and family engagement for each of these applications, log in to the Academy and search for the associated module. Also be sure not to miss our college applications webinar, featuring representatives from the Common App and ApplyTexas.
The Common App
The Common Application (also known as Common App) provides a single college application system that makes it easier for students to apply to multiple colleges and universities. Whereas ApplyTexas only covers colleges and universities in Texas, Common App has member colleges all over the United States. As a result, Common App is particularly helpful for students who are planning to apply to out-of-state colleges.
ApplyTexas
The ApplyTexas college application system was created through a collaborative effort between the Texas Higher Education Coordinating Board (THECB) and the colleges and universities represented on the website. The goal is to offer a centralized means for both Texas and non-Texas students to apply to the many outstanding postsecondary institutions available in Texas. On ApplyTexas, a student can accomplish a multitude of tasks:
Apply for admission to any Texas public university as well as to participating community and private colleges
Apply for undergraduate, international, and graduate admission
Submit application essays online
Apply for scholarships from participating universities
Search for and view both general and university-specific information
Coalition App
The Coalition App provides a single platform of online tools to assist in the experience of applying to college. With the Coalition platform, students can find out more about Coalition schools, save important files in their Locker, work on college preparation through the Collaboration Space with counselors, teachers, and mentors, and submit applications with ease. Through the platform, students are able to apply to a number of public and private colleges and universities.
For a complete list of colleges and universities that accept the Coalition Application, visit Coalition Application's Member Schools page.
Universal College App
The Universal College Application (UCA) allows students and their families to create a centralized college application with their demographic information, extracurricular activities, and grades.
The Universal College Application stands out because, unlike the Common App, it does not require a holistic review process. The Common App only brings colleges on board that have a broad application that considers the candidate as a whole, including their transcript, standardized test scores, essay, extracurricular activities, and recommendations. The Universal College App, on the other hand, only requires schools to be accredited and uphold the National Association for College Admission Counseling's guidelines.
For information on which colleges accept the Universal College Application for admissions, visit the Universal College Application's Colleges page.
College essays and letters of recommendation
College essays and letters of recommendation are important elements of college applications, and your students – and you – may have questions about them!
Writing an effective college essay can be a challenge for students. Here are some quick tips to help students get started. Be sure to check them out in full, and don't miss our webinar on college essays and resumes for more tips:
Take advantage of free time and start early
Host a boot camp
Focus on framing the negatives as positives
Make it personal
Read it aloud
Make it mandatory
When it comes to letters of recommendation, remember that admissions officers review the applications of thousands of students and that your letter is a good way to showcase your student and make them stand out.
Deciding on a college
It's great news when a student receives acceptance letters from more than one college. But it also means your student may have some tough decisions ahead of them! Cost is of course a big factor in determining which college they will ultimately attend. For information on interpreting financial aid letters and analyzing college costs, click on the Financial Aid and College Cost topics in the Post by Tag menu on the right.
The College Board has some great recommendations for students weighing college options:
Ask questions. Encourage your students to put together a list of remaining or guiding questions that will help them make their decisions. Consider these examples:

Does the college offer a number of majors aligned to a student's interests?
How many students return after freshman year?
What are the extracurricular options offered? What kind of social life does the college offer?

Get answers. Encourage your students to get the answers to their questions right from the source. They should speak with current students and people who work at the college and dig through the college's website.
Visit (or revisit) the college. If it's possible, your students should visit each campus they're interested in (or participate in a virtual tour). If this is not possible, your students can call or email the admission office with your questions. They can also ask to be put in touch with current students and recent graduates. And you may be able to connect them with other students who graduated from your high school and now attend the college.
Think things over. Encourage your students to check in with their gut. They should explore questions such as these:

How did I feel when I was on campus at each college I visited?
Which colleges best match my list of must-haves?
At which colleges can I imagine myself as successful and happy?

Compare the colleges. Your students can use the information they've gathered to make a list of pros and cons for each college and otherwise compare their choices. They can also check out the College Board's College Search to compare up to three colleges side by side.
Of course, not all of our students will receive multiple college acceptances. We also recognize that as acceptances arrive, so do waitlists, deferments, and denial letters. It's important to prepare your students for these curveballs as well and help them be prepared to pivot on their postsecondary plans.
Summer before college
Did you know that 10%–40% of students who are preparing to attend college in the fall will not enroll in their fall semester? This distressing trend is commonly referred to as "summer melt." Even the most high-achieving students can be at risk for summer melt.
The summer before college can be overwhelming for many students. Some common causes of summer melt include committing to a school; logistical hurdles such as signing up for housing, attending orientation, meeting an adviser, and enrolling in coursework; missed deadlines; unanticipated costs like a housing deposit; or confusing and bureaucratic systems and processes.
You can help your students stay on track the summer before college by encouraging them to stay positive, keep things organized, have open communication with everyone involved, and not give up. NCAN also shared the following practical tips to avoid summer melt and support your high school seniors' transition:
Share, through your online classroom tool, your school counselor's contact information and process for requesting support throughout the summer.
Encourage students to contact their financial aid offices or admission offices with any concerns about the fall.
Encourage students to complete orientation registration and housing forms.
Connect students to other alums that are currently at their college choice to learn more about the campus environment (both physical and virtual).
Encourage students to follow their college of choice on social media.
Finally, be sure to share with your students this short video to help your seniors finish strong and have a stellar freshman year.
Wrapping it all up: make sure your students are college ready!
Phew! There are a lot of logistics to keep track of when it comes to preparing for and enrolling in college. Be sure not to miss the forest for the trees. Other important elements of college planning include academic preparation, getting involved in extracurriculars, understanding how to build a support network, and cultivating good study habits. Fortunately, we have lots of resources for you and for your students. Be sure to check out our website for tools for your students and their families and the Academy for up-to-date information and resources for you!