The sun is shining, and the birds are chirping – happy spring, y'all! We're happy to bring you new resources to use in your classroom. Our guests for this webinar have some incredible free materials that are filled with helpful information on financial literacy and options for life after high school.
Thank you to both Tamara Redic-Cottrell and Morgan Ackley for sharing their knowledge and resources as Education Outreach Advisors with the Federal Reserve Bank of Dallas. They spoke to us about essential financial literacy concepts for high school students and introduced us to a couple of publications available to students, families, and educators.
Watch the webinar recording below and download the slides or continue reading for resources and highlights.
Resource Highlights
Samantha Kimmel from the Texas OnCourse team kicked us off, spotlighting the self-paced Texas OnCourse Academy module, "Financial Aid: College Cost." This module is meant to help prepare your college-bound students with the financial knowledge and skills they need to succeed in their postsecondary journey. It also equips you with strategies that allow you to better guide your students through analyzing financial aid award letters, navigating the student loan process, and more.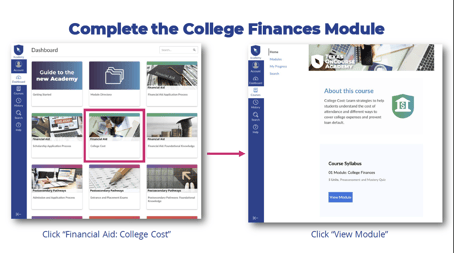 Tomorrow Ready Texas is a forthcoming tool from Texas OnCourse to help families support their child's college and career journey. The tool empowers families to help their students learn positive, healthy money habits and understand financial literacy. We included a sneak peek at resources that will be on the Tomorrow Ready Texas site. Keep an eye out for our upcoming pilot launch!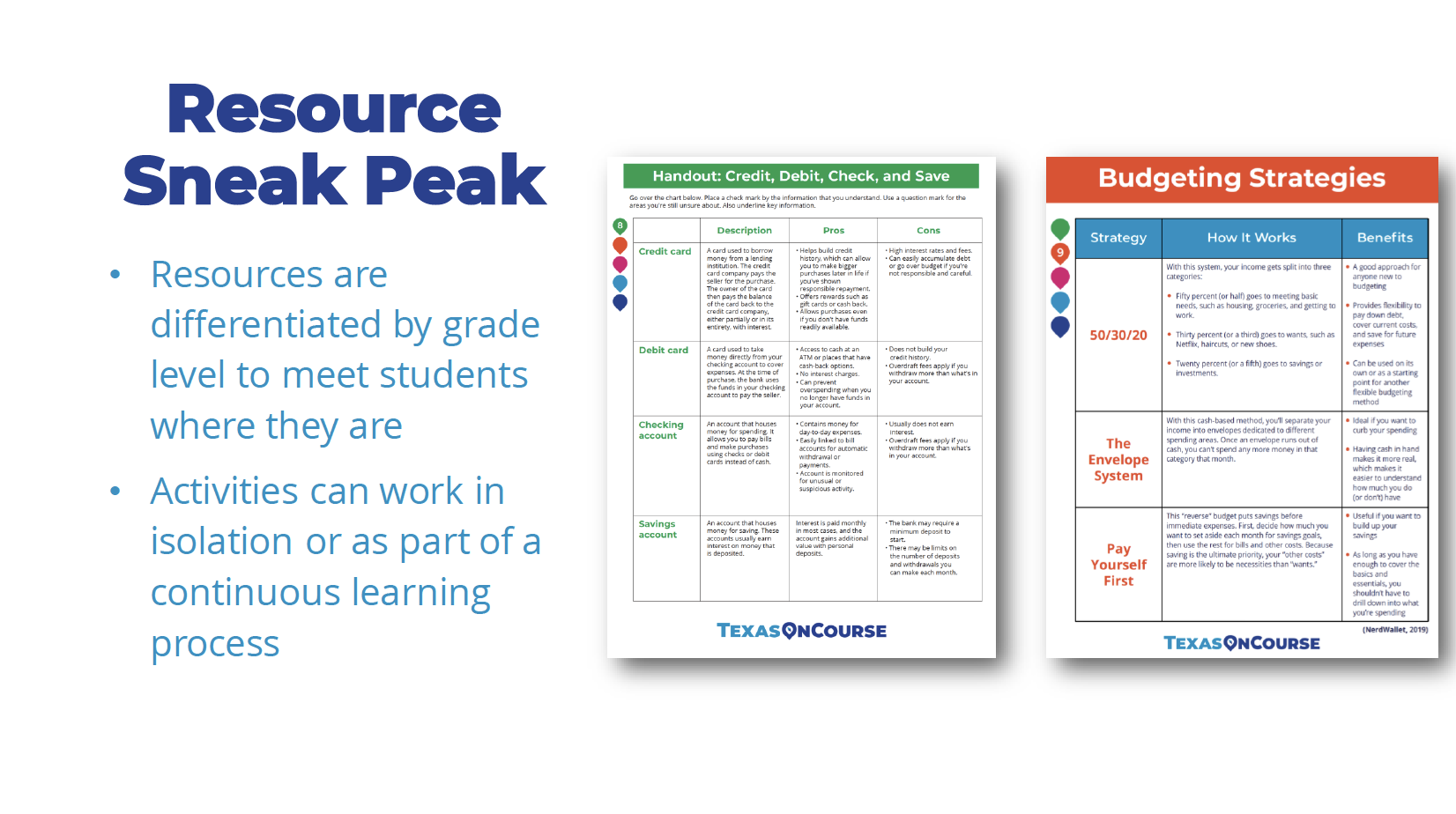 Before digging into financial concepts and resources for high schoolers, Tamara walked us through the Federal Reserve Bank: who they are and who they serve. The Federal Reserve Bank system is the centralized bank of the United States. The 11th district, the branch Dallas serves, includes all of Texas, some of New Mexico, and Louisiana. It particularly serves those in underrepresented areas. This support provides students in specifically majority-minority school districts economic education. In the past couple of years, they've shifted their focus to providing teachers, counselors, and other educators with resources and training.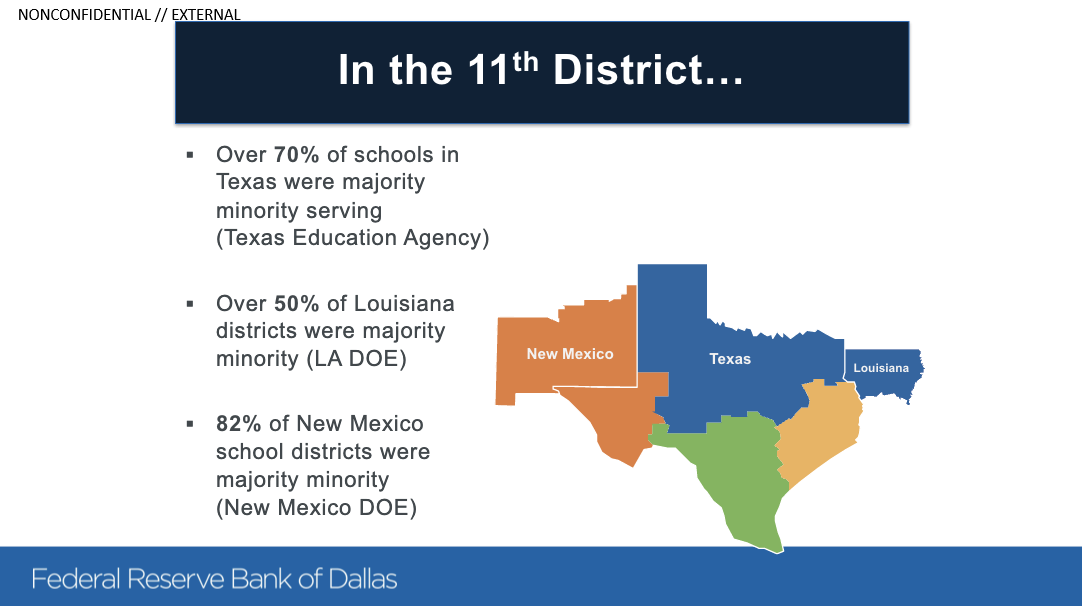 Six Financial Concepts for Students
Tamara also shared six financial concepts that high schoolers need to walk away with.
Budgeting
Teaching students how to write down their income, keep a record of their money, and think about their long-term and short-term financial goals are awesome habits that pay off. In doing this, students learn how to categorize and track spending, how to understand their income or financial position, and the importance of sticking to a budget.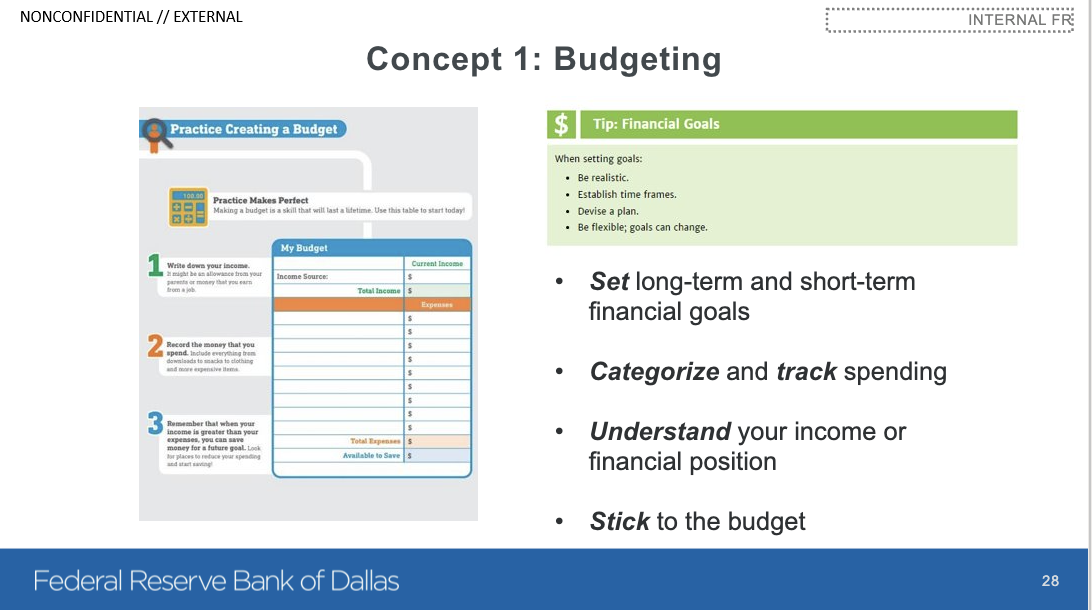 Investing
Many of your students may be aware of what investing is, but it's very important that they understand the risk and return relationship. No matter how big or how small their investment is, being able to determine the return and consequences of their contributions is crucial in helping them build wealth. Investing also includes a ton of lingo that students aren't familiar with, so helping them understand the basics will support them in getting a jump start.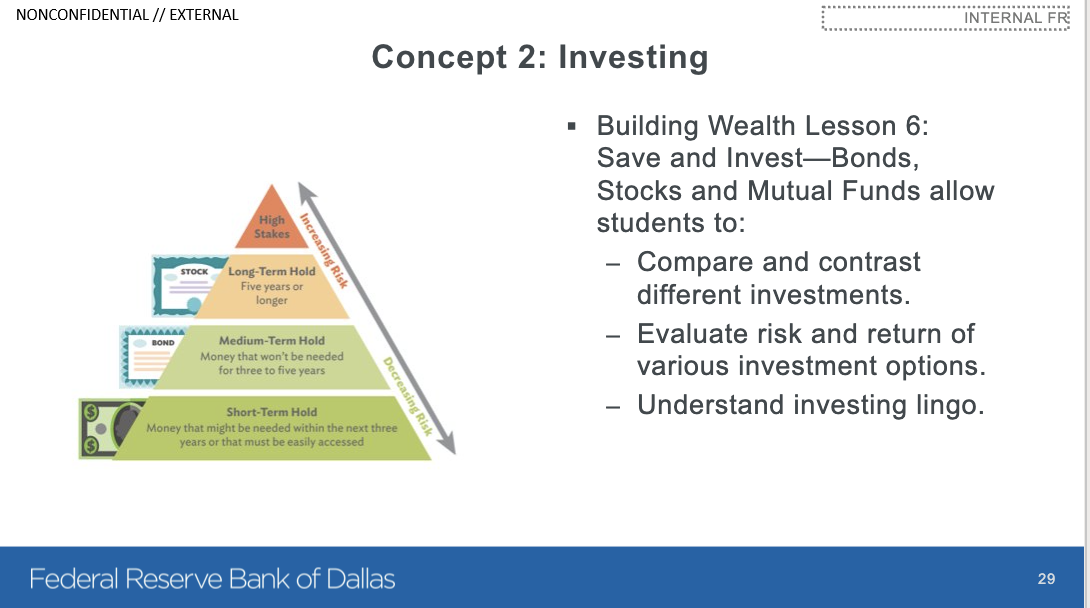 Savings
Students should understand what savings are and the different dimensions of this concept. Helping students understand the importance of saving and the convenience of having money protected in a bank is a great mindset and tool that will help them as they begin to accumulate wealth.
A student's relationship with money, their background, and socio-economic status are sensitivities to keep in mind as you're teaching students about their options. Reassuring them it's possible to save and highlighting the many ways they can do it can help create a more positive outlook on financial wellness.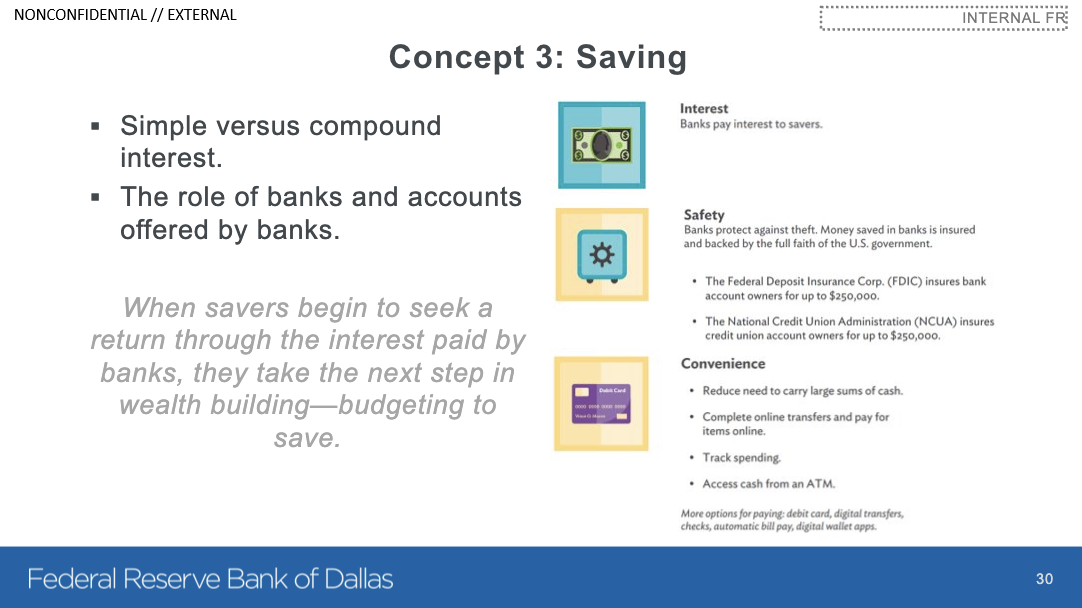 Spending
Categorizing spending needs and wants is the first step in prioritizing spending decisions. By encouraging students to define their personal needs and wants, they can make smart choices with their money. In exploring this concept, students can start to build a belief system and begin framing their mindset around money management.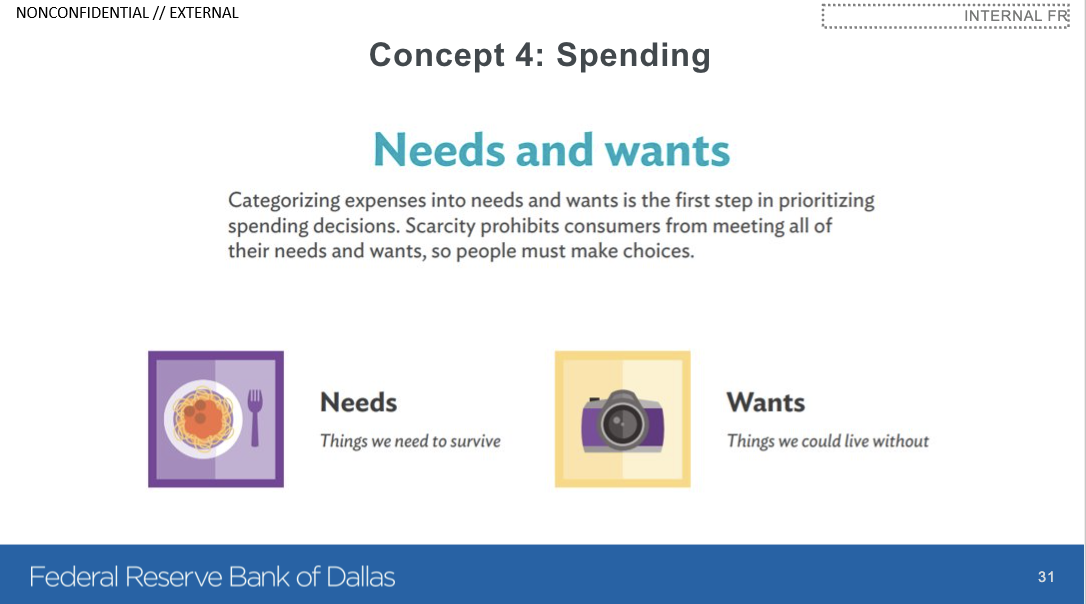 Financing Your Future
This concept dives into the costs of pursuing a credential after high school. Regardless of what that path looks like, it will cost students money. Teaching our high schoolers the implications of student loans, financial aid award letters, and what paying for school may look like for them is especially important to highlight.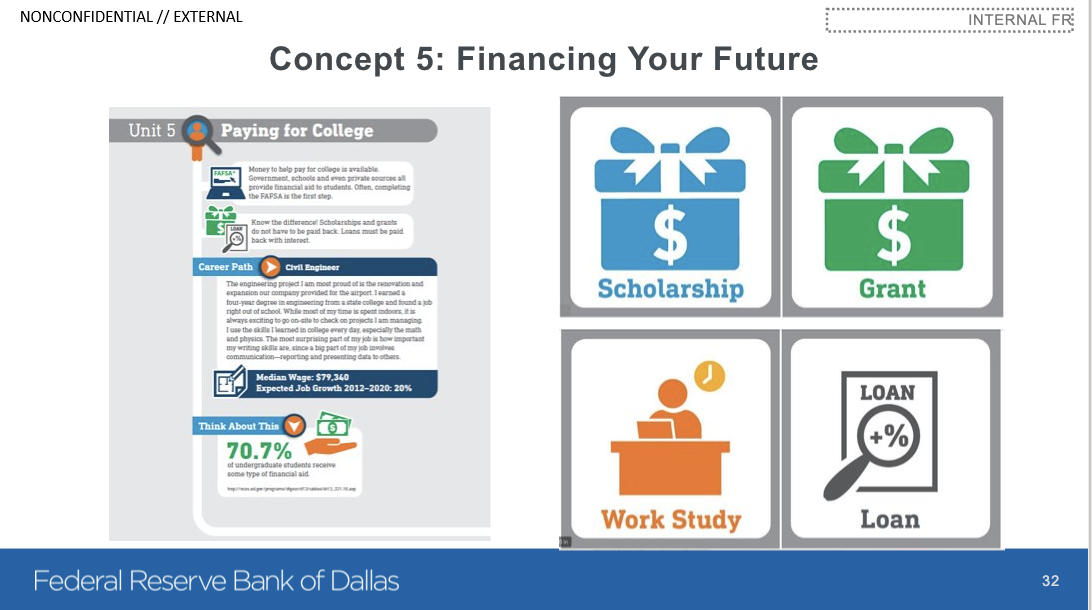 Credit Scores
While many students under 18 don't have a credit history, it's still important that they understand the difference between a credit score and a credit report. Teaching students what a credit score is, what the number predicts, how it's used, and how to build a healthy score is just as valuable as reading and understanding a credit report. It's never too early to start teaching students about this concept, and it's a great opportunity to get the parents involved.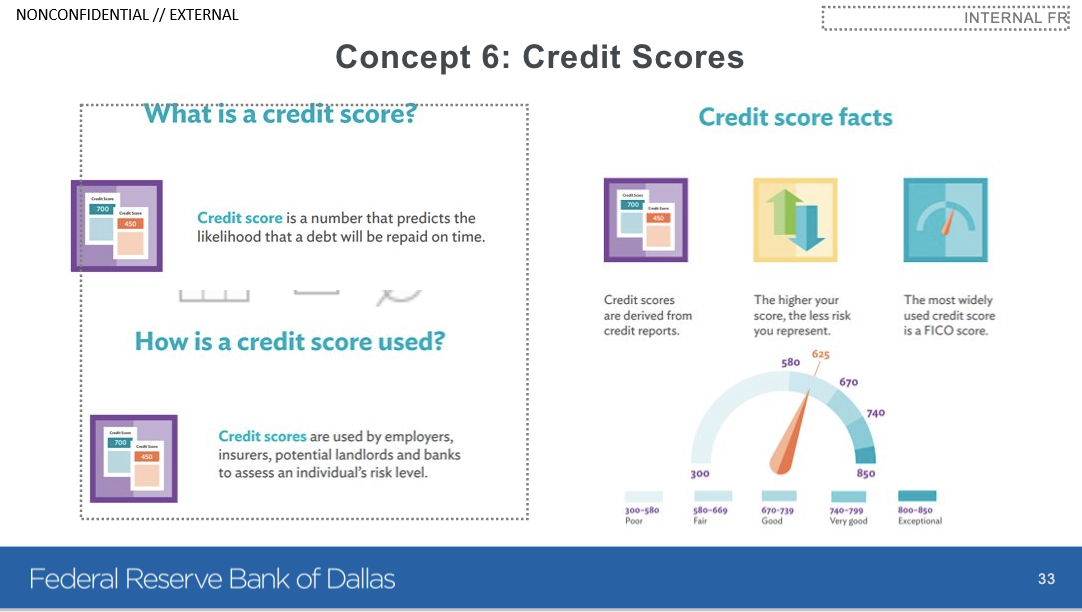 The publications Building Wealth and Navigate: Exploring College and Careers are both awesome resources filled with useful information that's applicable to both students and adults of all ages. "Building Wealth" is available to use online through an e-Learning tool. The online learning platform for Building Wealth is self-paced and features assessments and progress monitoring as well. "Navigate" is meant to help prepare students for life after high school. Each unit gives examples of career paths, expected wages, and includes teacher's guides and handouts.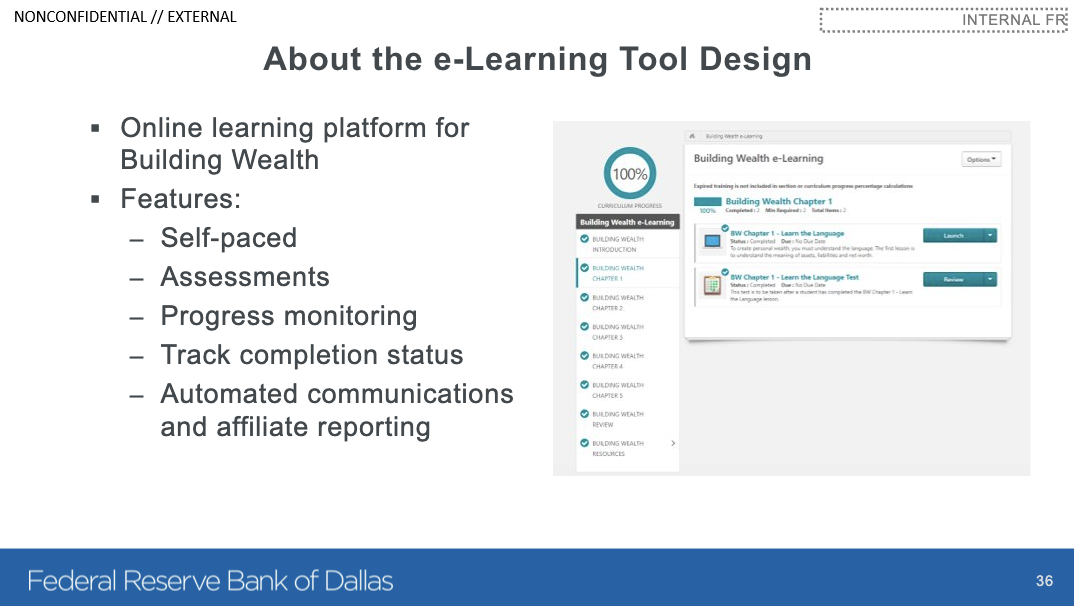 Special thanks to our guests, Tamara and Morgan, for joining and highlighting some resources and tools available to educators and students. And a big thank you and huge virtual hug to YOU for tuning in and sharing your time, thoughts, and best practices with us.