What are endorsements?
For parents and guardians, hearing that their eighth grader will have to select an endorsement can be confusing. After all, when today's adults were in school, such a thing didn't exist!
Explaining that it's "like a college major, but for high school," helps a little, but what does that mean in this context?
An endorsement is defined as "a coherent sequence or series of courses" in one of five areas: STEM (Science, Technology, Engineering, and Mathematics), Business and Industry, Public Service, Arts and Humanities, and Multidisciplinary Studies. Each high school must offer courses leading to at least one endorsement, but not every school offers every endorsement.
For details on each of the endorsements, check out our in-depth article on academic planning. To find out what endorsements are available at your school, start by checking your district's webpage.
An even more in-depth look at endorsements (including provisions for gifted and special needs students) is available here.
What does the timeline look like?
The best time to start thinking seriously about endorsements is seventh grade, or early in a student's eighth-grade year, before they register for high school classes. Save the handy visual guide pictured below so that you and your student know what to expect at every step of the way.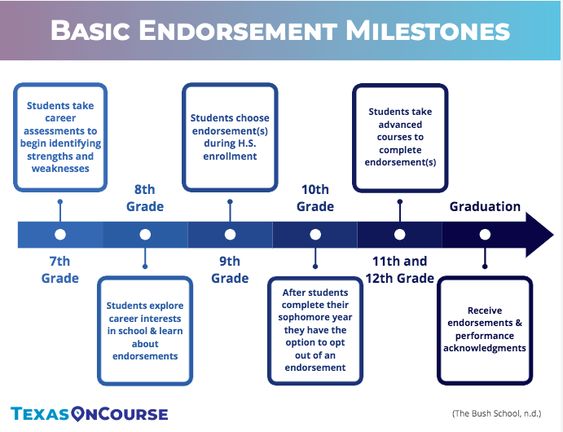 How can I help my student pick an endorsement?
Once you know what endorsements are available at your high school, there are several helpful tools to aid students in selecting the right plan for them. Conversations with counselors, advisers, friends, and family are a natural first step! But what next?
One of our favorite tools is our career exploration game, MiddleGalaxy. Available on desktop or phone, this simple game helps students learn more about how their passions and skills can translate into fields of study and, ultimately, career fields!
We also love MapMyGrad, our interactive website that enables a student to zero in on their skills and interests, explore careers and endorsements, and plan a path through high school. A student can take a quick, six-question quiz that shows them the endorsements aligned to their interests. It even shows specific endorsements available at each high school and discusses how to complete an endorsement if a specific high school doesn't offer it. Students can use it to be sure of graduating with the endorsement (or two!) that fits their interests and aptitudes.
Additionally, we have many resources listed by grade level on our Students and Families page to help you navigate this decision. Explore them over winter break with your seventh or eighth grader to start them thinking about this important step in their education.
Why does my student have to select an endorsement?
Starting with 2018's graduating class, the state legislature declared high school endorsements necessary for graduates of the Texas Foundation Graduation Plan. By requiring students to focus their course of study, students attain the knowledge and skills necessary to become college and career ready. This benefits not only students, but Texas' workforce and our economic future.
For updated information on endorsements, be sure to log in to the Texas OnCourse Academy. Look for the modules under Career Pathways > Academic Planning > Career Clusters, Pathways, and Endorsements.