Scholarships and grants, federal student loans, state and college loans, private loans, work-study – these are the many ways your students can receive assistance in paying for college. Researching and pursuing these opportunities can be complicated, but there's more to do once applications are in! Students need to learn that borrowing only what they need is crucial to minimizing debt, and that certain forms of financial aid will need to be re-paid or traded for time.
Ensuring that your high school seniors understand how to accept financial aid is part of effective college and career readiness instruction. Having this conversation helps college-bound students develop fiscal responsibility. They've done the legwork of applying and being accepted to college, and now a valuable opportunity presents itself: How does one pay for a college degree while incurring the least amount of personal debt possible?
The chart below details how to accept financial aid to ensure the most benefit: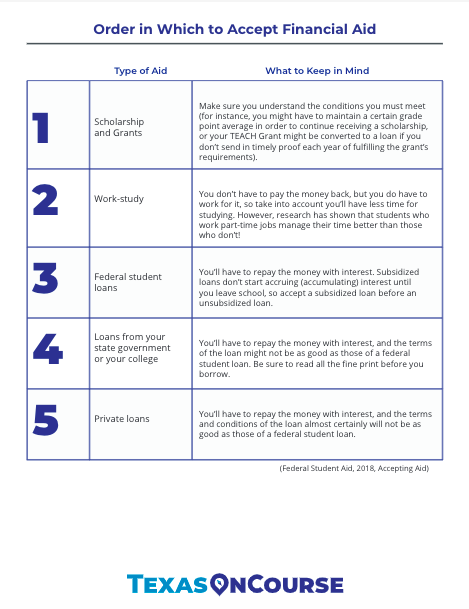 Find information and other resources like this on our Financial Aid Basics blog.
Sharing this chart with your students and talking to them about finances will give them a leg up when it's time to make a college budget, review financial aid award letters, or sign promissory notes. For more information on paying for college, log on to the Texas OnCourse Academy and look for the modules under Financial Aid > College Cost > College Finances.