Too often, we view scholarships as something that students start thinking about in the later years of high school – when college applications are imminent. But here are ways to begin earning scholarships for college as early as ninth grade. Through micro-scholarships!
A micro-scholarship is money that high school students can earn for college starting in ninth grade for individual achievements. Micro-scholarships are awarded by colleges and universities who partner with RaiseMe, and each college or university creates their own system of micro-scholarship.
High school students can create a profile on RaiseMe and search by college to see estimated cost of attendance, acceptance rate, salary after graduating, and more.
They can also see what that particular college is willing to award micro-scholarships for. It's important to note that each college devises their own system of awards. Micro-scholarships awarded by one college are applicable to that college only, and are not transferable.
Micro-scholarships are only awarded when students apply, are admitted, and enroll in the college they earned them for. Educators can review frequently asked questions on micro-scholarships here.
Thankfully, many colleges on RaiseMe offer micro-scholarships under common categories. It behooves students to be high achievers in high school and keep good records of their extracurricular activities, awards, and work experience.
Common achievements students can earn money for:
Courses – getting A's, maintaining a certain GPA, and more
Extracurriculars – engaging in college prep or leadership activities
Community service – volunteering
Honors and awards – being recognized
Test scores – scoring well on the SAT/ACT
College events – going on a college visit
FAFSA – completing the FAFSA senior year
Work experience – working, interning, or supporting one's family
Here's a screenshot of just some of the things the University of Texas at Austin offers micro-scholarships for: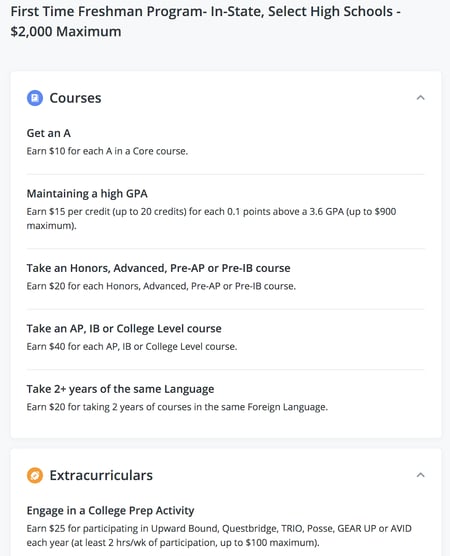 Educators can also register for an account on RaiseMe to keep track of their students' progress, celebrate their accomplishments, and verify their awards with admissions offices.
For more information on all types of scholarships, head to our Scholarship Basics for Educators page, and be sure to log into the Texas OnCourse Academy and look for the module under Career Pathways > Scholarship Application Process > Scholarship Applications.