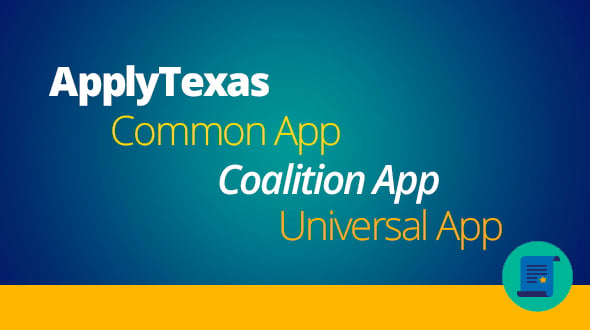 The various college application systems each have unique characteristics that that can make it hard for even the most seasoned counselor to quickly and easily remember specific details -- which applications, for instance, offer an Early Decision option, or which accept all materials electronically.
Fortunately, Texas OnCourse has put together a one page resource you can hang in your classroom to make it easy to remember. Some quick summaries of what each application specializes in:
Apply Texas
Used for all Texas public colleges and universities and some private.
Coalition App
Focused on making the college application process accessible to low- income and first- generation college students.
Common App
Accepted by the most schools, the Common App is used by many public and private universities nationwide. It serves colleges with a holistic application review process.
Universal App
Like the Common App, the Universal App serves schools nationwide. However, unlike the Common App, the Universal App serves accredited schools with a variety of admissions review styles.
See below for a number of key differences between these 4 useful applications.
For more great information on college applications, be sure to check our our resource on everything you need to know about planning for college.