The start of the academic year is a hectic time for school counselors. You're enrolling new students, making schedule changes, and triple-checking graduation requirements against senior records. With these critical tasks taking precedence, the late September deadline for QuestBridge can slip past each year.
The QuestBridge College Match is a unique opportunity for students from lower-income families. It is a national program that awards full scholarships at 40 prestigious universities including Stanford, Yale, Columbia, and Rice.
Applying to college through QuestBridge offers students many opportunities and benefits. Take a look at what students can get from ranking colleges for early admission, followed by QuestBridge Regular Decision (in case they aren't matched). Download the "Ranking Colleges" resource featured below: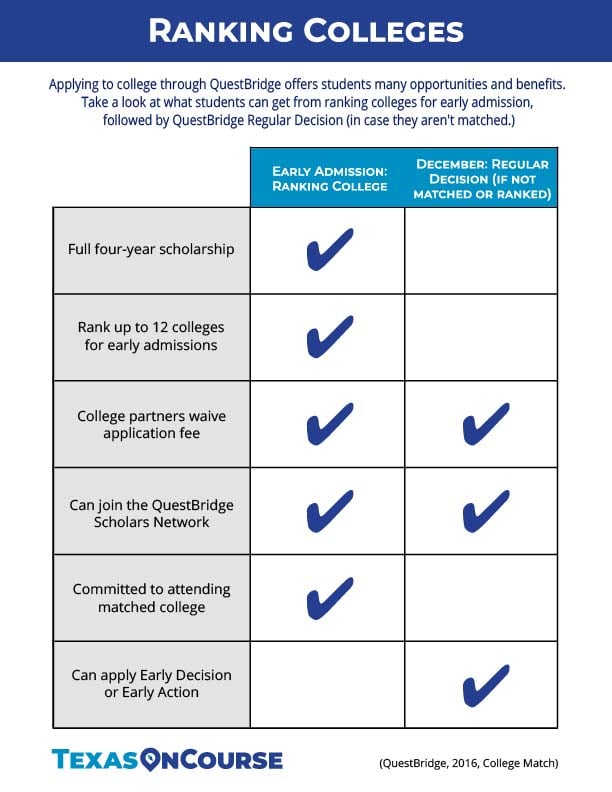 But who should apply for QuestBridge College Match? While there are few strict rules, QuestBridge offers guidelines and publishes the profiles of finalists each year.
Income:
Finalists for QuestBridge come from families where all sources of household income total no more than $65,000 for a family of four. The 2017 finalist profile for QuestBridge demonstrates that household income is usually less: the median family income for a finalist was $34,390, and 78% of QuestBridge finalists received free or reduced lunch.
Academics:
QuestBridge applicants meet or exceed partner college admission requirements. They have a history of earning A's in rigorous courses, a class rank in the top 5–10%, and evidence of strong writing ability. While these are not strict cutoffs, the 2017 finalist profile offers more insight. The average QuestBridge finalist earned an ACT score of 28–32 or an SAT score between 1320 and 1450, maintained a 3.89 unweighted GPA, and was ranked in the top 10% of the class.
Citizenship:
QuestBridge is open to all students residing in the United States. Applicants should either be US citizens/permanent residents

OR

students who are DACA recipients, asylees/refugees, and undocumented students and attend US high schools. However, not all partner colleges offer scholarships to students in the second category. Students should check the

Additional Citizenship Requirements page on the QuestBridge website to verify that their application will be accepted before listing a college as a match.
Background:
Have your students overcome significant challenges? Do they help support their families, come from a second-language background, or care for siblings? Are they leaders in the school or community? If so, guide students to a QuestBridge application. In 2017, over 70% of QuestBridge finalists were first-generation four-year college students!
You can download a copy of what the application process looks like: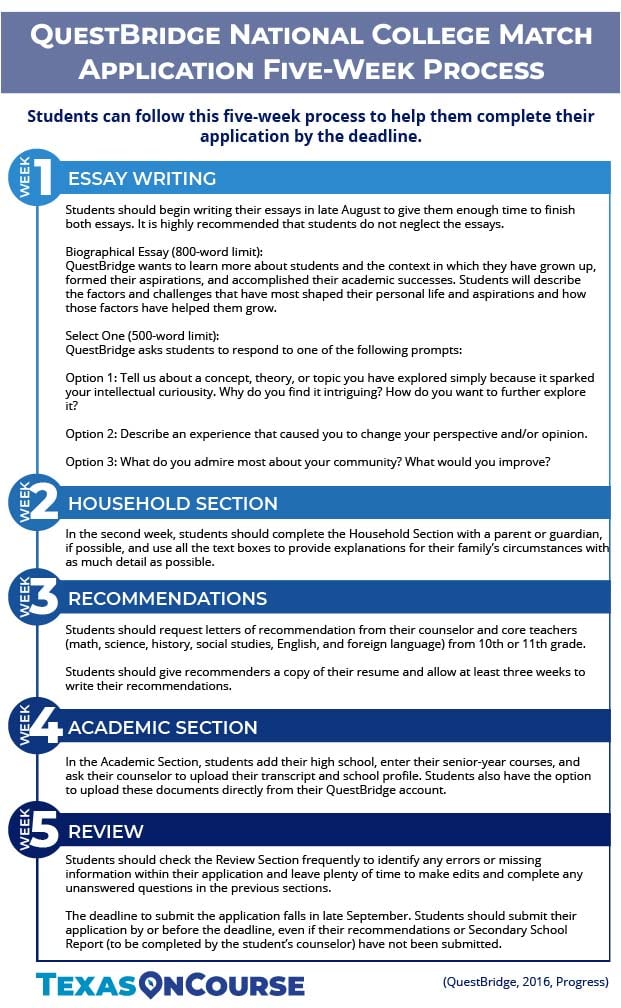 QuestBridge College Match is an opportunity for students to attend selective colleges they may have never considered. Since recommendations, a counselor's report, and essays are required, eligible students should begin their applications as soon as possible. Counselors should note that students who match with a college enter into a binding agreement. This fact should be thoroughly explained to both the student and parent or guardian. For more information, visit the QuestBridge module in the Texas OnCourse Academy or check out the QuestBridge website!
For even more information on all sorts of scholarship opportunities, don't miss our Scholarship Basics blog.