In this webinar, you'll learn strategies to effectively advise high school students who are taking college courses, with support from the College Credits learning module in the Texas OnCourse Academy. Hear from our sister initiative, OnRamps, about their innovative college credit program and how you can best support your participating students.
Webinar Highlights
No time to watch? Below, we summarize key information and include links to resources from the webinar.
Texas OnCourse Resources on College Credits
Students have several opportunities to gain college credit while in high school, typically by completing a college-level course, passing a college-level exam, or a combination of both. Explore these resources for an overview of available college credit opportunities and a comparison of different guidelines and fees.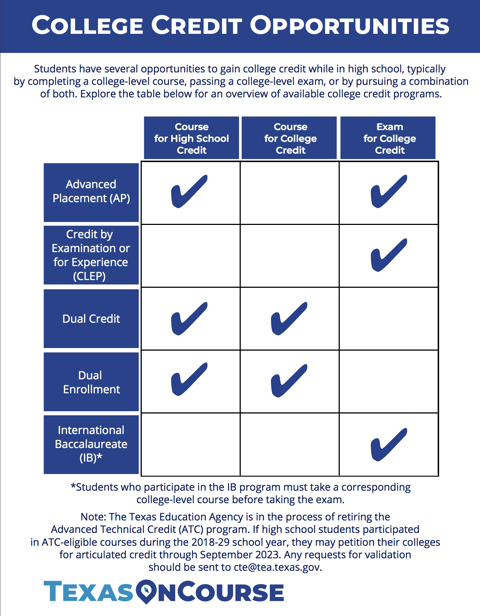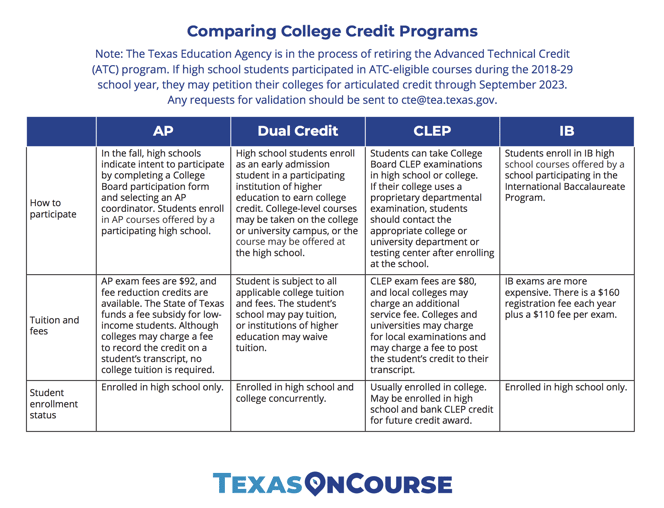 Using OnRamps for Dual Enrollment
OnRamps is an example of a program that offers rigorous distance education courses via a dual enrollment model. This means that OnRamps students are enrolled in both a high school course, led by a high school teacher, taught on the high school campus, and a distance college course, led by credentialed UT Austin Faculty and a college instructor of record. The distance college course is delivered through the Canvas Learning Management System.
Here's how OnRamps could benefit your students:
72% of OnRamps students enroll in two- and four-year colleges, compared to 56% of non-OnRamps students across Texas.
Latino OnRamps students are approximately twice as likely to enroll in four-year colleges, compared to non-OnRamps students, more specifically 40.4% versus 20.4%.
Black students who complete an OnRamps course in high school also show significant improvement, with 44% earning a GPA above 2.5 in their first year of college – 7 percentage points above the state average.
Dual Credit Programs
Dual credit programs are slightly different from dual enrollment. Students receive credit for completing the course from both their high school and the local community or junior college providing the dual credit course. Students receive just one grade per class.
Research shows that students who complete just one dual credit course double their chances of completing college.
Kyla Kenworthy, a counselor from Hereford ISD, shared some dual credit best practices from her district:
All 10th graders who have signed up for a dual credit class their 11th grade year should be given the Texas Success Initiative Assessment (TSIA) at school
Students must have an 85 or above in the content area in order to register for a dual credit class
Success is measured in the translation of the student's college grade and college entrance exam score
Case Study: East Side Memorial Early College High School
East Side Memorial Early College High School is a model ECHS in the Austin Independent School District.
ECHS students:
May earn the equivalent of up to two years of college with free tuition, textbooks, and instructional fees
Are grouped in a small cohort, facilitating more personalized instruction
Are able to earn both college and high school (dual) credit
Are able to participate in student-driven clubs and activities of their choice after school (as their studies permit)
May choose to transfer ECHS credits to most Texas public colleges and universities.

Acceptance policies for private and out-of-state universities vary.