The fall is PSAT season, which means students have questions about the National Merit Scholarship. Often, students don't fully understand why the PSAT is important, except as a practice for the SAT. We've created simple graphs that can help you guide your students.
The PSAT/NMSQT is the qualifying test for entry to the National Merit Scholarship Program. Students take the test two years out from when they hope to receive the scholarship. For example, the 2017 PSAT/NMSQT is the designated qualifying test to compete for scholarships awarded in 2019.
Below is a simple graphic detailing the different levels of National Merit recognition.
There are helpful tips on how to help students through each round of applications in our National Merit training module for counselors and advisers.
For students who are about to take the PSAT, and particularly for students who do well enough to qualify as National Merit Semifinalists, understanding the potential rewards is important. Awards range from $2,500 to corporate scholarships that may cover a large portion of college costs. Below is another helpful graphic to keep in your office for students that outlines the types of scholarships that finalists receive.
Print either of these graphics for your classroom!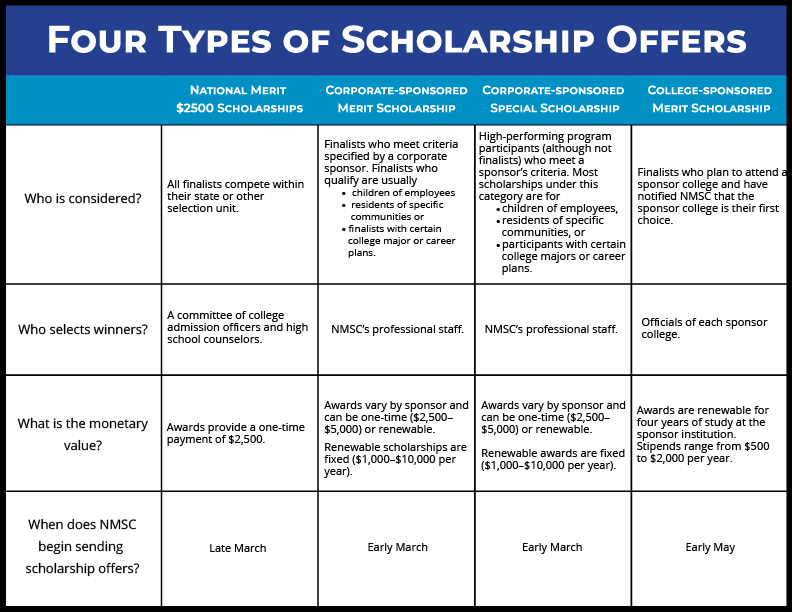 For more info on scholarships, check out our Scholarship Basics blog. And find even more helpful information in our National Merit training module for counselors and advisers.