Earlier this fall, sophomores and juniors across Texas took the PSAT, giving many of them their first taste of rigorous college entrance exams. This test can reveal areas that need improvement in preparation for the actual SAT®. For juniors, it's also an opportunity for students to earn scholarships by scoring high enough to become a National Merit Scholar! With test scores due to be released in mid-December, let's talk about the scoring scale and how to interpret PSAT/NMSQT test results.
Things to keep in mind about the PSAT/NMSQT:
Students receive a combined score that takes into account reading, writing, and math sections.
The PSAT is scored on the same rubric, but a slightly different scale, as the SAT. While the SAT is scored on a range of 400–1600, the PSAT is scored on a range of 320–1520.
The total PSAT score is a direct indicator of a student's total SAT score. For example, take a student who earns a PSAT score of 1000. If that student took the SAT on the same day, they'd be likely to get a total SAT score of 1000.
A handy visual guide on test sections and score ranges (pictured below) can be downloaded from our Pinterest account.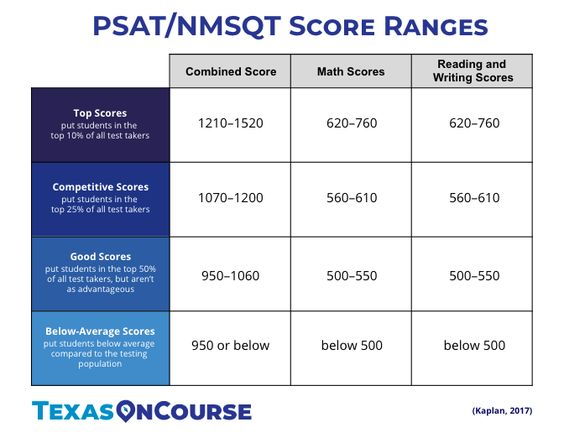 For more information on advising students on the PSAT/NMSQT, log into the Texas OnCourse Academy. Look for the module under Financial Aid > Scholarship Application Process > Module 2 (National Merit Scholarship Program).
And finally, don't miss our BONUS blog on all things admissions tests/entrance exams.