With 2018 FAFSA priority deadlines behind us, students are checking their portals and mailboxes for their financial aid award letters. As they gear up to make big decisions about their financial and educational future, here are a series of helpful terms and questions to help guide students through their award letters.
Terms
Gift Aid

– Financial aid that does not need to be repaid, such as grants and scholarships. "Free money."
Loans

– Money for college expenses that students borrow and must pay back with interest. "Borrowed money."
Work-Study

– Money for college expenses that students must earn by working for the institution. "Earned money."
Housing Status

– Whether a student will be living on or off campus. Important to financial aid packages, which may shift based on a student's decision to live in dorms, with parents, or in an off-campus apartment.
Expected Family Contribution

– How much a student and family can expect to contribute to the cost of the student's education for the upcoming school year. Should be viewed as the minimum amount a family will be responsible for contributing, rather than the exact amount.
More terminology questions related to college costs? Check out our college costs tip blog from Leader Fellow Dr. Jenifer Price!
Questions
Award letters do not follow a standardized format. Students and families may struggle to evaluate and compare their financial aid offers. This downloadable list of questions should help guide students to the answers they seek as they try to make sense of their award letters.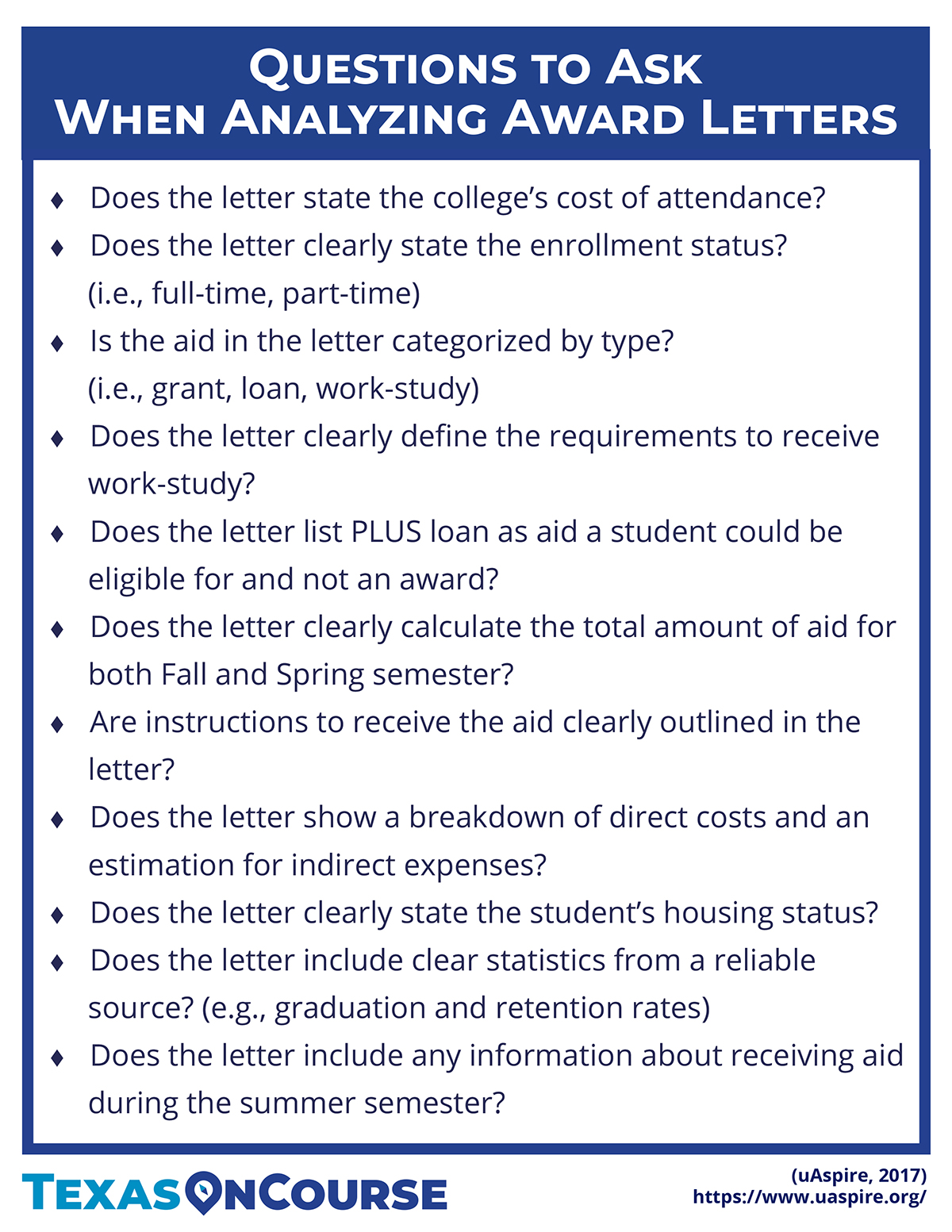 Once a counselor or adviser has helped students fully understand the answers to each of these questions, students can do the hard work of weighing the costs and benefits of each of their potential futures.
Counselors and advisers: This information is provided courtesy of the Texas OnCourse Academy. For more information on guiding students through award letter analysis, understanding the PLUS loan, and more, log in to the Texas OnCourse Academy or check out our complete Financial Aid Basics blog.