Admissions tests have long been an essential part of the college application process. The admissions test process includes test prep, taking the actual test (sometimes multiple times), interpreting scores, and finally, submitting it to the institution of interest. In the era of COVID-19, testing cancelations and barriers to entry called for change. Since the onset of the pandemic in 2020, thousands of colleges and universities nationwide have become "test-optional," affirming that they will not penalize students for the absence of a standardized test score. Some of those schools are in Texas. Some will remain test-optional even once the pandemic passes.
Although test-optional policies have eased requirements, it is unlikely that long-standing tests like the SAT and ACT are going anywhere any time soon. With that in mind, we've put together this comprehensive article on all things admissions tests so you can guide your students toward their postsecondary aspirations.
In this article, we'll cover the SAT, the ACT, the Texas Success Initiative Assessment (TSIA) and the PSAT in detail. Here's a quick overview of each:
The PSAT helps students prepare for the SAT, see where they stand, and qualify for the National Merit Scholarship.
The SAT and ACT are the two major national tests that students take to gain admission into colleges and universities across the country. The SAT also offers subject tests.
The TSIA is a placement test that some Texas students take when attending Texas public colleges and universities. The TSIA helps students demonstrate college readiness and gain access to dual enrollment and dual credit courses
In this guide, we'll include links to additional articles, webinars, videos, and other resources. And don't forget to refer to the ultimate source for all postsecondary planning information for professionals: the Texas OnCourse Academy. We have a whole badge on Entrance and Placement Exams, where you can find information on the SAT, ACT, TSIA, and more.
What you'll find on this page
Get ready for a complete rundown of admissions tests, from pretesting to score analysis and submission. Click below to navigate to each section or keep scrolling to read it all!
Timeline for test taking
The admissions tests that your students take, when they take them, and how often they take them will vary from student to student. You know your students and their needs best. And you know how to best tailor your guidance to their background and postsecondary plans.
That said, it may still be helpful to share all or part of this suggested test-taking timeline with your students and their parents and guardians.
Sophomore year (fall): take the PSAT for the first time
Sophomore year (spring): take the TSIA if needed for dual credit enrollment
Junior year (fall): take the PSAT for the second time – this time to qualify for the National Merit Scholarship
Junior year (spring): take the SAT and/or ACT for the first time
Junior year (spring): Take the TSIA to exempt out of any college preparatory math and/or ELA courses senior year
Senior year (summer and fall): retake the SAT and/or ACT
Senior year (fall): take any SAT Subject Tests
Senior year (spring): take the TSIA if needed to demonstrate college readiness or for course placement
SAT vs. ACT
Let's start at the top. There are two big national admissions tests: the SAT and ACT. Which one should your students take? Well, we recommend that students take full-length practice tests of both. We also recommend they even take both tests, as both offer fee waivers.
Regardless, your students and their parents or guardians may be curious about the differences between the two exams. The two tests differ in cost, duration, components, score ranges, and testing dates. Both offer fee waivers, and both have associated free test prep. Consider sharing this article and related infographic on ACT vs. SAT with your students to help them decide which exam best fits their needs. Be sure to check out our webinar on Assessments and Test Taking Strategies for both exams, as well.
SAT
The SAT is administered by the College Board. It's an entrance exam used by most colleges and universities in the US to make a decision about a student's admission status. Each academic year, millions of students in over 180 countries take the SAT. The exam must be completed in person. It is a multiple choice, pencil-and-paper exam that has four sections: Reading, Writing and Language, Math (no calculator), and Math (with calculator). The combined amount of time allotted for the Reading, Writing and Language, and Math sections is three hours. There is also an optional essay that is recommended or required by some colleges.
NOTE: In January 2021, the CollegeBoard announced it was discontinuing the SAT with Essay.

The SAT is offered multiple times a year; it is usually offered four times in the fall/winter and three times in the spring/summer. Students can find the SAT exam dates through mid-2021 here. Students should generally aim to take the SAT for the first time the spring of their junior year of high school, which allows for a retake opportunity in the fall/winter of their senior year if necessary. Students can register for the SAT online or by mail. Students can also reregister by phone if they have previously registered for the SAT or an SAT Subject Test and have a recent photo on file. Students can register late if they miss the registration deadline, though they'll need to pay an additional fee.
The SAT offers test fee waivers to low-income high school students who seek to go to college. If your student meets the eligibility guidelines, they can get a fee waiver from their counselor or adviser. Fee waivers can be used for online or mail-in registration. You should check out the Academy for more information and instructions on fee waivers. Look for the SAT module under Entrance and Placement Exams in the Postsecondary Pathways section.
If your students have determined that the SAT is right for them, urge them to start preparing early. Begin by having your student take a full-length practice SAT. Once they have received their practice score, compare it to SAT score ranges to determine whether (or how much) improvement is needed. From there, you can form your test prep plan.
The Khan Academy has many free SAT prep resources for high school students. They offer personalized online practice for each student by linking their PSAT scores. Students who spent twenty hours using their free Official SAT Practice gained an average of 115 points on the SAT.
When it comes to taking the SAT, students will have different needs and circumstances. If you have a student with disabilities who needs testing accommodations, the College Board can help. Review these seven steps for requesting SAT accommodations. And be sure to check out the SAT module in the Texas OnCourse Academy for additional information on accommodations.
When it comes to interpreting SAT score results, this SAT score chart can be helpful. Educators can share this video on "Understanding Your SAT Score Report" with students and families. Explore the graphic below to better understand the components of SAT scores: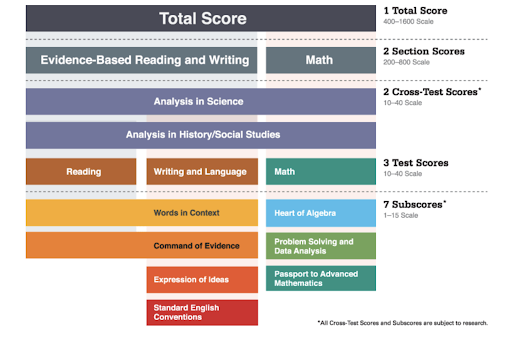 Educators can use the College Board's ACT and SAT concordance tables to compare scores of students who may complete different tests. The tables can also be used during advising sessions with students and families. The 2018 ACT/SAT concordance tables should be used as the single source of reference moving forward when comparing scores on the two tests.
Note: SAT Subject Tests were discontinued by CollegeBoard in the U.S. in January 2021. International students can still take them in May/June 2021.
ACT
The ACT consists of subject area tests in English, mathematics, reading, and science. Students also have the option of registering for the ACT with a writing component, which includes all four subject area tests as well as a forty-minute writing test. Students are encouraged to take the optional essay since a number of schools require it. The ACT is now offered seven times during the academic year, with the new seventh test date in July. Visit ACT's Registration page for more information.
The most essential step in preparing to take the ACT is actually registering. For most students, online registration will be the most convenient way to sign up for the ACT because they can immediately find out if their preferred test center has space for them to test. Students may also print their admission ticket directly from the website. The steps look something like this:
Check the list of colleges that require or recommend the optional ACT writing test.
Select a test date and test option (ACT or ACT with writing).
Select test center.
Upload a photo.
Request accommodations and check the ACT website for available accommodations and procedures before registering.
Students will need to select which institutions receive their scores either before or after they take the exams. Here are some helpful things to keep in mind:
A student can send up to four score reports for free when registering for the exam or up to five days after their test date (additional score reports can be ordered later for a fee).
ACT scores are accepted by all four-year US colleges and universities.
What other things can a student use their ACT Account for?
To change their test date, test option, or test center.
To send more score reports to colleges and universities.
Fortunately, the ACT provides fee waivers to eligible students to remove barriers that might otherwise prevent students from applying to college. Download the ACT Fee Waiver Eligibility Requirements PDF to help students further understand guidelines to qualify for a fee waiver. Eligible students are allowed up to four separate ACT Fee Waivers. A waiver is considered "redeemed" when the student registers for the exam with the waiver and once the exam date has passed, whether or not the student actually sits for the exam. To ensure that waivers aren't squandered, the student should take appropriate action if something comes up and they are not able to sit for the exam they registered for. If a student knows they will miss their test date, they may request a test date change and pay the associated fee.
When preparing for the ACT, students have several options:
ACT Aspire

. A benchmark exam available for students in grades 3–10. It helps pinpoint strengths and weaknesses in relation to the ACT as well as college and career readiness.

ACT Online Prep

. ACT's official online prep program, which includes practice test questions, a practice essay, a diagnostics test, and a study path.

ACT Academy

. Free for all students, this online program delivers personalized practice in each area of the exam. Students can take quizzes or enter their ACT or PreACT scores to see what they already know. Full length practice tests are also available.
When it comes to interpreting ACT score results, this chart can be helpful. Educators can also download and print the Sample Student Score Report and use this Interactive Student Report to learn more about how to read and use information in the ACT Student Report.
Some students may need specific accommodations to successfully complete the ACT. Fortunately, ACT provides test accommodations to meet the needs of students with documented and professionally diagnosed disabilities. Completing the accommodations process can ‍sometimes be a bit overwhelming for students and their families. Counselors and advisers can use the information provided in this ACT Requesting Accommodations webpage. For more information and instructions on accommodations for the ACT, refer to the ACT module in the Texas OnCourse Academy, under Entrance and Placement Exams in the Postsecondary Pathways section.
ACT provides support on the ACT test to US students who are English learners in order to accurately reflect what they've learned in school on their ACT scores. For more information about English learner supports approved by ACT, explore this infographic on What You Need to Know About English Learner Supports for the ACT Test.
PSAT
The PSAT/NMSQT is an exam students can take during their sophomore and junior years of high school. It is often their first experience with an admissions test. Students can take this exam to prepare for the actual SAT or to qualify for the National Merit Scholarship Program – or both. In order to qualify for the National Merit Scholarship program, students must take the PSAT their junior year.
After taking the PSAT, students can be recognized as commended students, semifinalists, or finalists for the National Merit Scholarship based on their scores. Each group is eligible for different types of scholarships for college. For more information on the National Merit Scholarship Program and other scholarships, visit our basics of scholarships page
When interpreting PSAT score results, educators should keep the following in mind:
Students receive a combined score that takes into account reading, writing, and math sections.
The PSAT is scored on the same rubric st the SAT but on a slightly different scale.. While the SAT is scored on a range of 400–1600, the PSAT is scored on a range of 320–1520.
The total PSAT score is a direct indicator of a student's total SAT score. For example, take a student who earns a PSAT score of 1000. If that student took the SAT on the same day, they'd be likely to get a total SAT score of 1000.
TSIA
The Texas Success Initiative Assessment (TSIA) is a series of placement tests for students enrolling in public colleges and universities in Texas. The tests help Texas schools determine whether a student is ready for college-level courses in the areas of reading, writing, and math. If a student is not ready for college-level courses, the tests help you develop a plan for academic success with the student if they are not meeting the college readiness benchmark.
In response to feedback and legislative requirements, an improved version of the TSIA, the TSIA Version 2.0 (TSIA2), was released January 11, 2021. Don't miss our comprehensive webinar and accompanying article on the differences and improvements reflected in the TSIA2.
The TSIA supports students in the following ways:
TSIA helps high school and college educators advise students and identify suitable course selection, preparation, and opportunities for success.
TSIA supports various students, including high school and traditional college-bound students as well as those pursuing career and technical education.
TSIA promotes the use of multiple measures in determining students' skills for placement purposes, including background questions, high school GPA, and other test scores.
The TSIA is not necessary for many students, and there are many ways a student can be exempt. Be sure to review when and why a student should take the TSIA. Students who qualify for a TSIA exemption can enroll in any entry-level college course without restrictions or prerequisites. In certain cases, students may qualify for an exemption in a specific area such as reading but not in another area such as mathematics or writing. Some of the avenues for student exemptions include:
The ACT
The SAT
STAAR testing
College preparatory courses
Military enlistment
Certification
Transfer
Refer to the TSIA module in the Texas OnCourse ACademy for more details. Find the module under Entrance and Placement Exams in the Postsecondary Pathways section.
You may be wondering when and why a student should take the TSIA. Generally, there are two primary reasons a student will take the TSIA:
To qualify for dual credit or enrollment
For college course placement
The registration process and timeline will vary depending on the reason your student is taking the assessment. Be sure to check out the TSIA module in the Texas OnCourse Academy. We cover the registration process for students interested in two-year or community colleges, four-year colleges and universities, and dual credit or enrollment.

Students can request testing accommodations for the TSIA by contacting the college or university. The college or university then usually requests documentation from the student to verify the need for accommodations. Each college or university may have its own procedures to request testing accommodations. As a result, students and their families who need to request accommodations should always verify the specific procedures with the college or university that the student plans to attend. Decisions about testing accommodations are made at the local level. K–12 TSI test coordinators and ACCUPLACER site managers can work with their district or education service center to determine how their campus will handle TSIA accommodations. Typically, accommodations include extended time, breaks, readers, scribes, and the use of assistive technology. The TSIA also offers a built-in Accessibility Wizard and paper test formats, including Braille.

To learn more about admissions tests and the college application process (and to download tons of free resources!) log in to the Texas OnCourse Academy and begin completing the Postsecondary Pathways badge. If you are a Texas counselor, you can qualify for up to $480 in 2020–21 when you complete badges in the Academy.