This summer, we relaunched the Texas OnCourse Academy. The Academy is our comprehensive online platform for professional development. With the Academy, all educators can access the tools they need to support any student on any opportunity after high school.
We're excited to invite you to explore the new Academy. We're still shaping it into the best possible resource to support your college and career advising needs. You may encounter some oddities as we do so.
You helped us build this resource – the first of its kind in the whole country! – and we hope you continue to do so by reporting any glitches to our support team. And if you have questions, check our FAQ. Thank you as well for your patience as we worked on the relaunch, especially last week as we made some final pre-launch adjustments.
What can you expect from the new Academy? A lighter look and feel, new learning pathways through modules, and an easier experience when it comes to demonstrating mastery. We're kicking off your new Academy with 12 modules, including College Credits, FAFSA, TASFA, Common App, and more. Expect the remaining modules to be available throughout August and September.
If you are planning to incorporate the Academy into ESC, district, or school professional development in July or August, contact us so we can support you on the new platform.
Our new platform was built with your feedback and the user experience in mind. We're committed to ensure the Academy remains a relevant and valuable professional development resource for you.
Here are some screenshots of what you can expect from the new Academy!
Academy dashboard: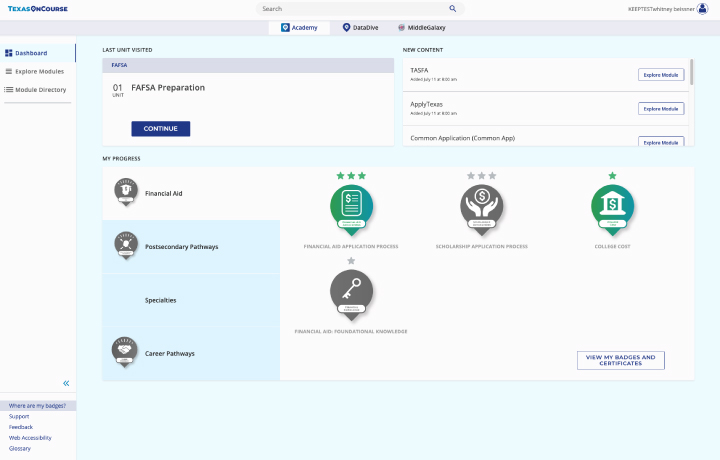 Your dashboard has changed, but you can still access modules in a variety of ways. And now, you can print your badges and certificates!
Inside a module: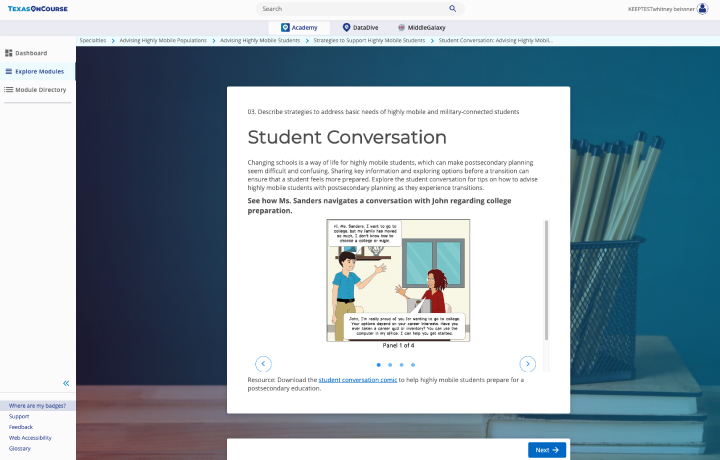 We hope you find the module content as engaging as before.
Look Out for a Demo Webinar!
Soon, we will host and record a webinar to walk you through the new system and answer your questions. Keep an eye on your email and our website for registration information!
With the new and improved Texas OnCourse Academy, you'll be even more prepared to launch every student into a successful life after high school.
Where are my badges?
We updated 10 modules in the Academy with brand-new information that's essential for you to be able to advise your students appropriately. Because of this, we've created version 2 of the badges associated with these modules. You will need to remaster the modules to earn these new badges. This is why these badges are greyed out on your dashboard. You still have the version 1 badges if you earned them, though! Click on "Print my badges and certificates" and you'll see them! Check out the scenario and screenshots below for more info.
Scenario: Whitney earned the badges for Admission and Application Process and Entrance and Placement Exams – way back in September 2017! However, these badges are displaying grey on her dashboard because she needs to remaster the four updated modules connected to these badges – those are reflected by the grey stars. If Whitney clicks on "View My Badges and Certificates…"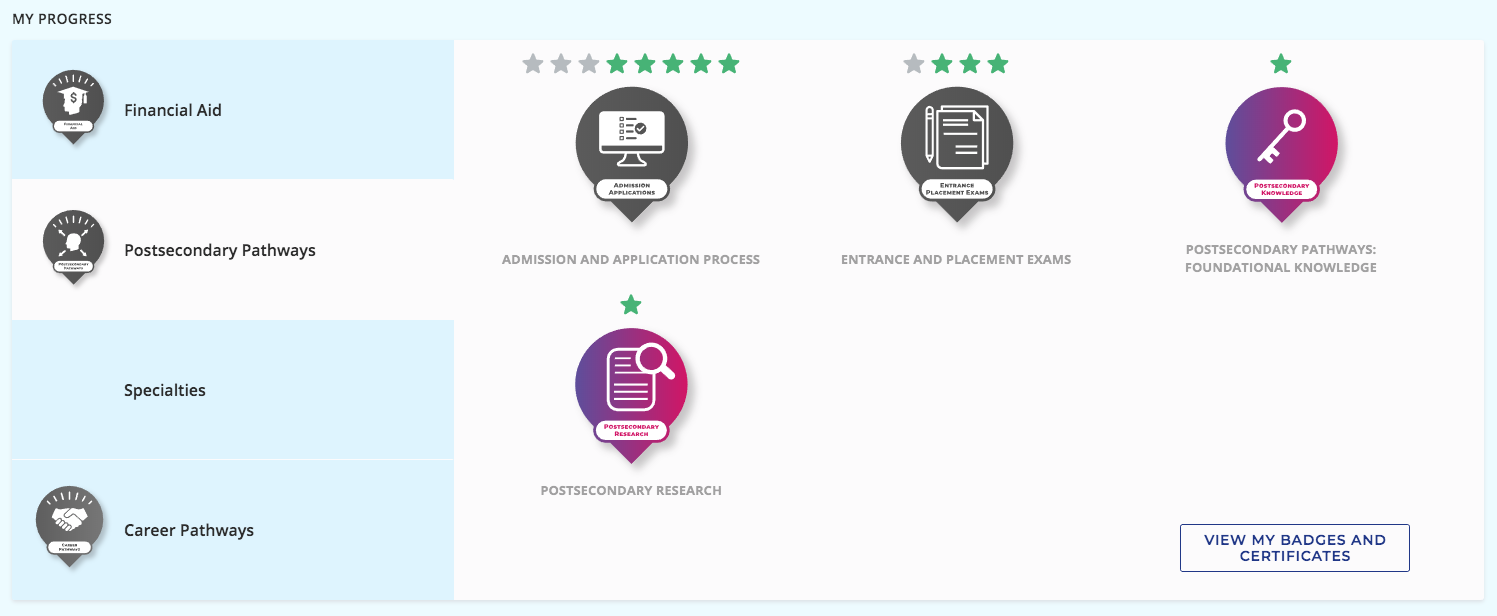 ...she'll see this page, which displays the historical versions of the badges for Admission and Application Process and Entrance and Placement Exams. You can see she's earned them because they're shaded in.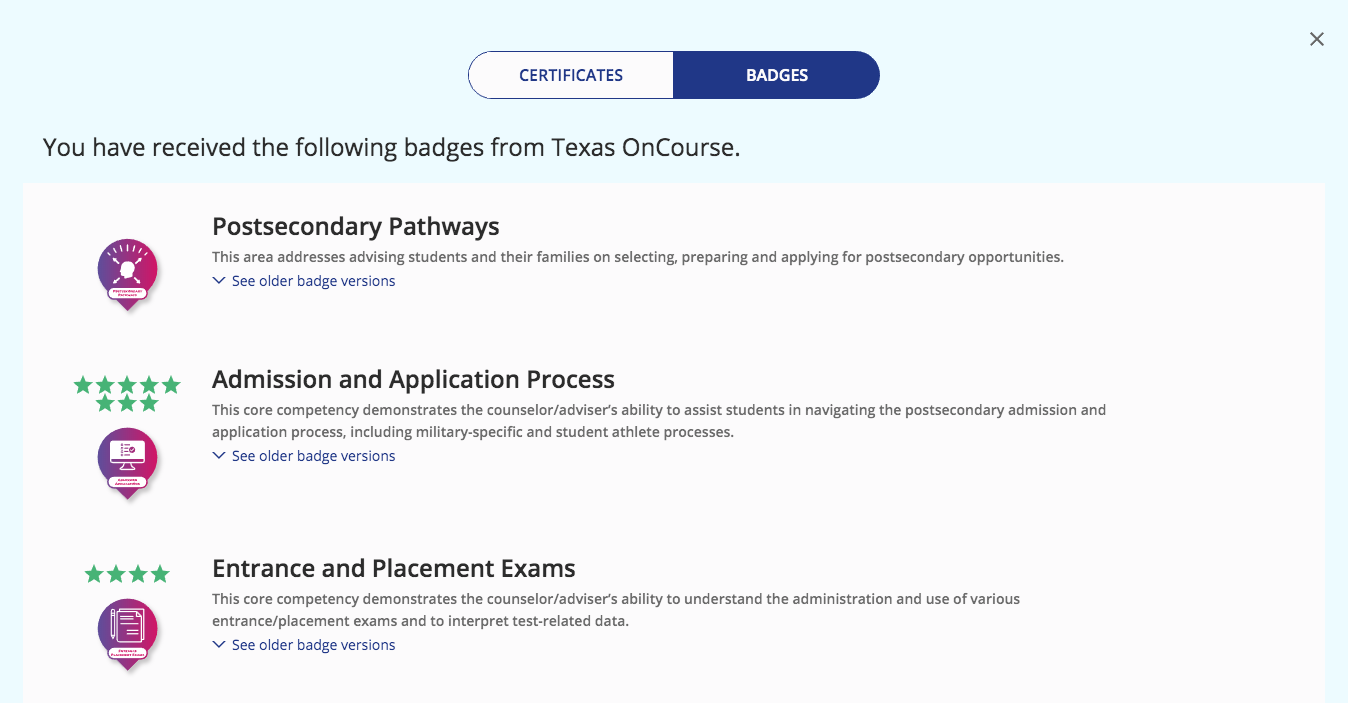 The badges we hope you re-earn if you earned version 1 are:
Financial Aid Application Process
Scholarship Application Process
College Cost
Admission and Application Process
Entrance and Placement Exams
Bonus! If you re-earn these, you'll shade in your "big" badges for Financial Aid and Postsecondary Pathways as well!
Here is a list of modules you'll need to remaster if you want to earn version 2 of these badges:
FAFSA
TASFA
ApplyTexas
Common App
SAT
ACT
Scholarship Apps
College Credits
College Finances
TSIA