It's the first week back at school for many Texas educators and students. Who knew summer could fly by so fast? Now that you're getting back in the swing of things, we want to make sure you have all the tools you need to help your middle schoolers succeed. College and career readiness starts early, and it's never too soon for your students to start dreaming of a fruitful life after high school.
You know the drill in Texas. Come spring time, students will select an endorsement (be sure to check out the endorsement quiz on MapMyGrad if you haven't already!), then one of the 16 career clusters, and finally, a career pathway. We're all for planning ahead, so here are our top three Pinterest resources for helping your middle schoolers become college and career ready from the get-go:
1) Endorsement Curriculum Requirements

Educators, keep this document handy for pre- and post-endorsement selection season! Understanding how endorsements connect to areas of academic interest will help ensure a good fit for your student. It's also great to have future course requirements available at-a-glance!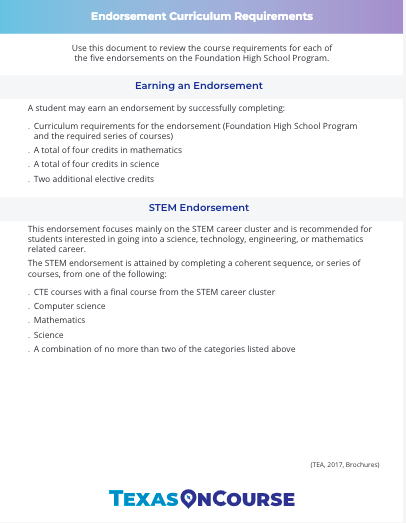 2) Questions to Help Students Choose a Career Cluster
Once a student has chosen an endorsement, they may need a little further guidance in digging down into those career clusters. This activity can offer inspiration and a sense of direction!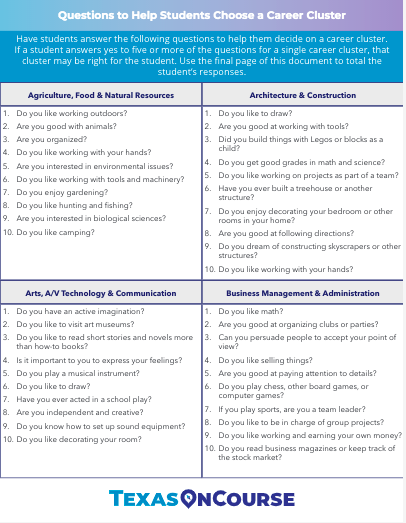 3) Relating National Career Clusters to Career Pathways
This infographic is a great point of reference when it comes to helping students understand which real-world opportunities align with their interests. Print a copy for your wall or keep it handy in the classroom!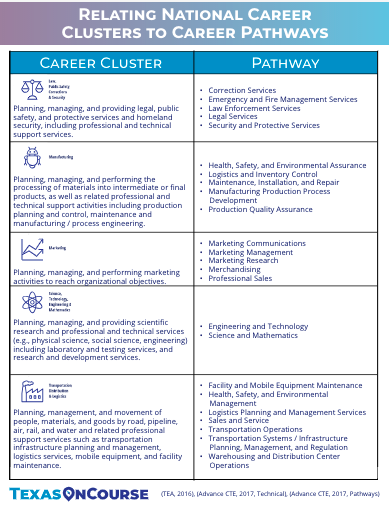 We hope you find these resources valuable in guiding your middle school students toward postsecondary success. There are a wealth of free tools available for educators within the Texas OnCourse Academy, including professional development modules that qualify educators for CPE credits. We also encourage you to check out our comprehensive Middle School Curriculum, with interactive activities and over 30 TEKS-aligned lesson plans. The curriculum is available for free download. Join us in our quest to keep Texas students on course!