Earning a four-year degree is not the only postsecondary path to starting a successful career. In this January 2021 webinar, we covered alternative options available to students. Topics included Texas certification programs, community college programs, technical school offerings, and innovative concepts like coding bootcamps that offer skills in high-need areas.
We were joined by special guests Estrella Barrera, associate dean of health sciences at Austin Community College, Jarrad Toussant, division director of college, career, and military prep at the Texas Education Agency, and Danielle Gunder of Get Schooled. Educators around the state had the opportunity to discuss their questions and feedback regarding alternatives to the four-year degree. Watch the webinar recording below or continue reading for resources and highlights.
Resources for Alternative Postsecondary Pathways
Texas OnCourse has a number of resources that support exploring alternative opportunities. Within the Texas OnCourse Academy, the Basic Principles of Postsecondary Pathways module contains a "Exploring Career Possibilities" PowerPoint presentation, which is downloadable and customizable. This presentation encourages students to think outside the box when considering careers and look past ones that may be commonly suggested.
Find the module in the Texas OnCourse Academy under Postsecondary Pathways > Foundational Knowledge > Basic Principles of Postsecondary Pathways.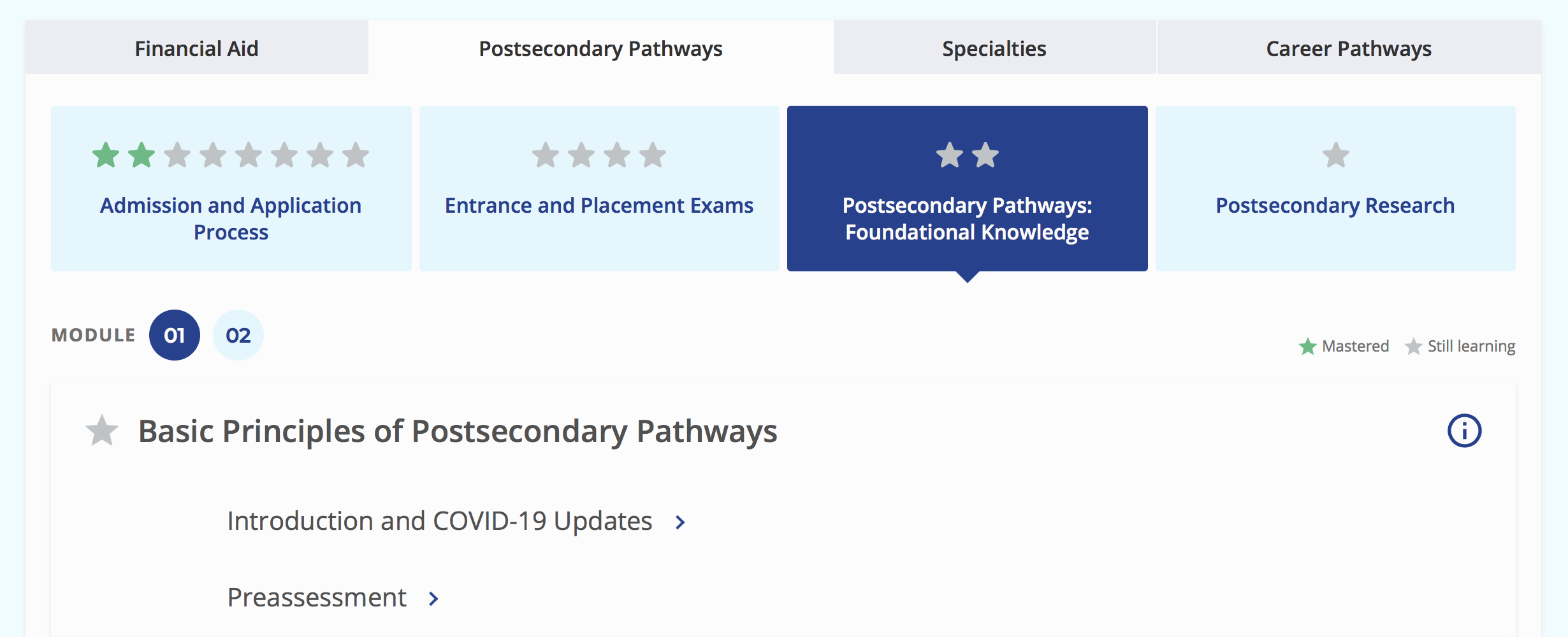 Another useful resource is Roadtrip Nation's Career Finder, which recommends careers and majors based on student interests. It also provides a summary of top careers and majors and links to BigFuture for further exploration.
The Future Focused TX campaign is another great resource for educators. By signing up for Future Focused TX, educators receive weekly forwardable emails and a digital folder with timely, shareable student resources. These emails and resources include actionable steps that students can take to make progress on their college journey. Educators can also access monthly webinars to preview upcoming digital packages and discuss insights and strategies.
Future Focused TX shares expert content, including youth-friendly videos and powerful just-in-time messaging that reaches and deeply engages students. Students can also receive regular contact via text from Ask ADVi. And if they have specific questions, students can receive one-on-one support from Get Schooled's highly trained text line responders and virtual advisers.
The Future Focused TX campaign is inclusive of all postsecondary options. It includes video content on topics such as "Five Reasons to Consider Community College," blogs such as "Top 10 Trade Jobs Right Now, " and more.
Industry-Based Certifications
Jarad Toussant of the Texas Education Agency joined us to review industry-based certifications. Industry-based certifications support the state's work toward ensuring a strong workforce for years to come.
Receiving an industry-based certification is also one avenue for a student to demonstrate college, career, and military readiness (CCMR). A number of new certifications have been added to the list accepted as a CCMR indicator in the state's accountability system. The current list includes 244 certifications, though it is pending revision for 2021–2022 implementation.
The following is a timeline for the most current evaluation of industry-based certifications: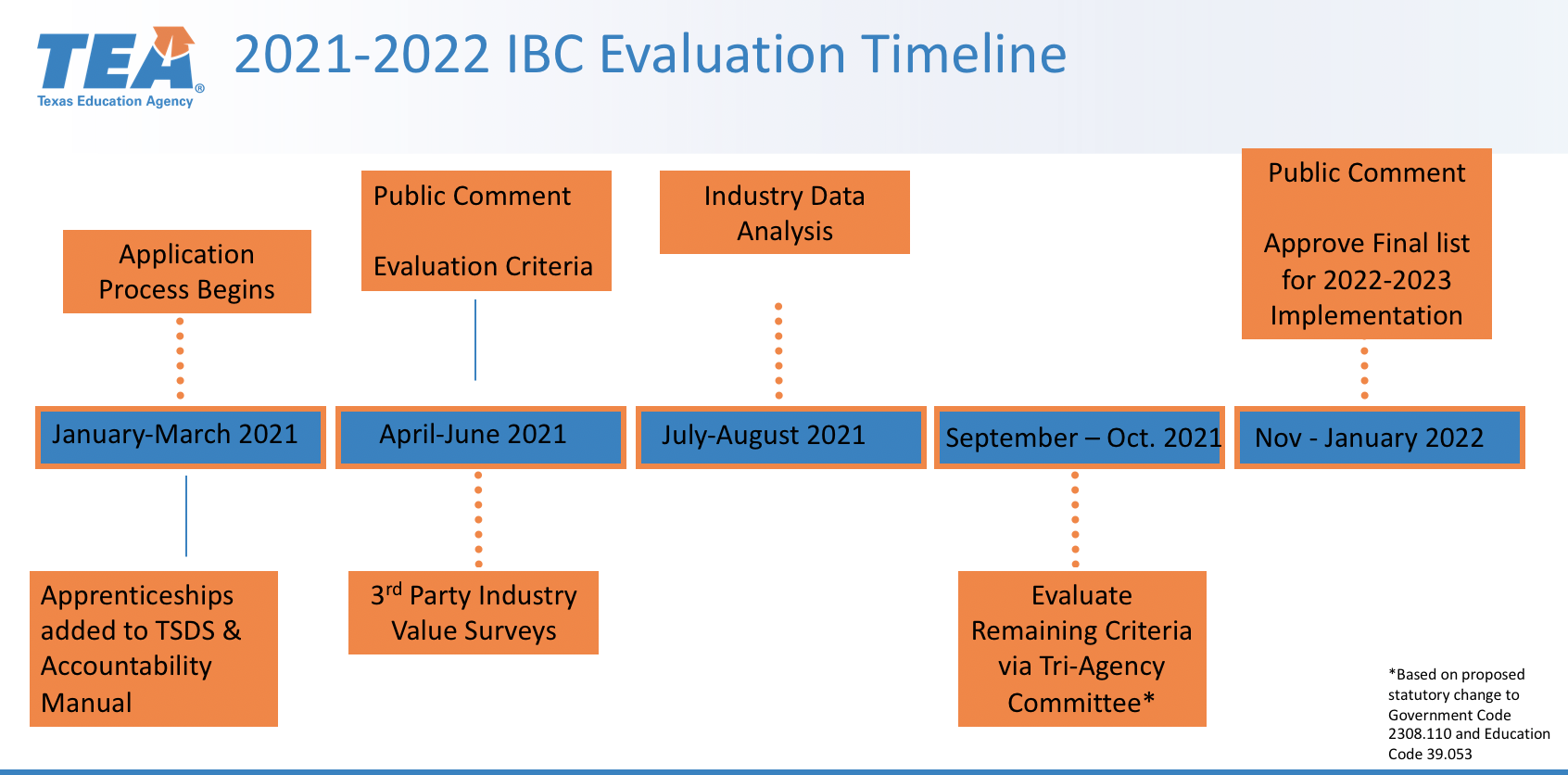 The following resources are helpful to educators and students when considering what industry-based certifications might be useful, how much they cost, and which CTE program of study they are aligned to:
We have more information about industry-based certifications and accountability if you're interested.
Austin Community College Programs of Study
Estrella Barrera, associate dean of the Health Sciences Center at Austin Community College (ACC), shared the many areas of study available at ACC. You can check out the full list here.
ACC offers more than 100 programs in 10 areas of study:
Arts, Digital Media, and Communication

Business

Computer Science and Information Technology

Culinary, Hospitality, and Tourism

Design, Manufacturing, Construction, and Applied Technologies

Education

Health Sciences

Liberal Arts

Public and Social Services

Science, Engineering, and Math
Estrella pointed out that dental hygienists, sonographers, physical therapist assistants, registered nurses, and occupational therapist assistants are just some of the jobs that have both high hourly wages AND high four-year demand projections. She followed up with this chart that highlights degrees and certificates offered through ACC's Division of Health Sciences for the following in-demand professions: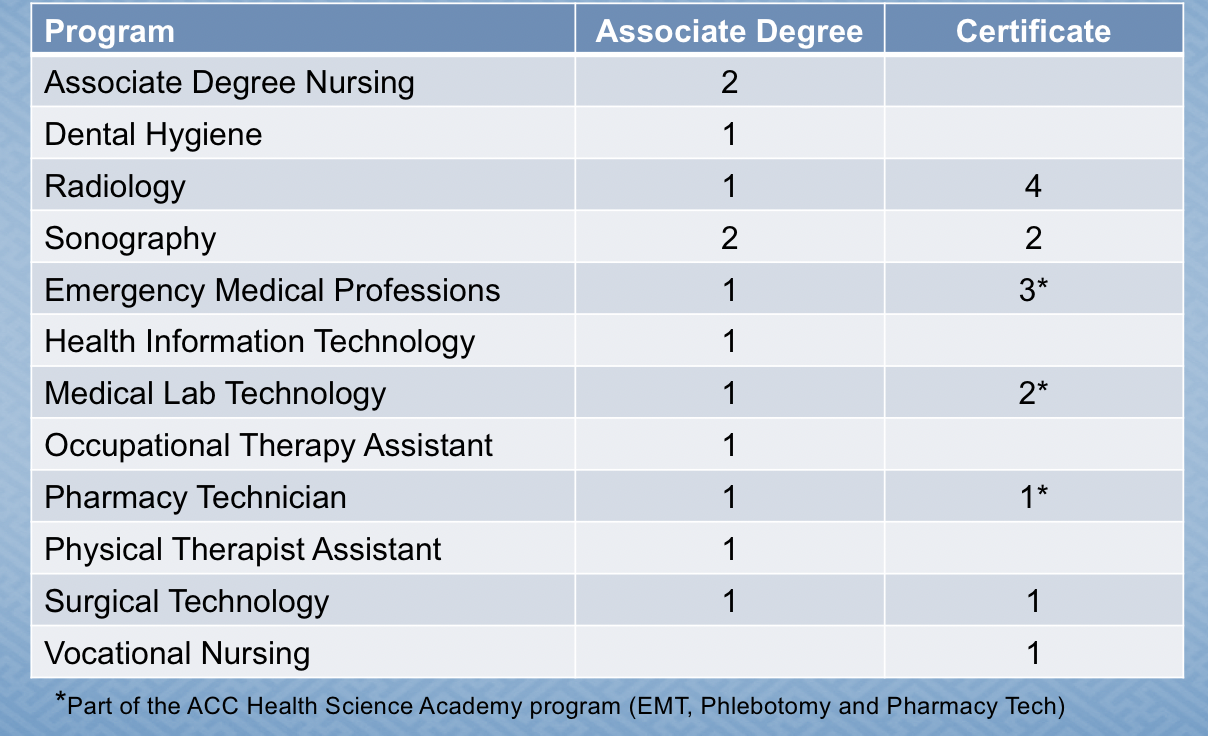 The ACC Health Sciences Academy partners with local high schools to offer the following in-demand training to high school students so they can graduate with income-earning credentials:

Those with additional questions can contact Leticia Gonzales – coordinator, high school programs and career and job readiness – for details at 512-223-7066.
District Best Practices
Finally, we heard from Crystal Castaneda, a counselor at Harlingen Consolidated ISD (HCISD), on some district best practices for encouraging students to think creatively about career paths.
Harlingen makes use of several partnerships that exist between the district and local institutes of higher education:
Texas State Technical College-Harlingen hosts application drives, delivers presentations to CTE classes, and provides opportunities for field trips. Welding, HVAC, and dental hygiene are just some of the certifications offered at TSTC.
Texas Southmost College partners with HCISD to provide college credit courses to Harlingen High School and Harlingen High School South students. By participating in the dual enrollment program, students save money and become prepared for college-level courses.
The University of Texas Rio Grande Valley provides the opportunity to HCISD students to earn up to 60 hours of college credit by the time they graduate high school, under the guidance of UTRGV professors.
HCISD also offers certification programs to current high school students. Some examples include:
Firefighter program. Working side by side with the Harlingen Fire Department, students in the Firefighters Academy will earn 468 hours of credit toward two certifications. Starting salary for firefighters in our area is $48,000 per year. Certifications include firefighter I and II training and EMT certification
CMA program. Working alongside physicians, students take practicum senior year off campus. Starting salary is $29,000 per year.
Law enforcement. 911 Emergency Communicator certification is available. Salary can range from $20–$30 an hour as students work their way up. Job opportunities abound once students complete the police academy.
Review the webinar for other important tips and resources. And log in to the Texas OnCourse Academy for more free professional learning resources on the topics of career exploration and postsecondary planning.