In this webinar on assessments and test-taking strategies, we explore college entrance exams like the SAT, ACT and TSIA – from student preparation to administration. For even more info on exams like these, visit our Admissions Tests guide. We welcome Martha Morris and Aya Takemoto from the College Board and Sauda Callahan from the ACT, who bring us exam and resource updates.
Click here to see the slides as a PDF.
The webinar first spotlights an important Texas OnCourse Academy resource. The SAT vs. ACT infographic helps students evaluate the characteristics of each exam. They can use it to decide which best fits their needs. Colleges typically accept both the SAT and the ACT scores.
NOTE: Since the onset of the pandemic in 2020, thousands of colleges and universities nationwide have made these tests optional. These schools will not penalize students for lacking a standardized test score. Some of these schools are in Texas.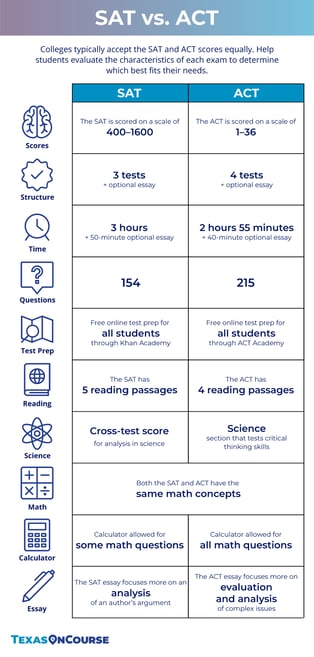 The SAT vs. ACT Score Ranges infographic helps students understand top scores, competitive scores, good scores, and below-average scores on both the SAT and ACT.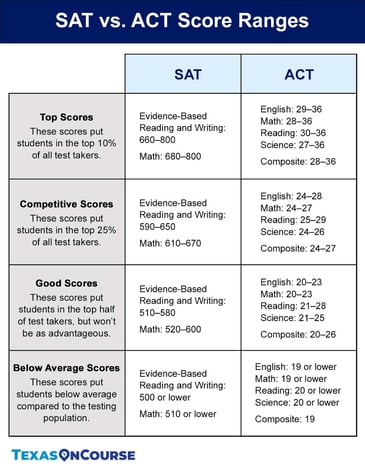 The ACT
ACT expert Sauda Callahan gave an overview of the ACT. The ACT assesses students' academic readiness for college. It's based on curriculum and standards. The test contains multiple-choice sections in four areas: English, Mathematics, Reading, and Science. ACT's writing test is optional and does not affect the composite score. Scores are based on the number of correct answers. There is no penalty for guessing.
Results and Score Reports
Multiple-choice scores are available online beginning two weeks after the test date. Writing scores usually take an additional two weeks. Four free score reports are available to send to the schools of a student's choice if requested at the time of registration. Additional score reports can be requested at any time for a nominal fee.
Fee Waivers
Eligible students may use a maximum of four ACT Fee Waivers to take the exam. Students may also request a waiver or deferral of college admission application fees. Students who register for the ACT with a fee waiver have access to ACT Rapid Review All Access (ACT Review Live and Demand) and ACT Online Prep at no cost.
Test Prep
Students can visit the ACT's Free Test Prep page. Students can access a free practice test and study guide, plus free sample classes and events.
The SAT
College Board experts Martha Morris (director of SAT Suite PD) and Aya Takemoto (director of SAT Practice) gave key information on what to know about the SAT. They began with a few SAT facts:
The SAT is accepted by every US college.
Two out of three students raise their scores when they retake the SAT.
Students who take the PSAT/NMSQT get higher SAT scores, on average, than those who don't.

Official SAT Practice on Khan Academy

is free and personalized for students.
Students who use Official SAT Practice on Khan Academy for 20 hours gain an average of 115 points from the PSAT/NMSQT to the SAT.
There's no penalty on the SAT for guessing or leaving questions blank.
The SAT and the Admission Process
A student's SAT score is just one factor among many that colleges consider when making an admission decision. Primary factors include:
Quality and challenging academic courses
Academic performance (grades)
Test scores (SAT, SAT Subject Tests, AP, etc.)
Extracurricular activities
Essay(s)
Letters of recommendation
Demonstrated interest
SAT Suite of Assessments
The SAT offers several tests. The PSAT 8/9 sets a readiness baseline, the PSAT 10 and PSAT/NMSQT show student progress, and the SAT connects students to college.
What's on the SAT?
The SAT consists of an Evidence-Based Reading and Writing section and Math section. The test had included an optional essay, but the College Board discontinued it in early 2021.
When to take the SAT?
Students should take the SAT the spring of junior year and again in the fall of senior year. Taking the test twice can show how much students have practiced and learned.
SAT Fee Waivers
Eligible students qualify for lifetime SAT fee waiver benefits that they can access directly in their College Board accounts. This includes two free SAT tests and two free Question-and-Answer Service (QAS) or free Student Answer Service (SAS) reports. Students who qualify are also able to send scores to as many colleges as they want for free. They qualify for waived application fees at participating colleges and can apply for financial aid with an unlimited number of CSS Profile application fee waivers.
Sending Scores
Just like the ACT, four free reports are included with the SAT registration. SAT Score Choice enables students to choose which scores to send to colleges.
SAT Summary
Six Key Things
Don't forget about

College Board for Counselors

!
Help students

register for the SAT

at a nearby test center.
Make sure eligible students

access their fee waivers

.
Guide students to

Official SAT Practice on Khan Academy

and encourage them to link their College Board account.
Review

a demo of the Student Score Reports portal

so you can help students understand their online score reports and take next steps.
Encourage students to retake the test and improve their scores.
Test-Taking Tips and Strategies
We all have favorite test-taking tips – "wear layers!" some say. "Answer the questions you know first!" "Don't study the night before!" Our fellows coordinator Kathy Zarate's favorite piece of advice was to print off a few practice questions. Students can do them after they check in, while they anxiously await the test. That way, they can get their brains in test-taking mode and be ready to go. All these little details can impact a student's confidence.
To collect all of our favorite tips, we built a Standardized Tests Pinterest board for educators!
Some of our favorites from the collection:
This webinar is part of our monthly series for registered users of the Texas OnCourse Academy. Click here for more information on the series, including how to get alerts for future webinars.