Do you have the most up-to-date information on the Preliminary SAT? Each fall, thousands of high school students will take the PSAT/National Merit Scholarship Qualifying Test (NMSQT). Learn the ins and outs of the PSAT/NMSQT from Martha Morris, director of K–12 outreach and resources of the College Board.
Besides updates from the College Board, this webinar includes tips for how schools and districts can support students in understanding their scores and highlights from our National Merit Program learning module.
Watch the webinar here:
Texas OnCourse Resource Spotlight
The Texas OnCourse Academy includes several resources for the PSAT and NMSQT. We highlight a couple during the webinar. You can find these in the Academy. Look for the National Merit Scholarship Program module, under Scholarship Application Process.
The PSAT/NMSQT Score Ranges infographic answers one of the common questions we know counselors receive from students and families: what is a good PSAT score? PSAT/NMSQT scoring can be really complex. Students receive many subscores. They receive test scores for their Reading and Writing, their Mathematics, and a Combined score. As students consider what their goals are and how to qualify for the National Merit Scholarship, this handout can help them understand average and competitive scores.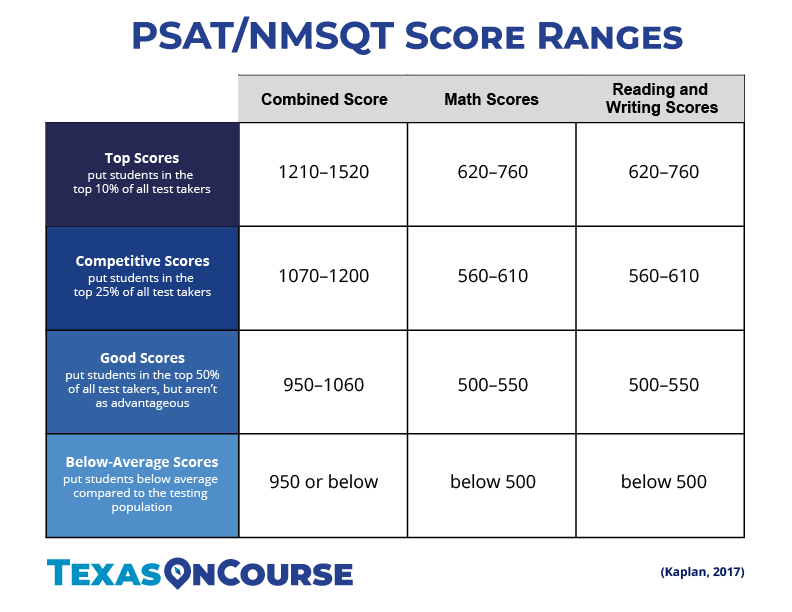 In the 2018–2019 school year, around 7,500 National Merit Scholarships and about 1,200 special scholarships were awarded, for over a combined total of about $44 million. This infographic, Four Types of Scholarship Offers, provides basic information about the four types of scholarship offers a student could qualify for by successfully completing the PSAT/NMSQT.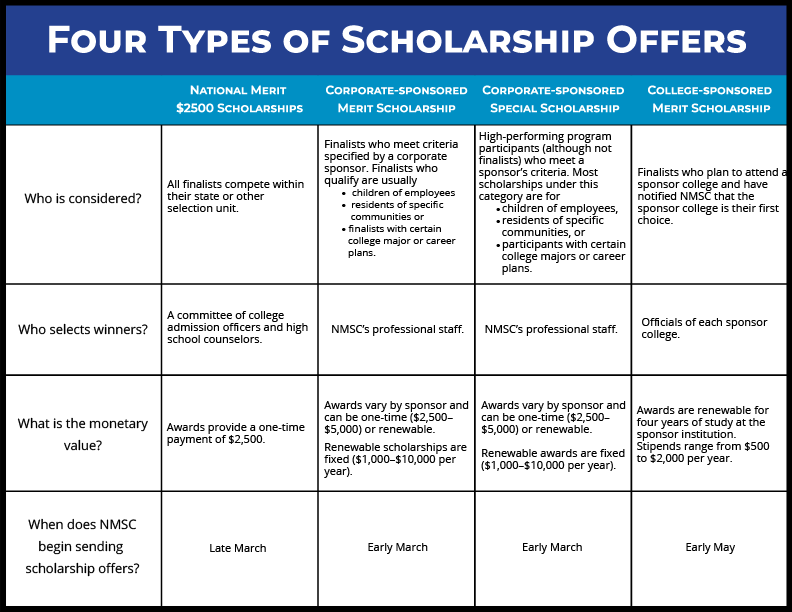 PSAT Basics
The PSAT/NMSQT includes two sections: (1) Evidence-Based Reading and Writing and (2) Math. The PSAT/NMSQT does not include an essay. Students have 2 hours and 45 minutes to complete the PSAT/NMSQT. The PSAT/NMSQT, like the SAT, asks students to apply deep understanding of topics that, according to current research, matter most for college and career readiness and success. Students will find questions modeled on the best work of classroom teachers and perform tasks that they generally practice in their challenging courses. The test focuses on seven key features:
Words in Context
Command of Evidence
Math That Matters Most
Problems Grounded in Real-World Contexts
Analysis in Science and in History/Social Studies
US Founding Documents and the Great Global Conversation
No Penalty for Guessing
When all those scores come in, they're reported in an online portal. Students access the scores through their College Board account, and counselors can access the student's scores through the K–12 Score Reporting Portal. Counselors can view student's projected growth and identify opportunities.
The PSAT/NMSQT reports one total score ranging from 320 to 1520. It's the sum of the two section scores. Section scores range from 160 to 760 each. Students receive three test scores from a scale of 8 to 38. One is in Reading, one in Writing and Language, and one in Math. Then they receive seven subscores that are scaled from 1 to 15 each.
The SAT College and Career Readiness Benchmark indicates how students may perform in a first-year, credit-bearing course in the same subject area. Students who earn the benchmark score or higher have a 75% likelihood of earning a C or better in such courses.
Preparing for the PSAT
Martha Morris from the College Board shared what the College Board is doing to make the connection to college easier through their programs and services. Their SAT Suite of Assessments provides useful benchmarks and consistent feedback for measuring student progress over time, giving information to help students build on the skills they have to get ready for college and career. The SAT Suite of Assessments includes three programs:
PSAT 8/9 sets readiness baseline
PSAT/NMSQT and PSAT 10 allow check-in on student progress
SAT connects students to college
Morris shares a variety of resources available at sat.org/pd:
eLearning Modules
Redesigned SAT Teacher Implementation Guide
Self-Guided Courses
Score Resources for Counselors
The College Board teamed up with Khan Academy for free Official SAT Practice for all students and educators. Students can link their College Board and Khan Academy accounts, so Khan Academy analyzes student test scores and develops a personalized practice plan based on the areas the student needs to improve.
The College Board has approved all the questions in this program, and they're created by the people who wrote the assessments. Khan Academy also provides Full Length Practice Tests, Video Lessons, Interactive Problems and Instant Feedback, and a Daily Practice App.
Students who did 20 hours of Official SAT Practice got an average 115 point increase from PSAT/NMSQT to SAT. And 16,000 students gained more than 200 points on their SAT regardless of gender, race, income, or high school GPA. Official SAT Practice also offers coach resources so that students can work with their counselors, their teachers, and their parents or guardians. Coaches can monitor practice, remind students of upcoming test dates, and encourage students to keep working. The coach tools include 36 lesson plans: 16 in math, 16 in reading and writing, and four in essays. Teachers can use them in classrooms that support the use of Official SAT Practice.
Counselor and Adviser Best Practices
Become well versed on PSAT expectations and information in your district and campus
Understand your students' scores
Help parents understand the purpose and context of the test
Gain administrator support
Test preparation
This webinar is part of our monthly series for registered users of the Texas OnCourse Academy. Click here for more information on this series, including how to get alerts for future webinars. And for more updates on everything relating to scholarships, check out our Scholarship Basics page.