Programs of study provide high school students with the opportunity to study their career field of interest in depth so that they are better prepared for postsecondary education and the workforce. A program of study is a comprehensive, structured approach for delivering academic and career and technical education (CTE).
Texas currently has 53 approved programs of study for career and technical education.This comes after the Texas Education Agency (TEA) approved a new list for the 2020–21 school year. In this webinar, a representative from TEA reviews the changes, a CTE director from San Felipe-Del Rio ISD discusses their approach to programs of study, and we share resources to support your practice.
You can view the webinar and download slides below. Read on for highlights from the webinar.
We especially thank our guest presenters for the webinar, Jarrad Toussant – TEA's division director for college, career, and military prep – and Christ Barrera – CTE coordinator with San Felipe-Del RIO CISD
Texas OnCourse resources for programs of study
There is a module in the Texas OnCourse Academy that you will find helpful as you advise students on CTE and programs of study called Basic Principles of Career Pathways. First, we encourage you to review the Career Exploration section. This module will help you make the connection between what your students may study now and in the future. It also connects academic pathways with future careers. This module is good for preparatory discussions before your students choose a program of study.
The High School Personal Graduation Program section includes a wealth of information on creating graduation plans. It is also where you will find the most consolidated information about programs of study in the Academy, including what they are, why they're important, and how they're linked to personal graduation plans.
Again, you can find both of these sections under Career Pathways course in the Academy.
Information on programs of study from TEA
The 53 new programs of study represent a very new direction for the state. Jarrad Toussaint, division director for college, career, and military prep at TEA, shared background on how the programs developed. He also introduced a number of helpful documents and templates.
The state spent significant time to ensure high-quality and consistent programs of study. Be sure to view the webinar for background on the legislation that led to this change (referred to as Perkins V). He also discussed how the state developed the new programs of study. In this blog post, we'll focus on the information Jarrad shared that is critical to schools developing CTE programs and educators advising students.
As schools develop their model, Jarrad pointed out that it's important to align CTE courses with a statewide program of study. This ensures a quality CTE program that prepares students for success in their postsecondary choices. These choices could include college, an occupational training program, or the start of a career.
School districts will likely have many questions about how the statewide programs of study will impact their current course sequences, school district accountability. and funding. Jarrad covered some related information, which we summarize below.
Funding
Here are some things to consider when implementing programs of study:
Perkins funds can be used to support statewide or approved regional programs of study.
Courses and CTE programs not included in either a statewide or regional program of study will not be able to use Perkins funds.
State-weighted funding will still be generated, and schools may use that weighted funding to support these courses and programs.
Additionally, districts will encounter some big changes when applying for Perkins funding. Watch out for a change in terminology: what was previously referred to as a local plan is now called a local application for funding.
In the past, districts would receive money as long as they had a plan in place detailing how they'd spend funds. Now, districts must meet the requirements of the local application for funding to receive funds. Their application must also be tied to the results of a comprehensive local needs assessment.
The local application must do the following:
Lay out eligible recipient's vision or theory of action for CTE.
Identify strategies, solutions, and investments to sustain and scale strengths in CTE system/programs.
Identify strategies, solutions, and investments to address weakness and gaps in CTE system/programs.
The needs assessment must do the following:
Identify areas of strength in CTE systems/programs.
Identify areas of weakness and gaps in CTE systems/programs.
Be informed or validated by stakeholders and industry partners.
Currently, 957 districts out of 1207 have applied for Perkins funding. Districts in a shared service agreement (SSA) can complete one large application. TEA is also working with other state agencies to provide regional labor data analyses. Districts will be able to supplement this information with data from their chamber or regional economic and community development organization.
Indicators for accountability
Prior to the 2020–21 school year, schools reported on students in the categories of CTE participants and CTE concentrators. Several new indicator categories have been added. Additionally, the definition of CTE concentrator has changed. Here are the new indicators and definitions:
Non–CTE Learners
Not CTE: A student who never enrolled in or did not complete any high school CTE course.
CTE participant: A student that completes one CTE course.
CTE explorer: A student that completes two or more CTE courses for at least two credits not within the same program of study.
CTE Learners
CTE concentrator: A student that completes, passes, or receives credit in two or more CTE courses for at least two credits within the same program of study.


CTE completer: A student that completes, passes, or receives credit in three or more CTE courses for at least four credits, including one level 3 or level 4 course within the same program of study.
Federal and state reporting will consider both CTE concentrators and completers as CTE learners. For baseline data, TEA did not employ the specific subcategories for non–CTE learners. However, they may use these subcategories in the future, so it's important to familiarize yourself with the terms.
Data collection and reporting
The graphic below illustrates some of the major changes in data calculation as a result of Perkins V, the new legislation leading to the change to programs of study.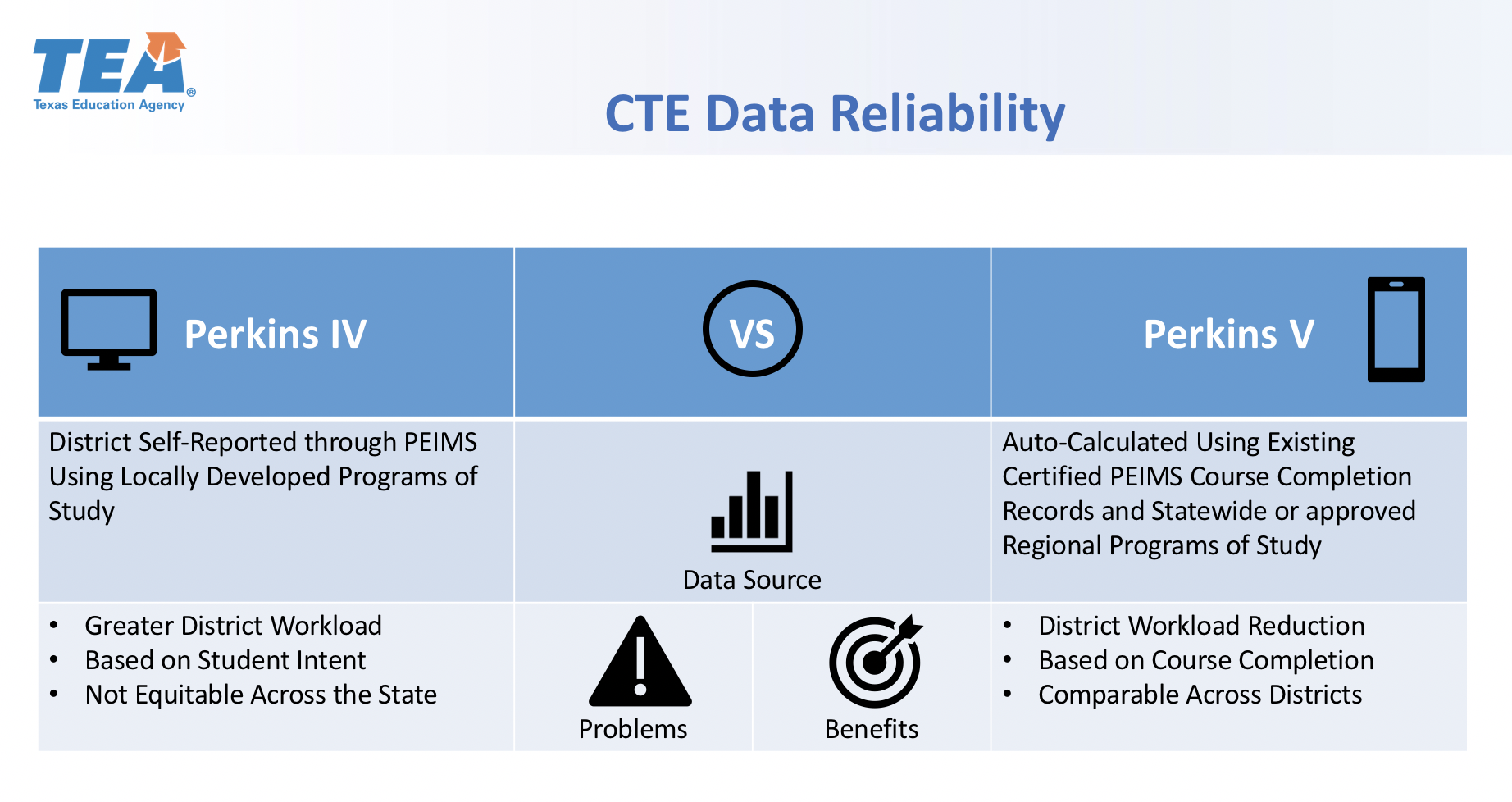 Previously, school districts self-reported student intent through the Public Education Information Management System (PEIMS) data collection using locally developed programs of study. There were wide variances in programs of study across the state making it difficult to collect accurate and valid data. In addition, the self-reporting was time-intensive and a heavy lift for school districts.
Under the new system, data will be automatically calculated based on student completion rather than intent. This data can be collected since all schools will use the statewide programs of study list. This provides a big workload reduction for school districts and results in a reliable data set.
Programs of study resources: framework documents
Each statewide program of study has a corresponding framework document. These documents are editable by districts to meet local needs, such as deleting courses that a district may not offer and adjusting contact information to that of counselors or other staff within the school district.
Each framework details the following:
The program of study name and description.
The associated endorsement.
The associated career cluster name and description.
The courses available for the program of study.
The industry-based certifications and postsecondary programs related to the program of study.
The occupations that comprise the program of study focus, including their related labor market information.
Frameworks also include opportunities for work-based and expanded learning. Local education agencies can tailor the work-based learning and expanded learning opportunities to those provided by a school district.
If you already use the Academy, you can easily access these frameworks in the Career Clusters, Pathways, and Endorsements module, which is under Additional Resources or [page and unit]. You can also find them on the TEA website, under Academics → Career and Technical Education. This page also includes an Excel document listing all the programs of study and corresponding course sequences.
District practices
San Felipe-Del Rio CISD's CTE coordinator, Christi Barrera, joined us to share the CTE programs and resources available in her district
San Felipe-Del Rio is a small community of about 40,000 people on the border of Mexico. The district has a 6A high school and an early college high school. About 90% of their students participate in a CTE program.
Here's how Christi's district prepares students for high school and beyond.
Instruction. San Felipe-Del Rio offers a college and career readiness course for eighth graders. Currently 50% of students participate, though the district is looking to mandate the course. San Felipe-Del Rio uses the Texas OnCourse College and Career Readiness curriculum for instruction. The district makes use of MiddleGalaxy to help students explore careers.
Preregistration. San Felipe-Del Rio uses MapMyGrad during preregistration for high school as a fun and quick interest inventory for students who don't know where to start. The district also provides CTE training for all secondary counselors as they are all involved in preregistration.
Presentations and Peer Learning. The CTE counselor delivers classroom presentations to all eighth graders. They also show a video highlighting all available programs of study. The district also puts on an annual career fair with student ambassadors. It's helpful for students to receive input from their peers who have gone through all four years of a program of study. This year, a virtual approach for the career fair was successful.


Repetition. The presentations and career fair are repeated in ninth grade in case any student wants to change their endorsement or add a program of study.
Christi's district uses the editable framework documents to map out their programs of study. They also created a one-pager of the 18 available programs of study to provide an overview. This is a helpful index for counselors to easily locate and flip to an individual program of study's framework as they work with students. If you're interested in generating a similar document, please reach out to Christi.
Using programs of study to improve CCMR
Finally, Christi also pointed out that programs of study can help you and your district improve the college, career, and military readiness (CCMR) aspect of accountability.
For example, San Felipe-Del Rio has a high success rate in the Health Science certifications. They have had a 100% passing rate in the certifications they offer for several years. She credits this to the fact that the district requires their students to follow the programs of study. Each class builds on the rigor of the previous class, and students develop a strong work ethic. By the time they enroll in the certification courses during their senior year, they are well-prepared and have good time management and study skills. These attributes are paired with the strong foundational knowledge obtained from the previous courses.
While San Felipe-Del Rio offers over 70 different industry-based certifications on the statewide approved list, there are some programs of study for which the certifications seem a little out of reach. If you are in a similar situation, you may want to consider partnering with a local college or university. For example, Aviation Maintenance student certifications are mainly related to FAA-approved programs, which Christi's district does not currently have. They aligned the state-approved program of study with the local junior college requirements. All of their Aviation Maintenance students are able to earn a Level I certificate and graduate from the local junior college so they earn the CCMR point.
Thanks for reading! Don't forget to check out our related blog on the Basics of Career Exploration for Students.