Introducing students to pathways they can pursue after high school is no easy task, and we applaud your hard work! We're here to make college planning even smoother for your high school students. Texas OnCourse has partnered with the Texas Education Agency and College Forward to bring you the College and Career Support guide from Texas College Bridge. This resource comes with five helpful, student-facing modules where students can learn about their interests and passions, different postsecondary paths, how to apply for college, financial aid, and so much more!
Watch the webinar recording below and download the slides or continue reading for resources and highlights.
What is Texas College Bridge?
Texas College Bridge offers high school juniors and seniors online, college preparatory courses and helps strengthen their English and math skills prior to enrolling. The courses are personalized, self-paced and easy for educators to facilitate. Students can focus on the skills they need to set them on a path to postsecondary success.
The Texas College Bridge College and Career Support resource is divided into five learning modules.
Education after high school: What to consider

Career exploration

College choice and college applications

Paying for college

Set yourself up for college success
These modules are great for students who are on their way to college readiness. Whether your students are freshmen or seniors, they'll find a positive benefit from these modules. The courses are free and easy to download for all Texas educators to upload and add to their learning management system (LMS). We also included a guide on importing content from Common Cartridge to Canvas, so no need to stress if you don't have an LMS.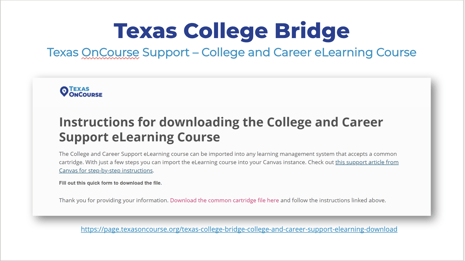 Now, let's dig into the modules.
Education after high school: What to consider
Students will explore the benefits of postsecondary education and how to prepare for it. This module shows students how to meet the state of Texas college readiness standards and what happens if those standards aren't met. It makes preparing for education after high school easy by equipping them with college readiness checklists.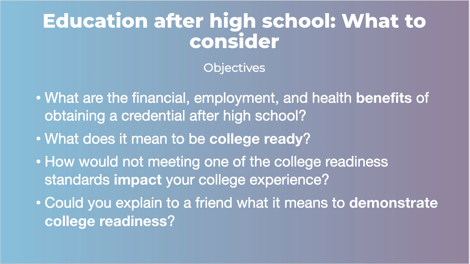 Career exploration
In this module, students will explore resources that will help them learn more about themselves and their interests. As they reflect on themselves, they can identify career options that fit their passions and the lifestyle they envision for their future. Most of their time spent here will be in self-discovery. Knowing themselves and what they want out of life is key to making decisions about the future.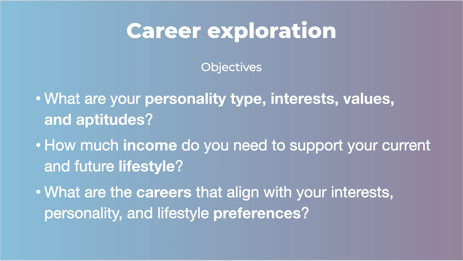 College choice and college applications
As students go into senior year, they have a few major decisions to make about their next steps in education. This module will help them figure out what type of education and training they need after high school. Students will learn how to research and find schools that match their needs and interests. And we'll walk them through the college application process, application essays, standardized testing, and more.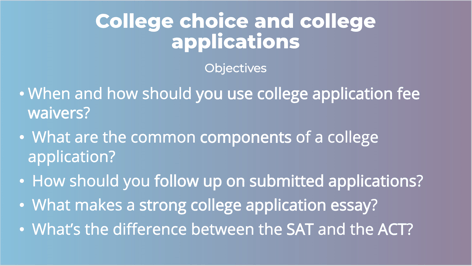 Paying for college
Paying for education after high school is top of mind for many students and their families. The fourth module dives into financial aid information, details how to qualify for aid, and provides tips on how to compare aid packages. It's easy for students to get lost in jargon, so we'll help them understand terminology, types of aids, scholarship information and any documentation they may need. This module also helps students understand financial aid award letters and packages, so they can make the best decisions for their needs.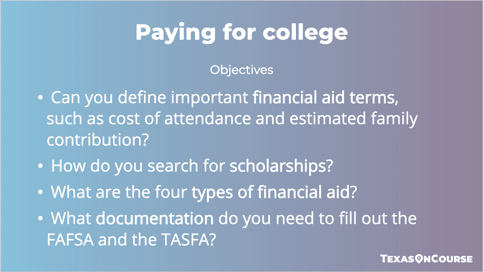 Set yourself up for college success
Now comes the exciting part! After students have decided on which postsecondary path they want to take, whether it be a four-year or two-year institution or a technical college, there are important steps that will help them prepare for their first year. This module will help them explore what they should expect their first semester, housing options, classes to take, and other ways to prepare for success. We also include important resources to troubleshoot common pitfalls when students start out in college such as managing stress and time, and shows them resources they can turn to for help.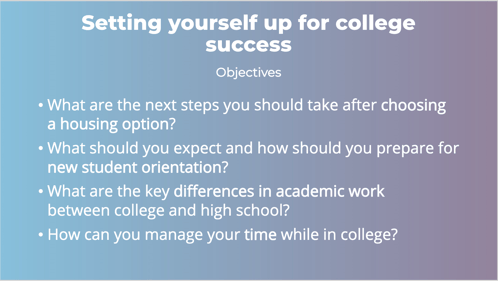 The Canvas view is simple for students to navigate. The modules are short and full of interactives that allow students to engage with the information. They're set up with a formative assessment, content, and a unit knowledge check. The interactive pieces of each unit include digital index cards filled with definitions and explanations. Students will also find ways to engage beyond the screen with conversation starters to use with their teacher or counselor. In Canvas, students have the option to journal what they've learned to help solidify all the knowledge they've gained along the way.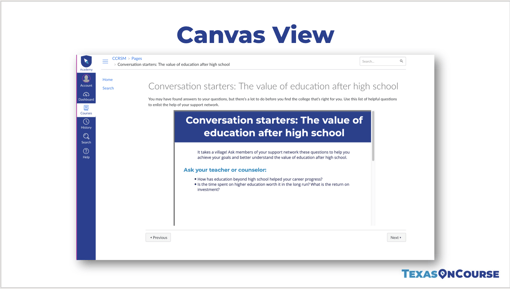 Bonus: We've heard your feedback and know that there can be challenges when uploading the course to the Common Cartridge. We're happy to announce that we're developing a web-based version of the student course. Students will be able to follow a link directly to each module through their web browser. This application is set to debut in the 22-23 school year, so keep an eye on your email for the release!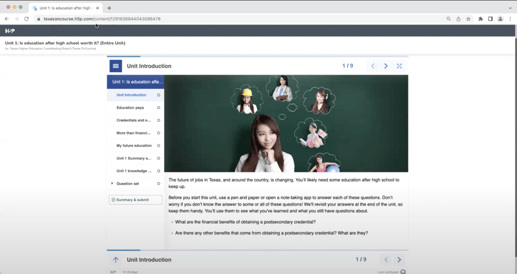 The student modules we shared are wonderful in helping your high school students prepare for college, financial aid, and everything in between. We encourage you to share these five modules through your classes, events, and different programs at your schools. Thanks for reading, and we'll see you again next month!