Do you have students who are interested in military enlistment? There are a few steps students can take to pursue their dreams of military enlistment and find their best fit.
Do well on the

ASVAB

test so they have access to more job opportunities and choices in the branch they're interested in.

Leverage the ASVAB to recognize their interests and figure out which jobs they'd enjoy in the

military

.

Consult with a

military

professional about

recruitment

and military career paths.

Consult with a

military

career counselor to discuss possibilities and determine which jobs they qualify for.
The chart below details these best practices and gives additional resources for your students. It's also available for download on our Pinterest page.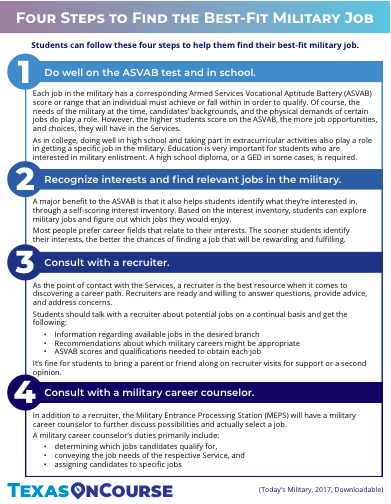 You're a key player in helping your students achieve their military aspirations. We're here to provide up-to-date information and resources you can trust. Bonus: when your students make informed decisions toward a military pathway that interests them, it bolsters your school's college and career readiness efforts.
Looking for more resources on advising your students about their postsecondary options? Whether it's college, career, or the military, we've got an opportunity for you to learn AND earn CPE credits. Log into the free Texas OnCourse Academy today!