Strong partnerships between schools, higher education institutions, and community organizations help students advance in their next steps. Not only that, but they also encourage collaboration and learning from industry leaders and other educators. Districts, educators, and students deserve to thrive! Keep reading to learn about the partnerships and strategies you can implement in your schools and districts.
Watch the webinar recording below and download the slides.
A big thank you to our speakers, Gilbert Zavala, Vice President of Education and Talent Development with the Greater Austin Chamber of Commerce, and Alex Duran, an Early College Program Coordinator with Austin ISD.
The Greater Austin Chamber of Commerce is a strong partner for Austin schools, particularly in supporting direct-to-college enrollment. The chamber gathers data on job openings, entry-level education requirements, and comparisons to the state and national averages. From this information, they focus on strategies to encourage direct-to-college enrollment.
These strategies focus on college and career readiness, funding, enrollment, and internship and job opportunities. They then work with local nonprofit Austin Partners in Education to provide direct support to students to help boost test scores, track ApplyTexas and financial aid applications, and monitor and recognize college and career interests. Lastly, the chamber evaluates the outcomes of their efforts to ensure they're providing the best support to their schools, students, and community.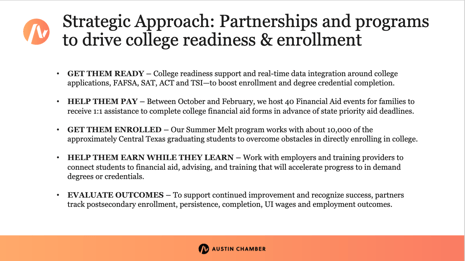 The chamber also advocates at the state and federal level to support students and educators on college, career, and military readiness (CCMR). The chamber has also advocated for funding for schools during the pandemic, bridging the digital divide, and the passage of legislation to align education and workforce outcomes. Their efforts have led to strong outcomes in many areas like FAFSA and ApplyTexas completion rates and college and career readiness and support.
Alex Duran talked to us about Austin ISD's partnership with the Greater Austin Chamber of Commerce from a district's perspective. He said the support provided by the chamber helped schools successfully meet the financial aid graduation requirement. The collaboration also resulted in initiatives aimed at combatting summer melt and connected the district to other community partners and professional development opportunities for educators.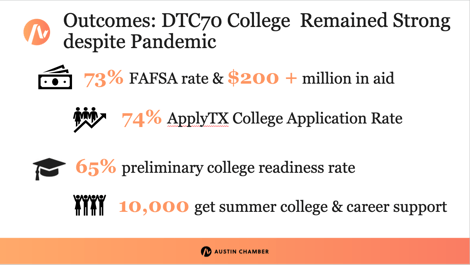 Austin ISD has also improved enrollment for low-income and first-generation students, and completion rates for those graduates are rising.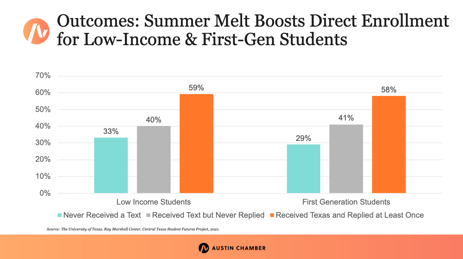 Gilbert also shared with us a few practical strategies and tips to help drive CCMR outcomes. Knowing where you stand on current CCMR outcomes, engaging with leadership, and setting goals will create a strong backbone for your district. He also recommends using data to inform your strategies, engage stakeholders, and evaluate support to continuously improve outcomes.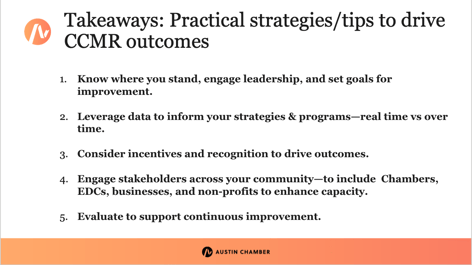 Another strong community partnership is one between Aldine ISD and Lone Star College. They work together to host events at the college and help students complete steps towards enrollment. Lone Star also gives students access to in-person advising.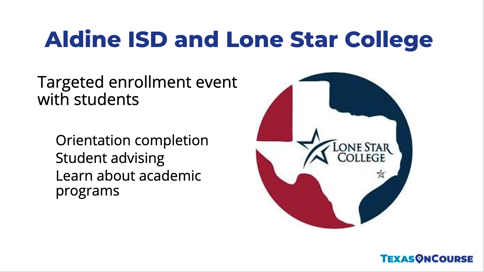 Community partnerships are especially powerful in helping students and schools meet Texas' financial aid graduation requirement. If you're looking for tips and helpful resources for working with community partners this way, we've got you covered. Visit our financial aid graduation requirement pages. There you will find toolkits for educators and community partners. You can download the toolkit that resonates with you the most.
As always, the Texas OnCourse Academy is here for you when you need information, resources, or a quick refresher. Enjoy your summer, educators. See y'all in the fall!