Do you teach or advise students who are Texas residents but ineligible to apply for federal financial aid? If you do, you might not be sure whether they qualify for financial aid at all. We have some great news! Those students may be eligible for state financial aid.
The Texas Application for Student Financial Aid (TASFA) is an application that determines whether students are eligible for state (or institutional) financial aid. The TASFA is a great resource for students who cannot apply for federal financial aid using the Free Application for Federal Student Aid (FAFSA). Refer to the chart below for a visual representation (and snag a download of it):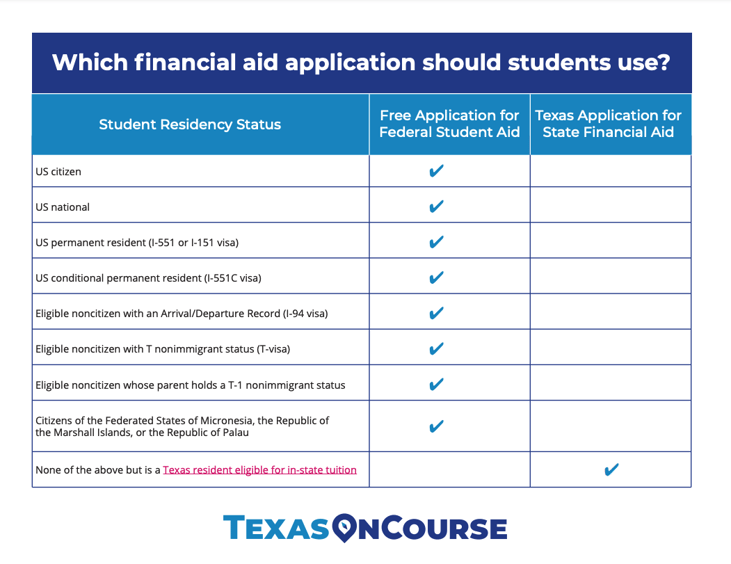 Did you know? Students who meet the following criteria may be classified as Texas residents, which may make them eligible for Texas financial aid. The criteria are:
Graduated from a Texas high school or received a GED certificate in Texas
Lived in Texas for three years before graduating from high school or receiving GED certificate
Lived or will have lived in Texas for 12 months prior to the census date of the semester in which they enroll in college
Has applied or plans to apply to become a permanent resident at the earliest opportunity
Have your students complete the TASFA prior to January 15 to find out for sure.
Students wanting to complete the TASFA should have an idea of the colleges and universities they want to apply to first. Here are a few more important tips your students should be aware of:
Not all colleges and universities accept the TASFA. Students should find out if the institution they're interested in attending accepts the application.
Students need to submit one TASFA application to each college or university they apply to.
The TASFA form is only available on paper. This paper form is available in English and Spanish.
More helpful info on the TASFA can be found in the Texas OnCourse Academy Texas Application for State Financial Aid (TASFA) module. In the meantime, check out these helpful tips for keeping track of student applications (downloadable, too):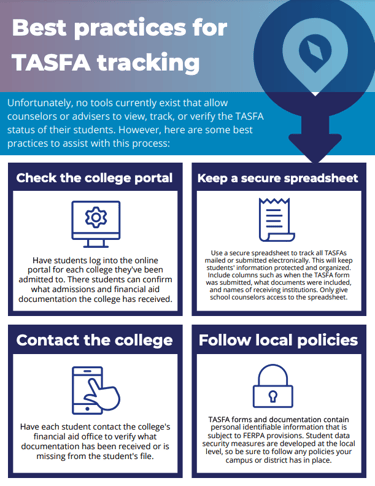 Learn more about the TASFA and federal financial aid! Read our Financial Aid Basics blog for everything you need to know about the TASFA, FAFSA and more.