Happy Career and Technical Education (CTE) Month, everyone! We are excited to celebrate and spotlight the numerous CTE programs and resources available to you. In this month's webinar, we dug into online tools available for your students to peek into what their future could look like.
Ronny Washington, an education outreach specialist with the Texas Workforce Commission (TWC), joined us to highlight a few different tools and resources the agency has for students, families, and educators. The TWC acts as the bridge between qualified job seekers to employers.
Watch the webinar recording below and download the slides or continue reading for resources and highlights.
The TWC's education outreach team serves students, families, and educators and provides them with information about postsecondary options and careers. This team also analyzes trends and changes in the labor market and shares them with students and families as well as educators and administrators.
Through its Labor Market and Career Information (LMCI) site, the TWC team assists students with career exploration, activities, resume building, and so much more. It also provides awesome information on topics including the labor market and career trends. Take a second to explore the LMCI site.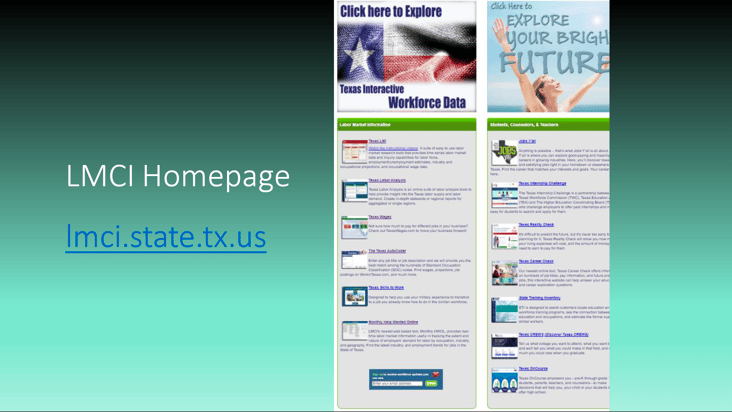 Some of the most popular tools on the LMCI site include Texas Labor Market Information (LMI) and Texas Labor Analysis. These are great for finding statistics about current employment trends and labor market demands. The tools provide statewide data, and users can narrow down their search by region and workforce development areas. One of Texas LMI's main features is Economic Profiles, which allows users to generate full reports with key economic stats about various areas and industries. Another cool feature of LMI is that visitors can download a one-page overview of occupational projections, which are updated every two years.
Texas Labor Analysis helps break down fields of interest and tells you what kind of training is needed for that field. Most people come here to browse Top Statistics, which shows the top 25 occupations for each region. Visitors can filter these reports to show education levels, wages, and current job postings. This is helpful when you're assisting students with finding options that fit their postsecondary goals.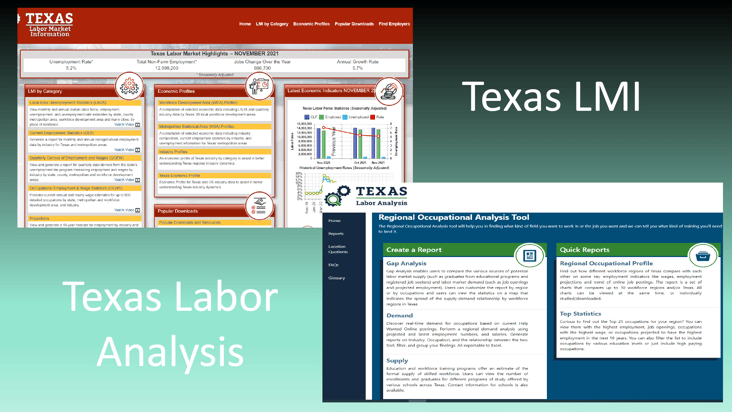 Another great tool on LCMI is Monthly Help Wanted Online. This resource organizes occupations by demand, and you're able to filter by job title and area.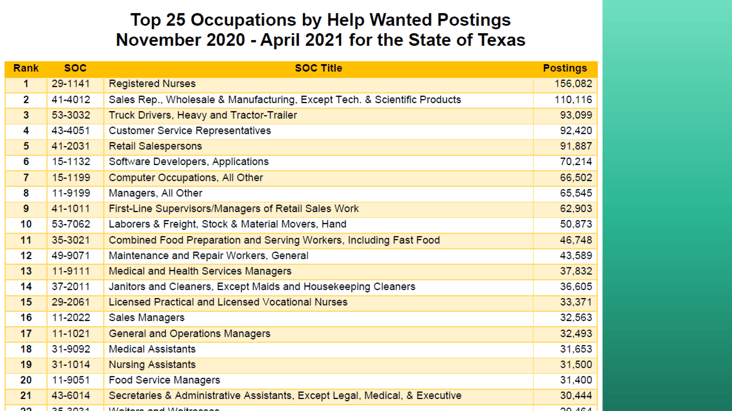 There are a couple of tools designed specifically for students, Texas Career Check and Texas Reality Check, which both help students start their career exploration.
The Texas Career Check page is great for career exploration, education exploration, and career trends and projections. Here, students can create an interest profile, which uses a 60-question personality test to match them with a robust list of potential careers and occupations. A unique and awesome feature is that students can browse occupations with their specific endorsement in mind.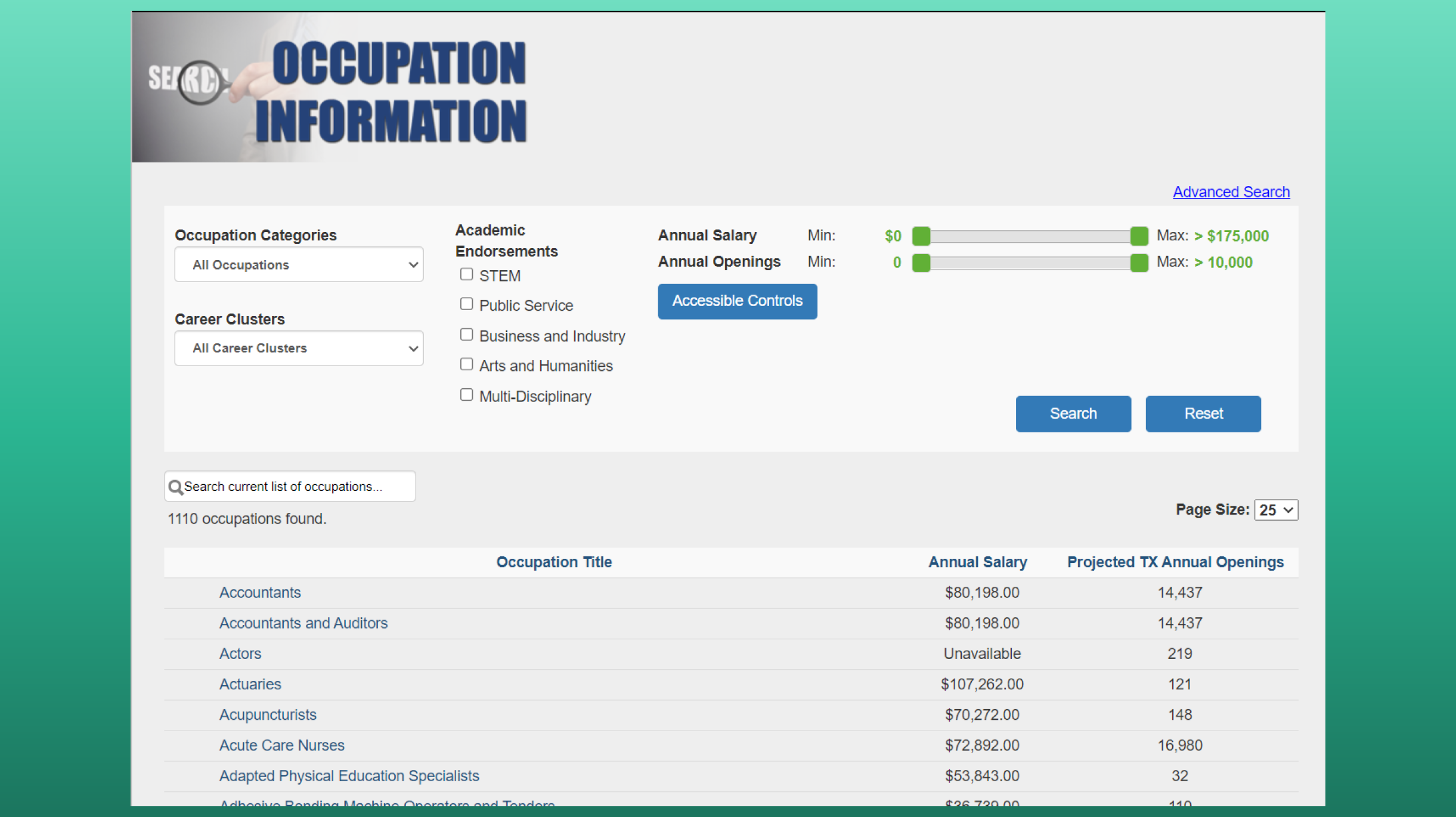 The Texas Reality Check site has similar features, but the big difference is the occupation calculator for students. They can explore the type of lifestyle they envision for themselves by selecting a career and calculating the potential expenses that come with that path. This allows students to get specific in their vision and dig into monthly costs on a realistic level. After they've seen what earnings will look like given their projected lifestyle, students are given a list of career options to explore.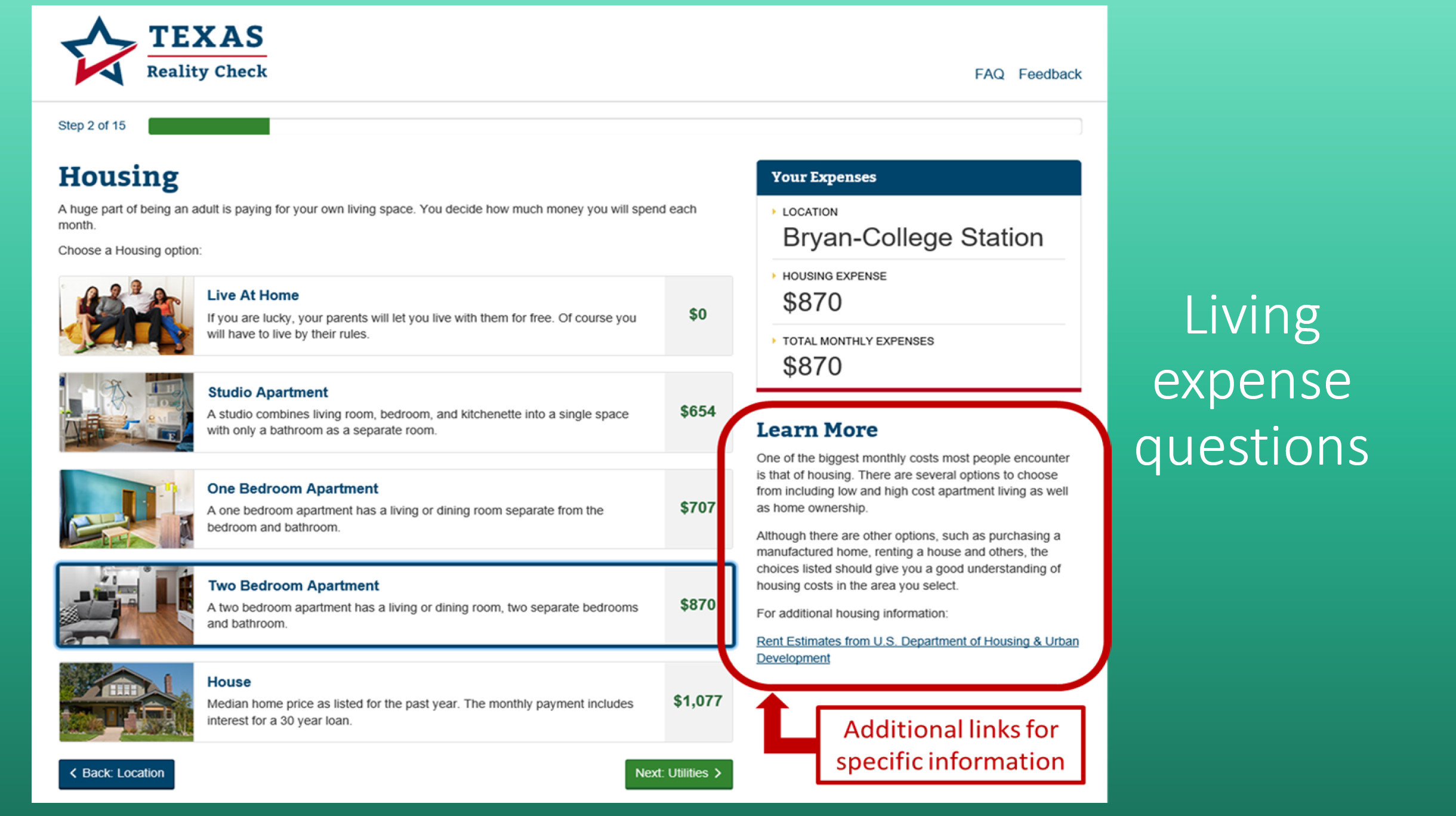 The LMCI Products and Publications page is available for educators to download bulletins, brochures, and other materials to help students navigate workforce opportunities.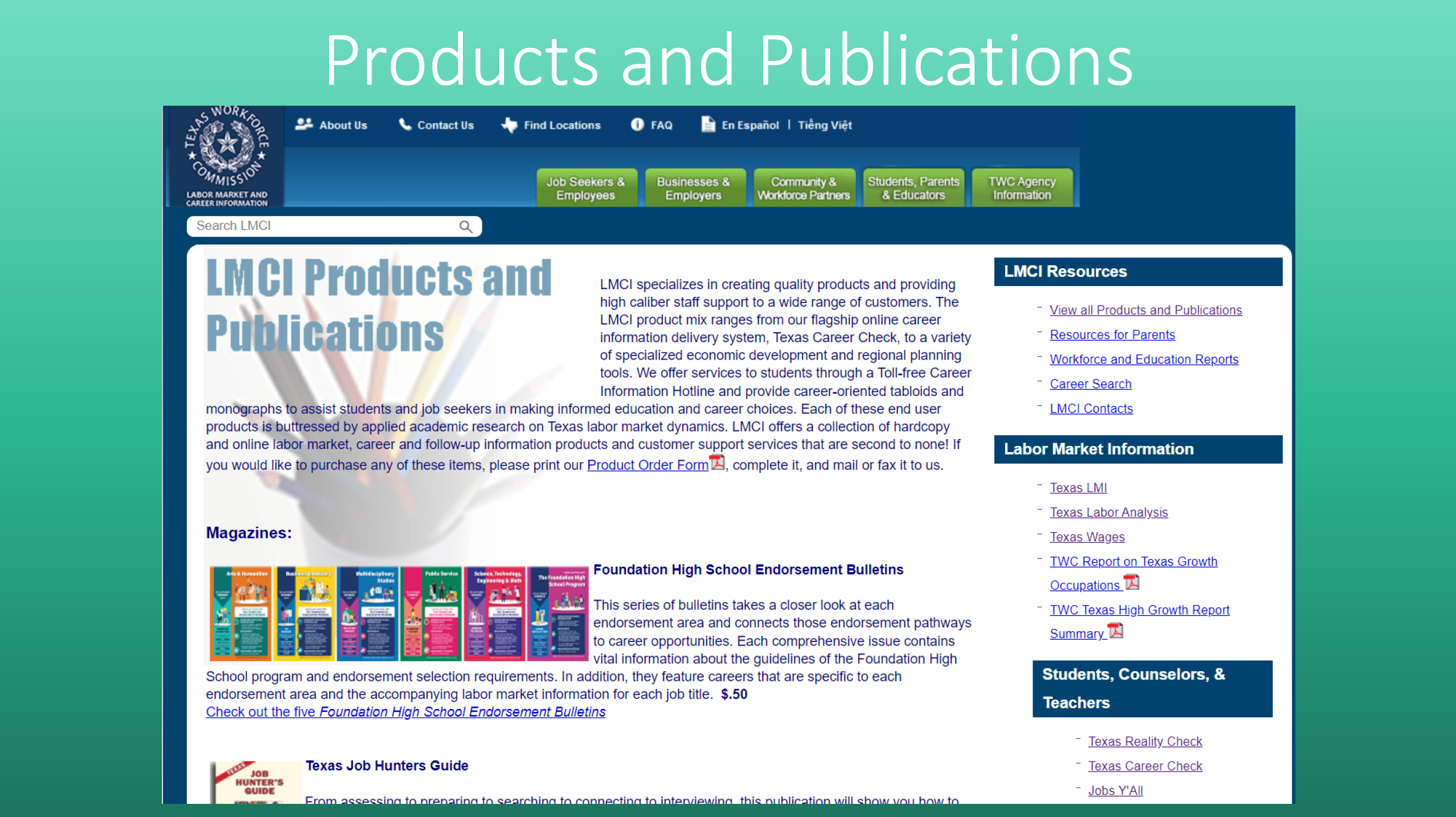 Most students need a resume to apply for college or to document their extracurricular activities. Luckily, WorkinTexas.com has a robust resume guide that walks students through creation and provides feedback. Additionally, there's a career information hotline, where students can request information about three careers and/or colleges and universities be mailed to them.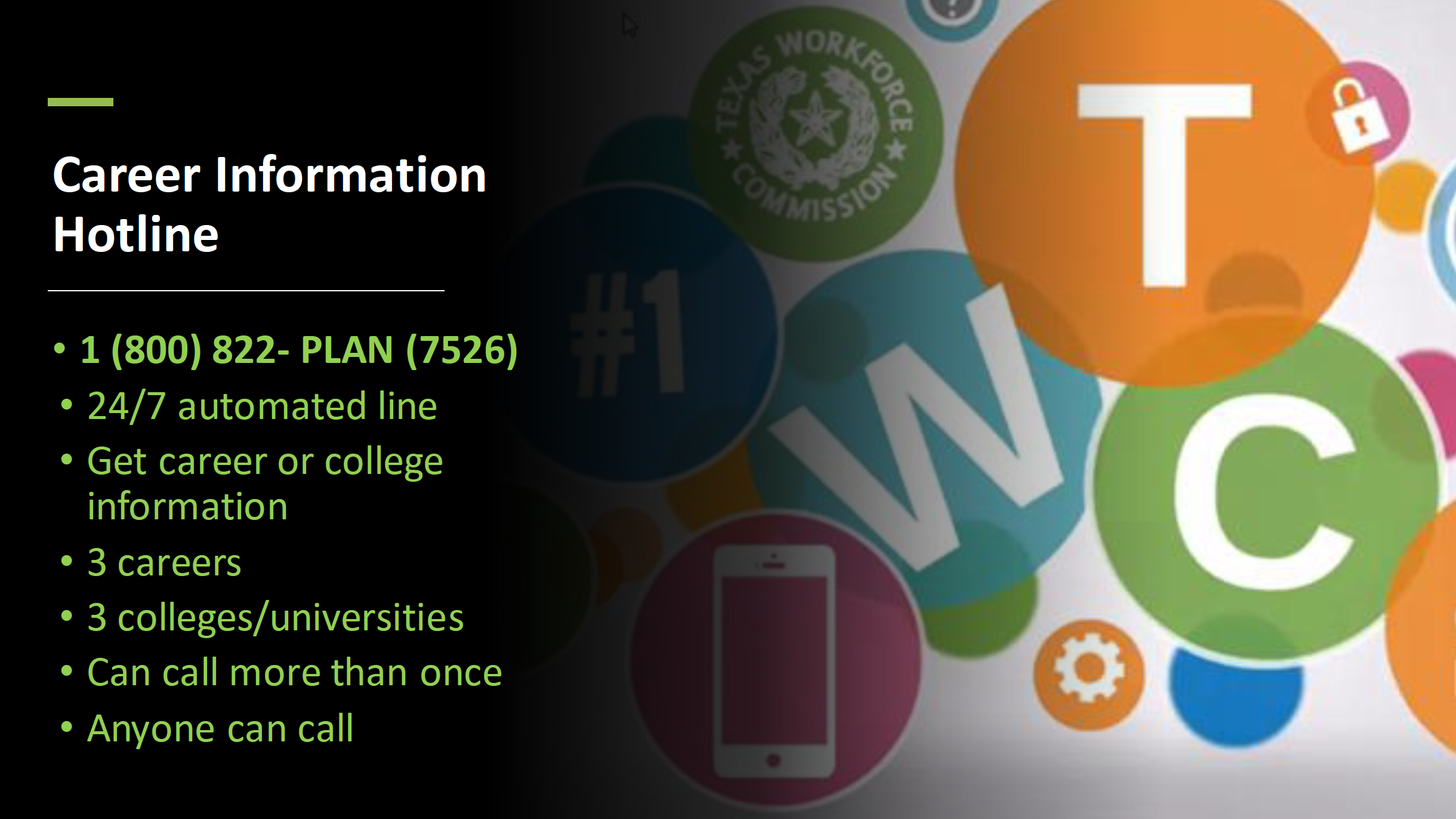 Staying in the CTE spirit, Texas OnCourse's Samantha Kimmel brought up a couple of great resources that are available from the Texas OnCourse Academy. The Career Outlook module homes in on labor market information and career planning. This module includes tutorials to help familiarize educators with using online career exploration tools like the Texas Career Check site.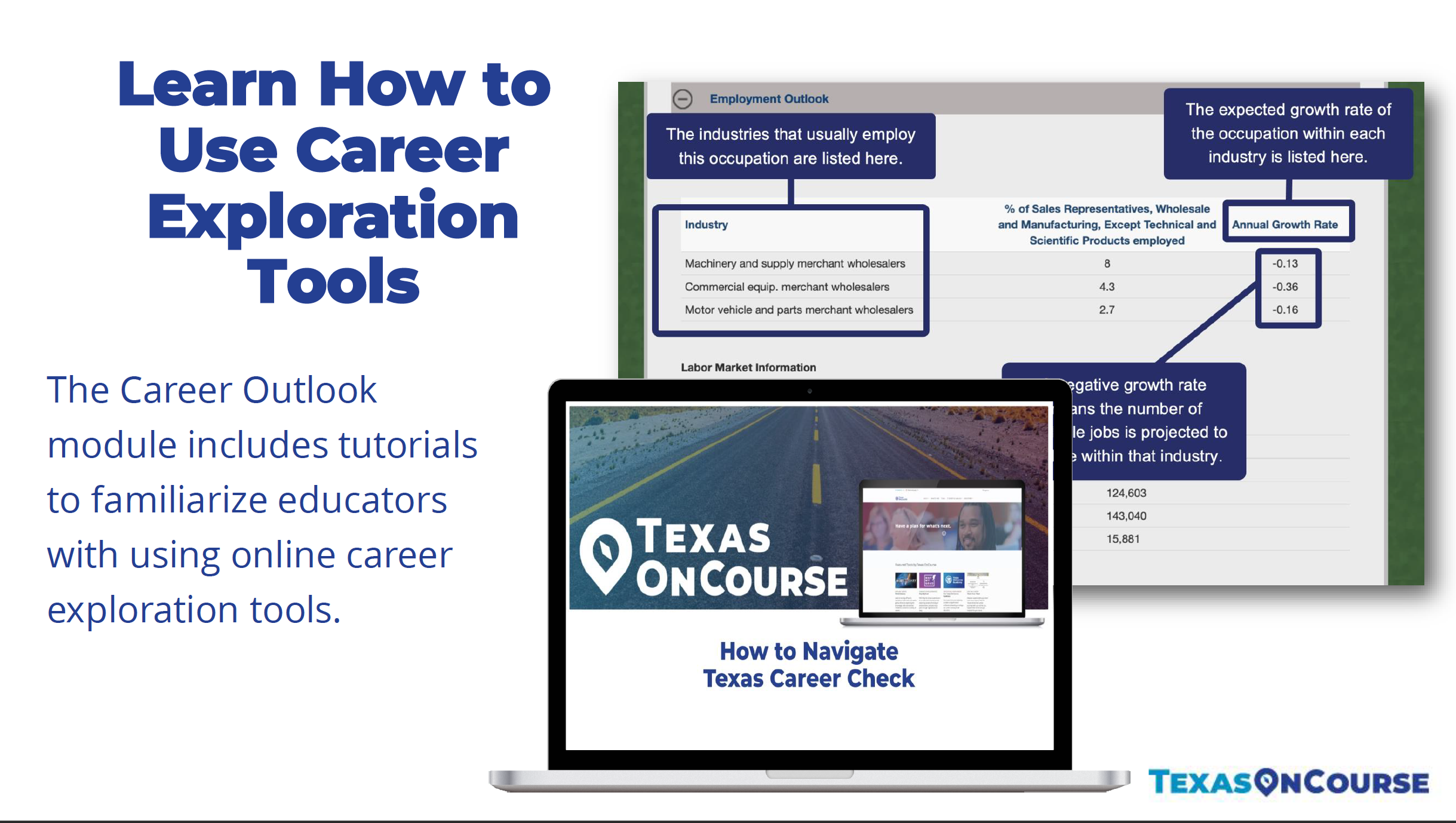 Similarly, we have a CTE program assessment tool that can help educators assess the value of CTE programs on campus and understand how these programs are preparing students for their future. The tool walks educators through the relevant licenses and certifications that are available.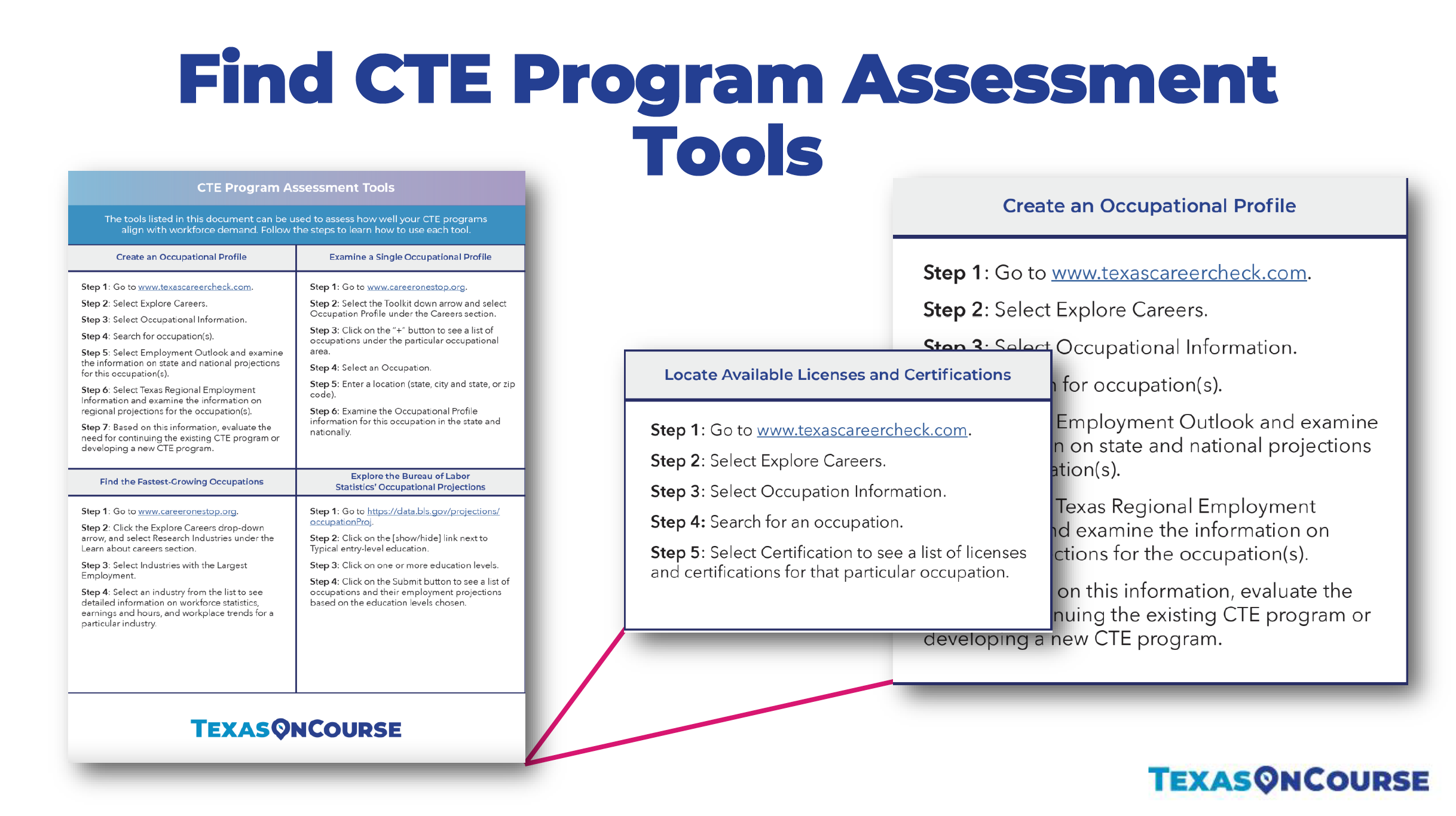 Heather Willis, CTE Director for Boerne ISD, closed us out with some district practices for building CTE Programs of Study. Boerne ISD examined both state and local data to help it condense the courses it offered to match community demands while keeping resources and teachers in mind. Administrators found generalizing courses and aligning what they were teaching with industry-based certifications produced a higher number of graduates with skills and certifications ready for the workforce.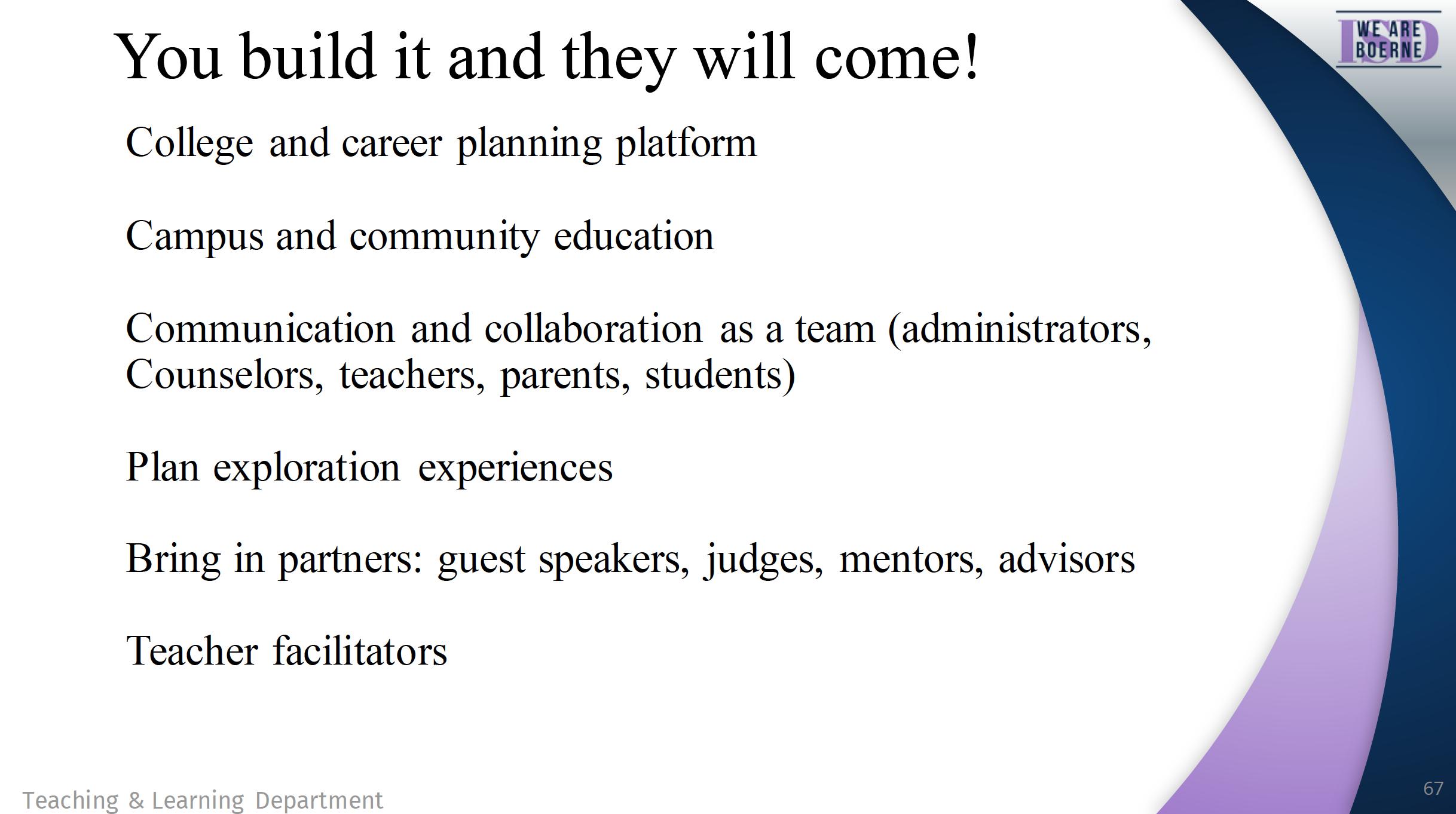 We're excited to share these resources with you. Thanks again to both of our speakers for speaking to us about workforce and CTE programs and tools available to students, families, and educators!