Texas graduation requirements state that students must select an endorsement and draft a four-year graduation plan before starting ninth grade. They can revise this plan every year. The process helps students identify education and training opportunities for after high school. It also helps develop employment-seeking skills.
The Foundation High School Program is the starting point for the plan, which also includes educational programs, recognitions, and experiences to prepare for the student's postgraduation success.
It's important that students know the ramifications of their graduation planning choices. For example, students can choose to earn a Distinguished Level of Achievement. Texas' Top 10% Automatic Admission program requires students to earn this distinction.
We know this can feel like a big decision for students, and we want to make sure you're best positioned to support them. Find the answers to your top questions about graduation planning below.
What are the Foundation High School Program components?
The Foundation High School Program is the minimum set of standards that all students in Texas must meet to graduate from a Texas high school. It contains the following four parts:
A 22-credit foundation program, which is the core of the new Texas high school diploma and includes:
Four credits in English
Three credits in math
Three credits in science
Three credits in social studies
Two credits in languages other than English
One credit in fine arts
One credit in physical education
Five credits in electives
A student's endorsement selection. There are five endorsement options that allow students to focus on a related series of courses.
A higher performance category called D‍‍istinguished Level of Achievement.
Performance acknowledgments that note outstanding achievement.
Are endorsements a mandatory or optional part of the foundation graduation plan?
Texas law makes earning an endorsement on top of the foundation plan the default high school graduation plan. Students entering ninth grade must specify in writing which endorsement(s) they intend to earn. Students can choose to graduate with no endorsement only upon written permission from their parents or guardians, and only after the sophomore year.
What are the requirements of the Distinguished Level of Achievement?
The Distinguished Level of Achievement chart lists the requirements:
A total of four credits in math, including one credit in Algebra 2
A total of four credits in science
Curriculum requirements for at least one endorsement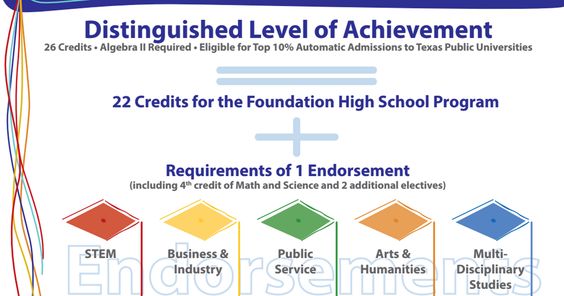 Why would a student want to earn the Distinguished Level of Achievement?
A Distinguished Level of Achievement is required for students to qualify for Top 10% Automatic Admission eligibility at Texas public universities. Students can also:
Position themselves among the first in line for a TEXAS Grant to help pay university tuition and fees
Ensure that they are among the more competitive applicants at the most selective colleges and universities
What is a performance acknowledgment?
Performance acknowledgments are placed on a student's transcript to indicate outstanding performance in specific areas. While the Texas Education Agency (TEA) has compiled a list of performance acknowledgments, it is up to the local district to determine which ones they offer.
What are the performance acknowledgment categories?
Performance acknowledgments are given in the following areas (use this document as a resource):
Dual credit

Bilingualism and biliteracy

AP tests or IB exams

PSAT®, the ACT Aspire™, the SAT®, or the ACT®

Certifications and licensure
For even more information on advising your students about the Foundation High School Program with Distinguished Level of Achievement, visit the Texas OnCourse Academy and look for the modules under Career Pathways > Academic Planning > High School Personal Graduation Plan.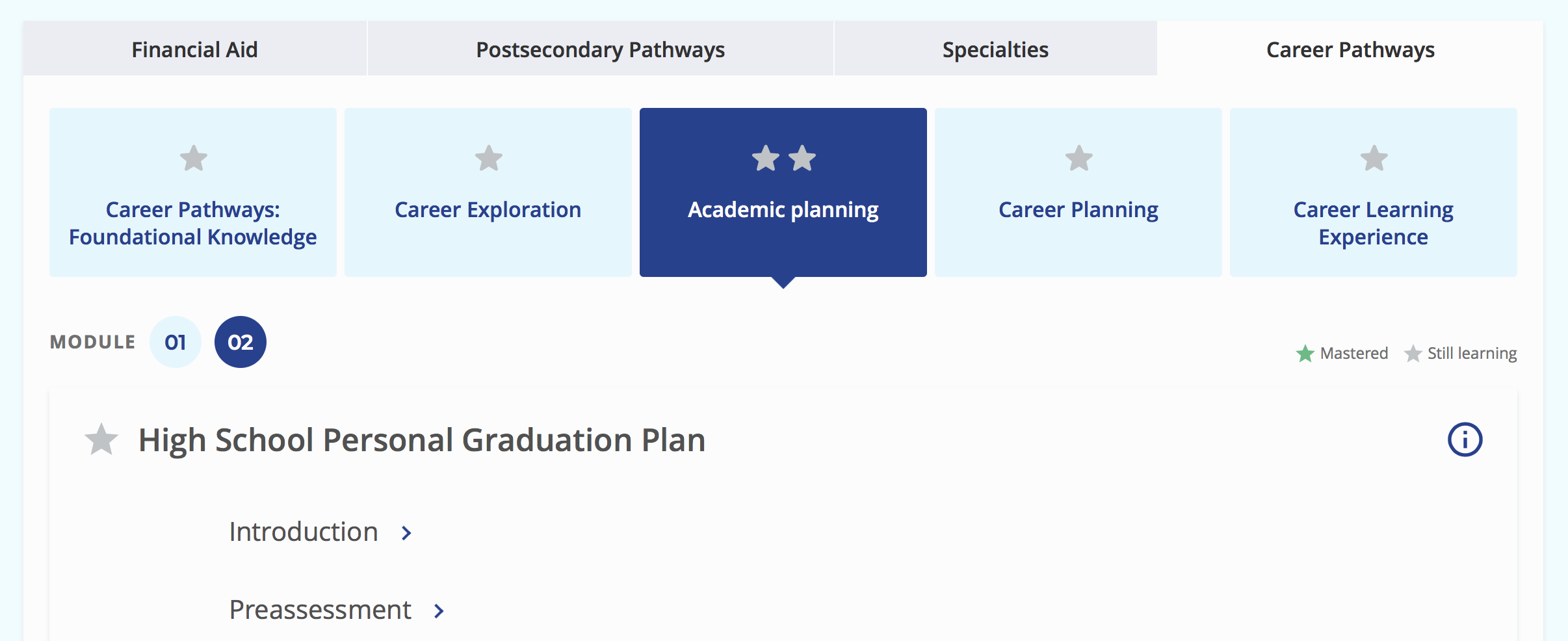 And don't forget to download our MapMyGrad toolkit, which makes endorsement selection and four-year plans easy for your eighth graders.