Learning about career pathways during middle school is essential to prepare students for life beyond high school. This webinar covers career clusters and how the Texas OnCourse Academy can help support your instruction on this topic. Lori Knight, education outreach specialist for the Texas Workforce Commission, will discuss best practices to support students as they research and select career pathways.
View the PDF slides here.
Texas OnCourse Resources
Jaslyn Green of Texas OnCourse spotlights a few resources to help students choose career clusters and pathways. The first resource, Questions to Help Students Choose a Career Cluster, has students answer questions to help them decide on a career cluster.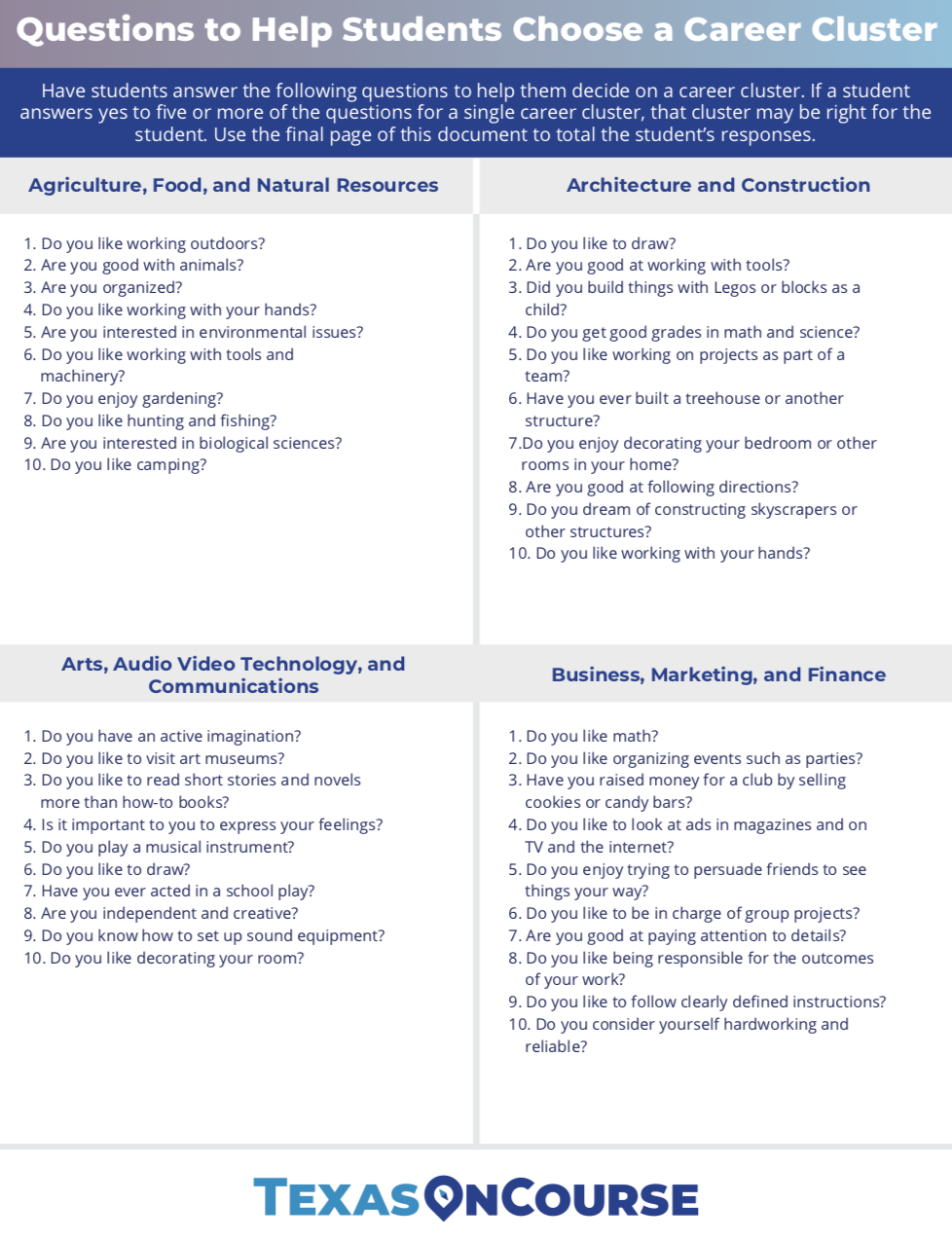 The following Teaching and Training Career Pathway resource shows how students can take advantage of several entry points on a career pathway. Each entry point is based on different levels of education and experience.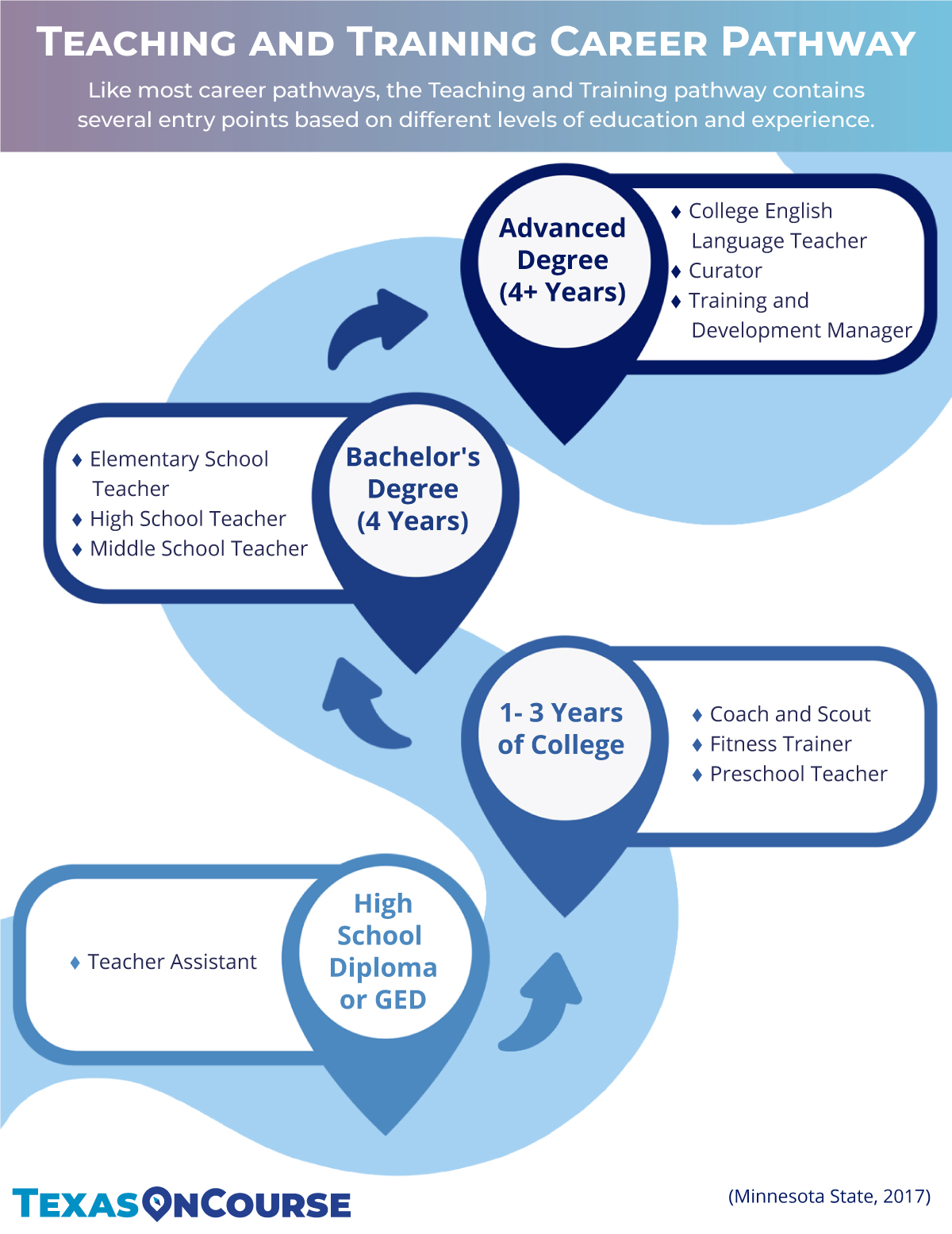 Labor Market and Career Information Career Education Outreach
Lori Knight, education outreach specialist, shares a couple of tools and resources that her team uses. The Texas Workforce Commission Education Outreach Services Team provides presentations, professional development sessions, resource showcases and demos, career fair participation, selfie photo booth, and more. Its main audiences are students, teachers, counselors, administrators, policy makers, and education partners. They have many presentation topics that range from exploring careers to interview skills to career assessments. They can be emailed here. Data types the team can provide to academic partners include:
Occupation projections
Real-time job posting numbers
Hot jobs
Occupation wages
Skill and certification demand
Student demand
The TWC Education Outreach Services Team recommends these additional resources for career exploration help:
Print publications
Publications that provide projections
Soft skill help
College selection guidance
HB 5 endorsement help
Occupation Outlook handout with state occupation projections through 2026 and the top 30 jobs in several categories
Classroom posters such as Top 10 Career Tips for a Successful Future
Beyond High School is a guide for high school students pursuing higher education and training. This is written for students and parents. It covers all postsecondary options and helps students navigate the college selection process. It defines different institution types, compares options, identifies selection criteria, and offers a step-by-step approach. It includes a career hotline, a 24/7 automated line for career or college information. Additional resources in progress are those that focus on:
Career investigations
Career success
Soft skills
Career pathways
Training of trainers
Resources for the media
Campus-Level Best Practices
Christi Barrera, CTE counselor from the San Felipe Del Rio CISD, discusses advising and teaching career pathways. She explains the career clusters that she shares with her students as defined by the US Department of Education:
Agriculture, Food, and Natural Resources
Architecture and Construction
Arts, Audio/Video Technology, and Communications
Business, Management, and Administration
Education and Training
Finance
Government and Public Administration
Health Science
Hospitality and Tourism
Human Services
Information Technology
Law, Public Safety, Corrections, and Security
Manufacturing
Marketing, Sales, and Service
Science, Technology, Engineering, and Math
Transportation, Distribution, and Logistics
San Felipe Del Rio CISD CTE Best Practices:
Ambassadors are a great asset!

Produce a CTE video that will be shown to all classes

Begin as early as possible

Hosting career fairs can get students excited

Annual CTE presentations for all eighth and ninth graders
Annual CTE fairs for all eighth and ninth graders
College and career readiness course
Hosting annual events for the public can keep parents and guardians in the loop
Barrera includes resources to share in the classroom when discussing endorsements. Certifications, CTE student organizations, alternate classroom settings, free do-it-yourself training sessions, and admission requirements are also discussed in the webinar. For more information, watch the entire webinar on our YouTube page.
This webinar is part of our monthly series for registered users of the Texas OnCourse Academy. Get more information on this series, including how to get alerts for future webinars.
Finally, be sure to check out our related blog post on the Basics of Career Exploration for Students.