From the time students are young, we ask them what they want to be when they grow up. Preparing students for a successful postsecondary career is the focus of much of K-12 education. In this article, we'll cover:
how you can help your students with career exploration starting in middle school;

how you can use labor market information in the classroom;

the benefits of career and technical education;

how career clusters, endorsements and pathways are related; and

how you can use career assessments to help your students know themselves better and explore career options.
In this guide, we'll include links to additional articles, webinars, videos, and other resources, including the ultimate source for all postsecondary planning information for professionals: the Texas OnCourse Academy. We offer courses and badges on Career Pathways, Career Exploration, Career Planning, Career Learning Experience, and more.
What you'll find on this page
Get ready for a complete rundown of career exploration for students, including exploration activities, labor market analysis, and Career and Technical Education (CTE) courses. Click below to navigate to each section or keep scrolling to read it all.
Career exploration in the classroom
Tips for choosing a career assessment
Career clusters and endorsements
CTE courses and programs of study
Today's Economy
Today's high school graduates face a much different economy than did graduates in the past. For example, students now face increased job competition, different skill requirements, and retirement uncertainty. For these reasons, starting career exploration early is more important than ever.
Here in Texas, middle schools must provide students with career exploration and readiness instruction in 7th or 8th grades. Students are also required to select an endorsement (a cluster of career pathway-aligned classes they take throughout high school) before they enter 9th grade.
In today's economy, students have to show strong workplace skills to enter the workforce. This is especially true in the United States, where industries are growing faster but creating far fewer jobs. Students need to prepare for an increasingly competitive job market. Being prepared in the following four areas can help students find success in life after high school:
Job readiness:

Students should have the knowledge necessary to begin an entry-level position. The required knowledge depends on the career path chosen.
College readiness:

Students should possess the necessary skills and knowledge to succeed, without developmental classes, in an entry-level, general education course for credit in an associate or baccalaureate program.
Career readiness:

Students need to obtain the foundational knowledge and skills and the general learning strategies to begin studies in a career pathway.
Work readiness:

Students need to be able to meet basic expectations regarding workplace behavior and demeanor, including punctuality, interpersonal relations, and teamwork.
Labor Market Information
Counselors can use labor market information to help students explore and understand valuable career options.
Market information can tell students what has happened in the job market in the past, what's happening now, and what is likely to happen in the years ahead. Labor market information contains two sources – it can be supply side or demand side.
Supply-side data describes jobs that are currently (or will be) available and helps job seekers make decisions about their education and job search. Demand-side data describes overarching conditions that affect the labor force, such as economic conditions and demographic trends. This data is more useful for government agencies and researchers, who use it to gauge economic health, determine marketing strategies, and more.
There are three major categories of labor market data:
Career planning data

: includes information on in-demand jobs, wages, training providers, and skills requirements

Demographic data

: includes general population characteristics and ties these to employment status, earnings, and commuting patterns

Employment data

: includes a count or estimate of jobs within an industrial or occupational category
All three categories can help students consider different options for their future careers, while considering important factors like the kinds of wages they can expect and how competitive it may be to find a job in that field.
Each state compiles its own labor market data with oversight by the federal government. You can find Texas LMI data here. Popular federal sources of data come from the U.S. Department of Labor and the U.S. Department of Commerce.
Texas Career Check is a great resource for making labor market information useful for your students. It includes occupation trends, salary information, and the specific jobs that will be most in-demand between now and 2026.
For more information about how you can use labor market information in the classroom, check out the Career Outlook module in the Texas OnCourse Academy, which you'll find under the Career Planning course.
Career Exploration in the Classroom
Career exploration can be such an exciting part of a student's journey! It's also incredibly important - there are so many careers out there that students may not even be aware of. Students cannot be what they cannot see. Here in Texas, students are required to start exploring careers in middle school.
Connecting what a student does in school to their career aspirations helps students enjoy and engage more in what they study. It also makes it more likely for students to succeed. In Texas, career exploration is also important because it guides students in selecting an endorsement and creating a graduation plan.
For comprehensive and engaging classroom ideas, be sure to check out our webinar on Fun Career Activities for Middle School Students. Here are some activities you can explore for your classroom or counseling office, or consider adopting districtwide:
Career Fairs. Students can benefit a lot from a career fair that puts them in direct contact with local professionals. Hosting an in-person or virtual career fair for your middle schoolers can be an engaging way to:
involve the community in your students' education;

expose students to new professions;

expand student knowledge on professions they had been considering; and

give students and professionals an opportunity to chat

.
Consider hosting a middle school career fair if your school is meeting in person. For tips on hosting a virtual career fair, check out our guide.
Gamification. For something more self-paced, middle school students can start by playing MiddleGalaxy, an online career exploration game. When students play MiddleGalaxy, they log in and choose a space cadet to personify them, then head into outer space! It's their responsibility to build a space team to complete important intergalactic missions, identifying careers that best fit what the mission needs. These careers are aligned with top growing jobs in Texas.
Part of building a space team is training, mentoring, and organizing their team, so students learn leadership skills through playing the game. As they complete their missions, they learn how professional skills translate into career possibilities. The best part? Students discover which high school endorsements they need for various careers along the way! Our Educator Game Guide covers the game's objectives, its terms, and how to play.
Interviews and profiles. Another way students can discover different career possibilities is through the Share Your Road website. Hundreds of Texas professionals have written miniature "journal entries" on this site, recounting the path they followed to pursue their career goals and how it's going so far. Students can use this site to read real accounts of their dream careers or familiarize themselves with careers they didn't even know existed!
And be sure to not miss our special Texas series with Roadtrip Nation, Roadtrip Texas. In this four-part documentary, real high school students across Texas hit the road to interview their career heroes and older peers. Each episode clocks in at a half hour, so it's a great series for a few classroom periods or for homework.
Career Assessments
Sometimes a more thorough career assessment can help students focus on the careers or career pathways that interest them. This in turn can help guide what they select as an endorsement and study during high school. It can also help them make plans for what they'll do after high school.
Think of career assessments as tools that help people understand how their personal attributes impact success. Counselors and advisers can use them to help individuals make more informed decisions. And students can take multiple career assessments throughout high school since their skills, attitudes, aptitudes, values, and interests often change as they get older.
Career assessments are a great way for high school students to figure out their interests. However, not all assessments are appropriate to use with every student. For this reason, it is important for counselors and advisers to know how to identify appropriate assessments. Here are four different types:
Interest-based assessments: These determine which career might be best for a person based on their likes and dislikes. An example is the Strong Interest Inventory.
Ability- and skills-based assessments: These are designed to help students uncover what they are good at and what they enjoy.
Values-based assessments: These determine which careers might be best for a person based on their values. For example, job security might be at the top of the list for one person, while a regular schedule or excitement might be the most important for another person.
Personality-type assessments: When used in conjunction with interest, values, and skills assessments, these help students find a career that is suited to their personal characteristics, including motivation and needs.
The LiveBinder online portfolio Career Development & Planning Resources is a wonderful resource to start researching appropriate assessments organized based on the type of career assessment.
Tips for Choosing a Career Assessment
Not every career assessment is well suited for every student. There are certain factors you should keep in mind when evaluating career assessments:
Cost

Target audience

How results will be used

How the format suits your student

Amount of time to administer

Format of results

Who will analyze the assessment and what their qualifications are

Whether appropriate documentation is provided

Assessment reputation
Career Clusters and Endorsements
Career clusters are groupings of careers with similar skills or common themes based on industry groups. They serve as an organizing tool for curriculum design and instruction, and their descriptions provide the essential knowledge and skills that students should demonstrate upon completing high school
In Texas, career clusters are organized into related groups to allow students to select endorsements. Once a student determines the cluster that supports their career goals and the pathway they will follow, the endorsement they may be interested in earning will become clearer. Be sure to review Texas OnCourse's tools for exploring and selecting career clusters.
There are currently 14 approved career clusters in the state of Texas. These career clusters also inform 53 programs of study. Programs of study are cohesive sequences of career and technical education (CTE) courses that students can pursue, often receiving an industry-based certificate in the process. The 14 career clusters and 53 programs of study are new for the 2020-21 school year. You can learn more about them in our Understanding Statewide Programs of Study webinar, featuring a presentation from TEA. Read on for more information about CTE.
As they choose an endorsement, it's important that students understand how career clusters and endorsements hang together. If students would like to start by selecting an endorsement but aren't sure of the actual career they'd like to have, the process can look something like this:
Students select an endorsement.

Students select one of the correlated career clusters.

Students choose a career.
Conversely, if a student already knows what they'd like to be when they grow up, choosing one of the five endorsements is easy. For instance, a student who wants to be a marine biologist would naturally choose the STEM endorsement.
Career Pathways
A career pathway is a series of steps including education, training, and skills that students need to complete to achieve their career goals. Career pathways can also provide students with countless opportunities, since the education, training, and skills can be transferred to other areas of study or industries if students' interests change. Be sure to check out our webinar on Advising and Teaching Career Pathways.
This infographic on Relating National Career Clusters to Career Pathways is a great point of reference when it comes to helping students understand which real-world opportunities align with their interests. Print a copy for your wall or keep it handy in the classroom!
Career pathways help students and parents understand the connections between what students learn in school and their future career. Talking about career pathways is also a great opportunity to gauge whether a student is on the correct academic path to achieve their dreams and, if not, what can be done. Students may be confused about which career pathway is best for them. With some help from their counselors and advisers, this choice can be made more manageable for students.
Each career pathway is as individualized as the student following the pathway. It should have various entry points so that students can take advantage of both education and occupational preparation opportunities. Entry points are ways for students to begin a career pathway regardless of the education and skills they currently possess. In other words, students can start in an entry-level job in a career pathway and, with more education and experience, can move up within that pathway.
Below is a downloadable example of the "teaching and training career pathway" and what it would look like for someone working as a teaching assistant to eventually become a college professor: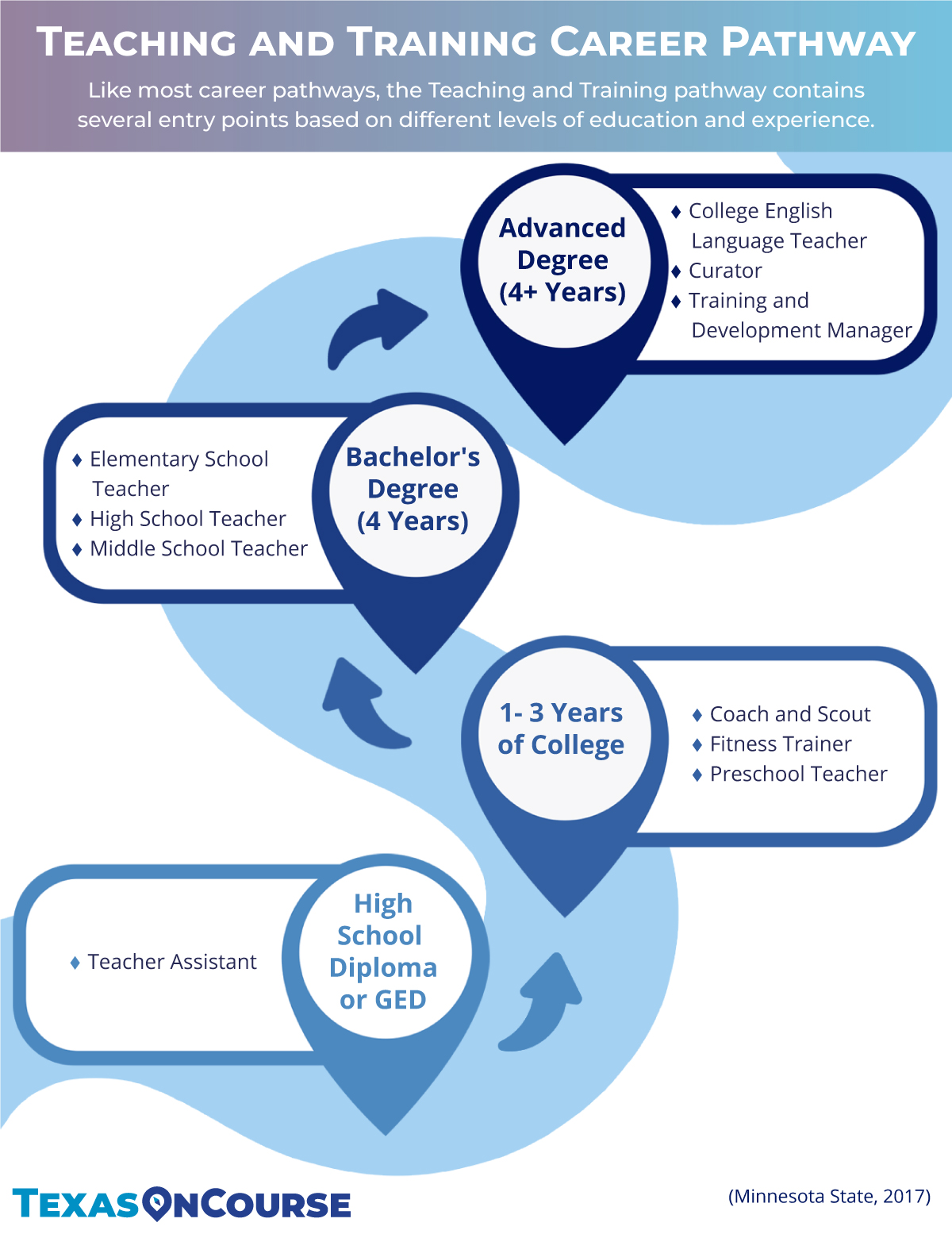 CTE Courses and Programs of Study
Career and technical education (CTE) courses offer students an opportunity to obtain practical knowledge and technical skills for a variety of career paths, such as welding, computer science, and cosmetology. Students can also earn college credit leading to industry-recognized credentials and postsecondary certificates.
Some students choose to pursue a postsecondary track that does not require CTE courses. Still, every student should be aware of CTE opportunities. Many occupations require a certificate or license to work in the profession, and CTE courses can give students a head start in the certification and licensure process.
Your student may already have a certain career in mind. To determine the appropriate CTE courses they should take, students should select a program of study. As noted above, a program of study is a series of courses aligned to the 14 Texas career clusters. It is a comprehensive, structured approach for delivering academic and CTE education to prepare students for postsecondary education and career success. There are 53 approved programs of study in Texas, though regions, districts, and schools vary in the programs they offer and the course sequences that make up that program of study.
Programs of study also help your student understand the postsecondary programs, industry-based certificates, and occupations associated with their career interests. Consider, for example, a student who is interested in choosing a STEM endorsement track, specifically in biomedical science. The program of study aligned to this student's interests (pulled from TEA's Statewide Programs of Study Resources) helps the student visualize what courses to take in high school: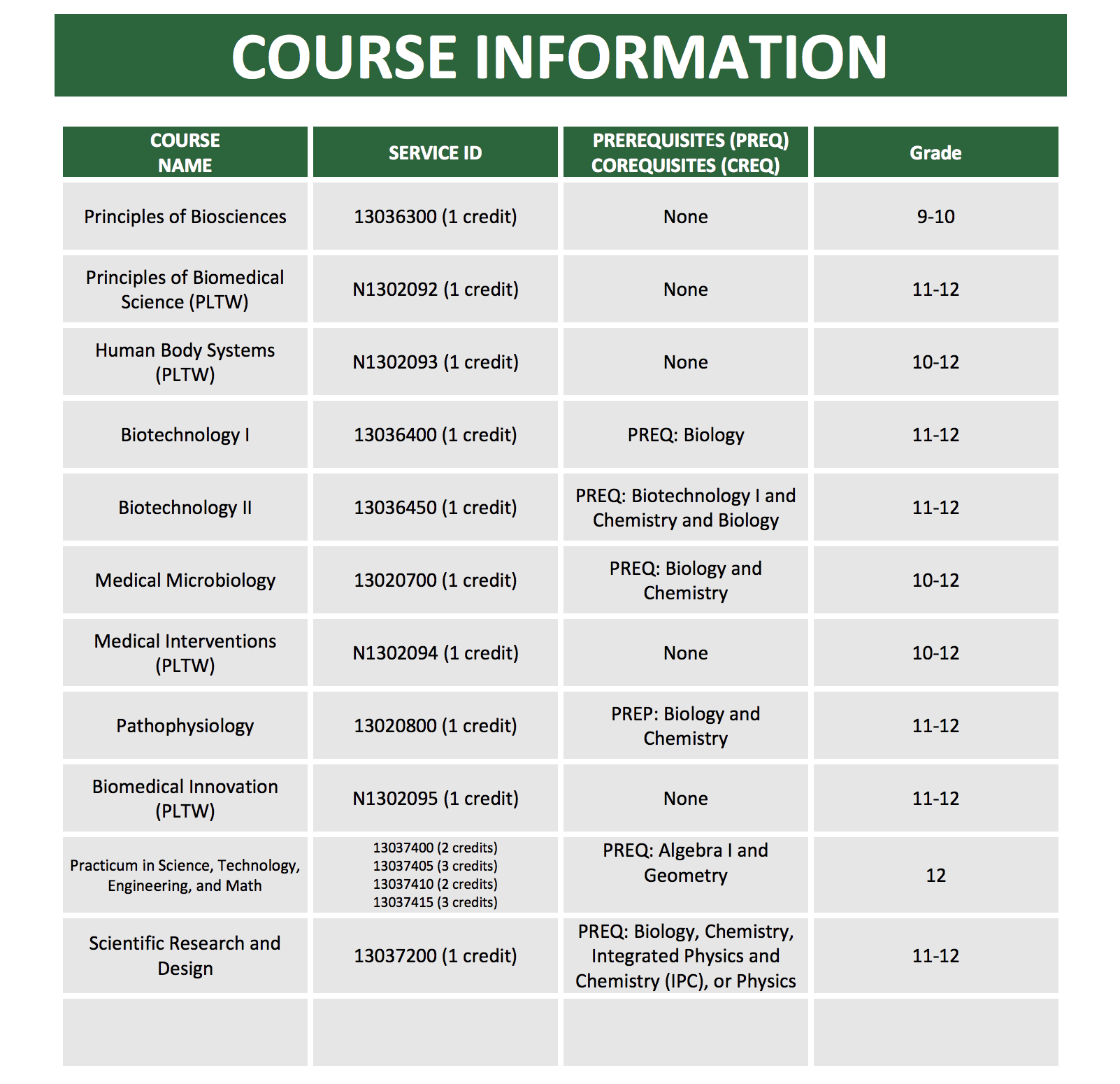 If they intend to pursue a bachelor's degree, the student can also see available fields that align with career options (such as biomedical engineer or forensic science technician).
For more information and resources related to CTE, programs of study, and all things career exploration-related, log in to the Texas OnCourse Academy and check out the following courses:
And be sure to not miss our companion post on academic planning related to careers, which includes more information on endorsements, graduation plans, and work-based learning.